'Establishment' wing of GOP consolidating behind Rubio to stop Trump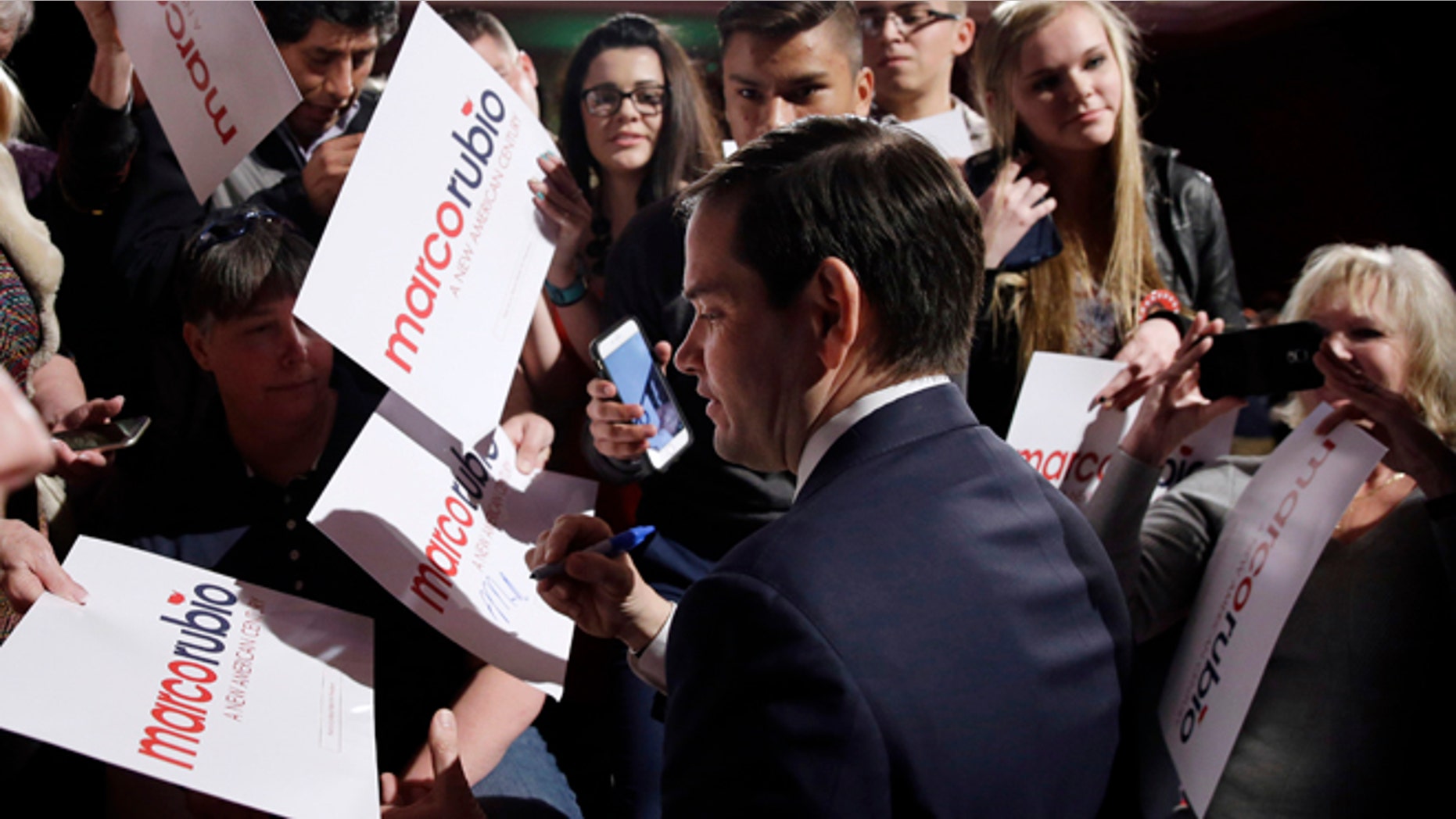 With former Florida Gov. Jeb Bush and New Jersey Gov. Chris Christie out of the Republican presidential race, and Ohio Gov. John Kasich trailing far behind in the polls, Sen. Marco Rubio is now the unchallenged GOP establishment candidate, and, in recent days, he has seen big-name donors and party players flocking to his campaign in the hopes of halting Donald Trump's march to the GOP nomination.
Many of Rubio's new backers say that it's imperative to act fast to stop Trump, who has already won two primaries and is poised to have a strong showing on Super Tuesday next week. Despite strong showings in Iowa and South Carolina, Rubio has failed to win a contest and none of the elections on March 1 look particularly promising for him.
"The window is closing, and we need to move now," Bobbie Kilberg, a major Republican donor who jumped from Bush to Rubio, told the Washington Post.
On Monday, Rubio scooped up a handful of endorsements from some influential current and former lawmakers who had previously backed Bush, including Bob Dole, Utah Sen. Orrin G. Hatch, former U.S. Rep. Lincoln Diaz-Balart as well as Florida Reps. Ileana Ros-Lehtinen, Mario Diaz-Balart and Carlos Curbelo.
The Florida senator also received endorsements from former Minnesota Gov. Tim Pawlenty, Arizona Sen. Jeff Flake and North Carolina Sen. Thom Tillis – all of whom had previously been undeclared.
"I'm supporting Marco Rubio for president because he has the ideas, the principles and the toughness necessary to bring reform to Washington," Flake said in a press release. "In an election [in which] serious solutions are seriously lacking, Marco Rubio has proven that he can inspire more than just anger in Americans who are looking for an alternative to the status quo."
Rubio also picked up the support of Chicago financier Muneer Satter, Florida real-estate magnate John Rood, coal billionaire Joe Craft and construction magnate Francis Rooney – all of whom had all previously backed Bush.
"Republicans got what they wanted and needed — a proven, experienced and electable political leader to emerge as an alternative to Trump," Fred Malek, a major Republican donor who has not endorsed a candidate because of his fundraising duties for the Republican Governors Association, told the Wall Street Journal. "Sen. Rubio has proven the ability to bring people together across the spectrum, not just on the far right."
While the support of influential politicians and donors will add luster to Rubio's prestige and funds to his war chest, the Florida lawmaker still has an uphill fight ahead of him to win the nomination.
Rubio has been touring Nevada and touting his personal ties to the state, but Trump holds a slight advantage in the polls leading up to Tuesday's caucus there. Beyond Nevada, Rubio may have a hard time in a number of the Super Tuesday states clearing the threshold required to gain delegates, which is close to 20 percent in some.
The all-but-crowned establishment candidate is betting big on winning the delegate-heavy March 15 states of Ohio and Florida.
"We look forward to continuing to add delegates to our count, and, as we get into the winner-take-all states, I think we're going to be in a very strong position," Rubio told reporters on Monday.
In a move that could signal an attempt to thwart Trump's run to the White House, on Monday the Koch brothers' top political adviser in Washington joined up with Rubio.
Marc Short – the president of Freedom Partners, the Kochs' umbrella political organization – is known as an expert at roping in donors and gaining grassroots support. While the billionaire Koch brothers personally have not endorsed a candidate for president, the Short move may signal an intent to stop Trump.
"Marc has been running the most sophisticated political operation for the last few cycles and really knows the mood of the electorate," Scott Reed, senior political strategist at the U.S. Chamber of Commerce, told Politico. "This is a big sign of consolidation by the party."