End of Iraq Sanctions Reflects Progress Since Saddam Era, Analysts Say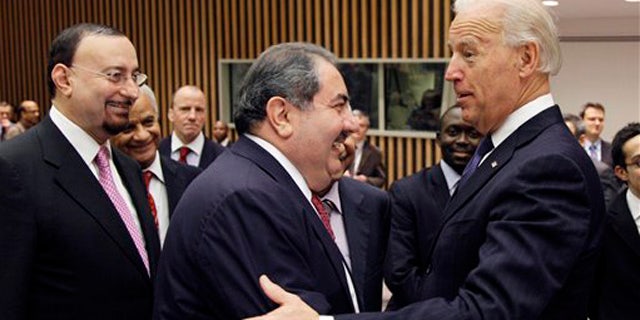 The U.N. Security Council's decision on Wednesday to lift a trio of Saddam Hussein-era sanctions against Iraq, including a ban on acquiring weapons of mass destruction, might send shivers down the spine of anyone fearful that the country could eventually fall back into the hands of another ruthless dictator.
But U.S. officials and analysts say the council's actions reflect the progress made in Iraq and, if anything, help prevent a sequel to the Saddam era.
"This basically is a recognition by the international community of the efforts and progress that has been made in Iraq up to this point to rejoin the international community and their commitment to living within the guidelines of the international community," a State Department official told FoxNews.com.
"It's a new day for Iraq," the official said. "It obviously lifts them from the many restrictions that were there under a different era."
The council lifted sanctions that have been in place since Hussein's 1990 invasion of Kuwait. Iraq will now be able to pursue a civilian nuclear program and take control of its oil and natural gas revenue on June 30, 2011. The council also terminated all remaining activities of the controversial oil-for-food program which ran from 1996-2003 and helped ordinary Iraqis cope with sanctions.
The U.S. holds the Security Council presidency this month and pressed for adoption of the three resolutions at a high-level meeting presided over by Vice President Biden, who called the actions Wednesday an important milestone for Iraq.
"The three resolutions we've passed bring an end to the burdensome remnants of the dark era of Saddam Hussein," Biden said. "In recent years, the Iraqi people have emerged from the depths of sectarian violence and they have flatly rejected the grim future offered by extremists, and they have earned themselves a chance for much better days ahead."
The U.N.'s most powerful body voted a day after a deadlock on forming a new Iraqi government ended and a year before the United States is scheduled to pull its last troops out of the country.
Marisa Cochrane, deputy director of the Institute for the Study of War and an expert on Iraq, said the presence of the U.S. forces in Iraq and its involvement in lifting the sanctions should assuage any concerns about a setback.
She noted that Iraq's constitution bars the country from acquiring weapons of mass destruction,
"I think there is a framework within Iraq that will mitigate concerns over lifting these sanctions," she said.
Iraq is also a party to the main nuclear, chemical, biological and missile treaties.
Stephen Biddle, a senior fellow for defense policy at the Council on Foreign Relations, told FoxNews.com that the intent of the council's actions is to "reduce the likelihood that Iraq return to dictatorship" by integrating Iraq into the international economic system.
He also said the original intent of the sanctions themselves was not a response to Iraq inherently being a hostile place but rather to Hussein adopting "hostile policies."
"You no longer have a Saddam Hussein threatening his neighbors," he said, adding that the sanctions are punishing policymakers for decisions they didn't make and are unlikely to make anytime soon.
The resolution approved Wednesday terminates provisions of two resolutions adopted in 1991 under Chapter 7 of the U.N. Charter -- which is militarily enforceable -- banning Iraq from using, developing, constructing or acquiring nuclear, chemical and biological weapons or material to make them and ballistic missiles with a range greater than 150 kilometers.
A second resolution, adopted unanimously, ends the international management of the Development Fund for Iraq on June 30, 2011. It was set up in 2003 to try to ensure that the proceeds of the country's gas and oil sales were used to help its people and restore its economy.
The resolution, which will end Iraq's immunity from claims on the funds after June 30, calls on Iraq to set up a successor mechanism. A U.S. official said the resolution ensures that 5 percent of oil and gas revenue will still go into a compensation fund, used mainly to pay Kuwaiti claims from the war.
Under the oil-for-food program, which ran from 1996 to 2003, Iraq was allowed to sell oil provided most of the money went to buy humanitarian goods. It was aimed at easing Iraqi suffering under U.N. sanctions and was a lifeline for 90 percent of the country's population.
But an 18-month U.N.-sanctioned investigation found massive corruption in the program. Its final report in October 2005 accused more than 2,200 companies from some 40 countries of colluding with Saddam's regime to bilk the humanitarian program of $1.8 billion.
The Associated Press contributed to this report.