Emails show 'cozy' ties between EPA, environmental group over power-plant rules, senator says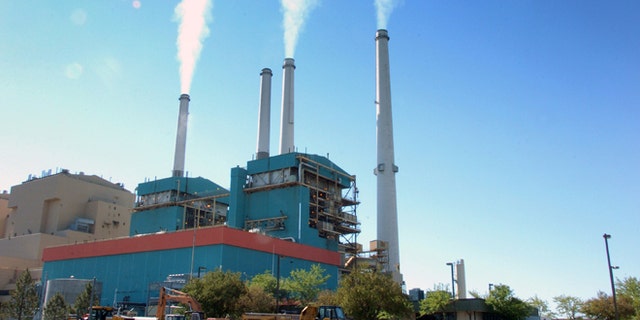 Newly released emails detail what Republicans say are "cozy" ties between the Environmental Protection Agency (EPA) and a top environmental advocacy group, raising questions about the group's influence -- and participation -- in the Obama administration's so-called "War on Coal."
One 2010 exchange even shows the agency's future boss and a senior environmental lawyer praising each other over a legal settlement, though they ostensibly were on opposing sides of that case.
The emails, released by Republicans on the Senate environment committee, come as GOP lawmakers pursue an investigation into possible "collusion" between the EPA and the Natural Resources Defense Council in drafting what they claim are onerous federal regulations on coal-fired power plants and other sectors.
Lawmakers and industry groups have long questioned how much influence the NRDC has in guiding far-reaching environmental regulations proposed under the Obama administration. The new emails reflect, at least, a close relationship between top EPA officials and advocates with the organization.
Of note is a December 2010 exchange on the day a settlement plan was announced between the EPA and several groups -- including state governments and environmental organizations -- suing them over pollution standards for coal-fired power plants and oil refineries.
David Doniger, a senior attorney for one of those groups, the Natural Resources Defense Council, emailed Gina McCarthy that evening to thank her for the day's announcement. McCarthy, now head of the EPA, was assistant administrator at the time.
"I know how hard you and your team are working to move us forward and keep us on the rails," he wrote. "The announcement is a major achievement. ... We'll be with you at every step in the year ahead."
McCarthy responded: "Thanks David. I really appreciate your support and your patience. ... This success is yours as much as mine."
Critics have long claimed the EPA and other groups have engaged in a controversial tactic known as "sue-and-settle" -- where a "friendly" group sues the agency and settles on mutually agreeable terms.
Sen. David Vitter, R-La., top Republican on the Senate Environment and Public Works Committee, said the December 2010 email exchange is a "key example" of the close ties between the EPA and NRDC.
"These discoveries clearly demonstrate the EPA and NRDC's beyond-cozy relationship and force the question -- Who is working for whom?" Vitter said in a statement on Tuesday.
Regarding the 2010 email, he said: "It doesn't get any more blatantly obvious than that."
In this case, the settlement agreement announced among the NRDC, EPA and other groups paved the way for new emissions standards for power plants -- an effort which culminated earlier this year with the Obama administration's controversial proposal to slash emissions from existing power plants.
The New York Times reported in July that NRDC employees including Doniger drafted what amounted to the blueprint for that EPA proposal. One energy policy expert was quoted in the piece saying the NRDC proposal "has its fingerprints throughout this."
Both groups have downplayed any coordination, with the EPA disputing the notion that the NRDC unduly influenced the climate plan. (McCarthy called the Times' claims "preposterous" in a July 9 email to staff.)
The EPA on Tuesday again pushed back on the GOP claims, arguing that the power plant rules were developed through "extensive public outreach" involving tens of thousands of people.
"To imply that one group had any undue influence on the proposal's development is ridiculous and absurd. There is simply zero merit to the idea," agency spokeswoman Liz Purchia said in a statement.
"This is a flawed narrative driven by cherry picked and isolated communications that in no way reflect the full breadth and depth of the unprecedented outreach EPA engaged in to formulate and develop the Clean Power Plan."
A separate blog post by the EPA said this narrative "simply ignores the well-documented and widely reported and recognized sweep and range of the Agency's engagement."
NRDC spokesman Edwin Chen also pushed back on Tuesday, noting the EPA met with "many groups on all sides" of the issue. "Senator Vitter thinks it's inappropriate for a public interest group to suggest policies to a federal agency -- a basic exercise in democracy," Chen said in an email. "Senator Vitter is simply trying to silence those he doesn't agree with."
The newly released emails at least show that the NRDC had several meetings with EPA officials on power plant standards after that initial 2010 announcement.
They also show McCarthy and Doniger discussing how the agency's positions are portrayed in the media. In a March 2010 exchange, Doniger forwards McCarthy an article in The Hill newspaper that noted the EPA "declined to criticize" a Senate bill blocking greenhouse gas emissions rules for two years.
"Pretty cautious," Doniger tells McCarthy, under the subject line: "Why not a stronger response?"
He warns the position in the article "could be interpreted as openness" to a delay.
McCarthy writes back: "Sorry David. We will clear this up. No one is supporting this bill."
Vitter and Rep. Darrell Issa, R-Calif., have been investigating "alleged collusion" on regulations between the EPA and environment groups. According to their offices, the NRDC has gotten $1.9 million from the EPA in grants since 2009.
They and other Republican lawmakers wrote to McCarthy last month requesting documents on the NRDC's involvement in the power plant and other rules, calling it "harmful and outrageous" that one group "drafted" a rule that puts "a tremendous cost on everyday Americans through increased electricity prices." The EPA has not responded to that request.