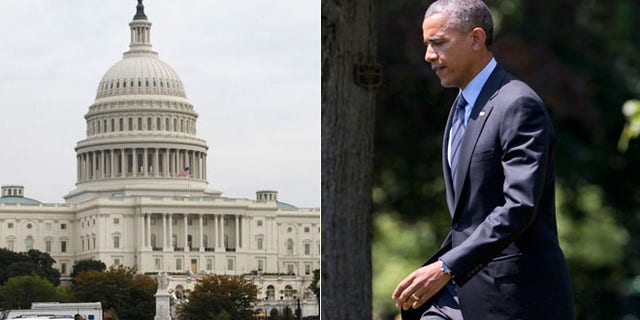 WASHINGTON – George Washington University law professor Jonathan Turley and former Acting U.S. Solicitor General Walter Dellinger engaged in an intense but friendly back-and-forth on Capitol Hill Wednesday.
Sitting as witnesses before the House Rules Committee, they debated a host of arcane constitutional issues, lodging points and counterpoints to one another's arguments about whether the House of Representatives can sue the president of the United States.
The Turley/Dellinger tête-à-tête featured court case citations, historical precedent and the intentions of the Founders. Reduced to bystanders, lawmakers listened in rapt attention from the dais, mulling the polite dialogue between two of the nation's most-nimble constitutional minds.
"I don't mean this to be a conversation," Turley said across the table to Dellinger. "Maybe we should just go to a bar."
Perhaps a corner pub, sipping a few Old Fashioneds or nips of Johnnie Walker, would have served as a better venue than the Rules Committee to debate the House's planned lawsuit. A bar might be an appropriate locale for such a discussion, because Republicans believe President Obama is drunk on power. Every time someone says "checks and balances," drink!
Panelists before the Rules Committee lamented that congressional power devolved over the years, ceding more and more power to the executive branch. "This body is moving from self-loathing to self-destruction," Turley said of Congress' ceding authority to the executive branch. "This is a body which is anemic."
Dellinger told lawmakers about working for the late Rep. Frank Thompson (D-NJ) in the early 1960s. He spoke of how Congress was more vibrant during that period, and lawmakers were forced to cobble together coalitions to pass major bills like civil rights legislation. To accomplish this, they might crowd into an office to negotiate and form alliances after-hours.
Dellinger said libations lubricated the gears of government. "It was my job to be the bartender. And the more we had to do, the more often I found myself being the bartender," he said.
He suggested a dearth of drinking might be why congressional power receded. Lawmakers don't get together, booze it up a bit and then, armed with liquid courage, flex their legislative muscle.
"I think the drinking has gone down considerably," regretted Dellinger, drawing laughter from the crowd.
Maybe Congress has lost its tolerance. It can't handle its liquor, and the hangover handicaps the institution. But at the hearing, Rep. Tom Cole (R-OK) suggested that isn't the case.
"Mr. Dellinger, there is more drinking that goes on here than you would know," Cole said. "I'd be happy to show you sometime. So the old Congress is not lost."
Like Dellinger, Rep. Jim McGovern (D-MA) also got his start in Congress decades ago, when spirits flowed freely. He began as an intern for the late Democratic presidential nominee Sen. George McGovern (D-SD). The congressman pointed out there was no blood relation between them, despite the common surname. But there was a tie with alcohol.
"People always tell me they were a big supporter of my father. Well, he wasn't my father. My father owned a liquor store. I told them thank you for their support," McGovern said.
No one threatened to drink anyone else under the table, but the arguments from witnesses and lawmakers about the suit at times reflected banter enjoyed at the rail. At one point, Turley quoted from both the Tom Cruise flick "Jerry Maguire" and Shakespeare's "Richard III" in a matter of sentences. Rep. Louise Slaughter (D-NY), the top Democrat on the Rules Committee, invoked "Alice in Wonderland." There was talk of "Animal Farm," an "uber-presidency" and the 1787 Constitutional Convention. At one point, Dellinger suggested that if the case is heard, there will be nothing to stop the president from suing the Senate for not considering his nominees, or the House from taking the Senate to court.
Florida International University College of Law professor Elizabeth Price Foley said it was absurd to think Congress couldn't take the administration to court.
"States can sue. The administration can somehow sue. But somehow, magically, Congress can't. I guess Congress is some sort of institutional orphan," she said.
"If I were President Obama, I could countersue the Republican leadership," suggested McGovern. "The American people should countersue for emotional pain and suffering."
On tap for Republicans is their contention that President Obama abused executive authority by unilaterally delaying the implementation of the health care employer mandate without consulting Congress. The employer mandate in ObamaCare requires companies with more than 50 employees to offer health coverage to their workers, and last summer the administration pushed back the mandate until next year.
This drew the ire of congressional Republicans who asked how the president could simply postpone a provision of the law without legislation. "I'm just a simple country doctor, not a constitutional scholar," said Rep. Michael Burgess (R-TX), an obstetrician. "But I do understand due dates."
Republicans on the Rules Committee were careful to position the debate on the Constitution and the limits of government – assiduously avoiding the "I" word. In turn, Democrats were more than happy to heap criticism on Republicans for challenging the president.
"This is not a political issue," said Rules Committee Chairman Pete Sessions (R-TX). "Branches of government have always attempted to exert their influence on the other branches. But this president has gone too far."
"This lawsuit is preposterous," protested Slaughter. "This lawsuit is clearly being used to appease members of the Republican Party who will not rest until President Obama is charged with articles of impeachment."
There was plenty of debate about options Congress has besides filing suit against the president. The witnesses mentioned impeachment and ways Congress could cut appropriations to curb the executive branch. Some found it ironic that House Republicans are turning to the judicial branch to redress grievances allegedly made by the executive branch against the legislative branch.
"I do not relish going to a co-equal branch of government to give me my power back," said Rep. Rob Woodall (R-GA).
The hearing ran much longer than most anticipated, and Sessions asked the witnesses how long they could stick around.
"I will not leave until the last dog dies," intoned Dellinger.
"I will not leave until Walter does," rejoined Turley.
"The last dog died two hours ago," interjected Rep. Rob Bishop (R-UT), eliciting another wave of laughter from the assembly.
At the end of his remarks, Rep. Alcee Hastings (D-FL) warned his colleagues he must "have my political shot." He then announced that the GOP "is the party that has long argued about frivolous lawsuits. This is one."
Hastings got his shot in. Or in this case, a shot and a chaser.