DOJ official testifies agency taking closer look at how Lois Lerner's IRS emails were lost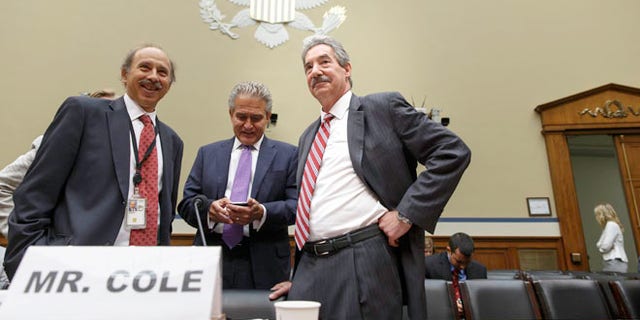 NEWYou can now listen to Fox News articles!
WASHINGTON – A top Justice Department official testified Thursday that his agency is investigating the disappearance of former IRS official Lois Lerner's missing emails as part of a broader criminal probe into allegations the federal agency unfairly targeted conservative groups seeking tax-exempt status.
Deputy Attorney General James Cole testified before a House oversight committee that the Department of Justice is taking a closer look at how some of Lerner's emails disappeared – a new area of inquiry for the DOJ.
"I can tell you the investigation includes investigating the circumstances of the lost emails from Ms. Lerner's computer," Cole said during his opening statement.
He also acknowledged that both the DOJ and Federal Bureau of Investigation were taking the matter seriously, but said it was a lengthy process.
"While I know you are frustrated by the fact that I cannot at this time disclose any specifics about the investigation, I do pledge to you that when our investigation is completed we will provide Congress with detailed information about the facts we uncovered and the conclusions we reached in this matter," he said.
Not everyone bought his plea for patience.
[pullquote]
During one heated exchange, Rep. Jim Jordan, R-Ohio, pressed Cole about the two-month lapse in time between when the IRS knew about the missing emails and when Congress was told.
"Is it a big deal to you Mr. Cole, a big deal to the Justice Department that the head of the Internal Revenue Service waited two months to tell the United States Congress, two months to tell the American people, and, most importantly, two months to tell the FBI and the Justice Department that they had lost Lois Lerner's emails?" Jordan asked.
"It depends on what the circumstances were behind," Cole responded, before Jordan shot back, "the circumstances were: He knew in April."
Lerner, a central figure in the case, has repeatedly refused to answer questions when called to testify before Congress. At two hearings, she cited her Fifth Amendment right not to incriminate herself.
In June, the IRS said it had lost two years' worth of Lerner's emails between January 2009 and April 2011 – right around the time when the alleged IRS targeting of Tea Party groups took place.
Last week, a federal judge ordered the IRS to explain how it lost the bulk of emails to and from Lerner. The Justice Department released a statement calling the probe a "top priority" for the department.
Lerner's attorney, William Taylor III, called the IRS controversy "baseless" and refuted claims made by some lawmakers that it was a conspiracy.