Dodd Announces Retirement, Joins 2 Other Top Democrats Leaving Office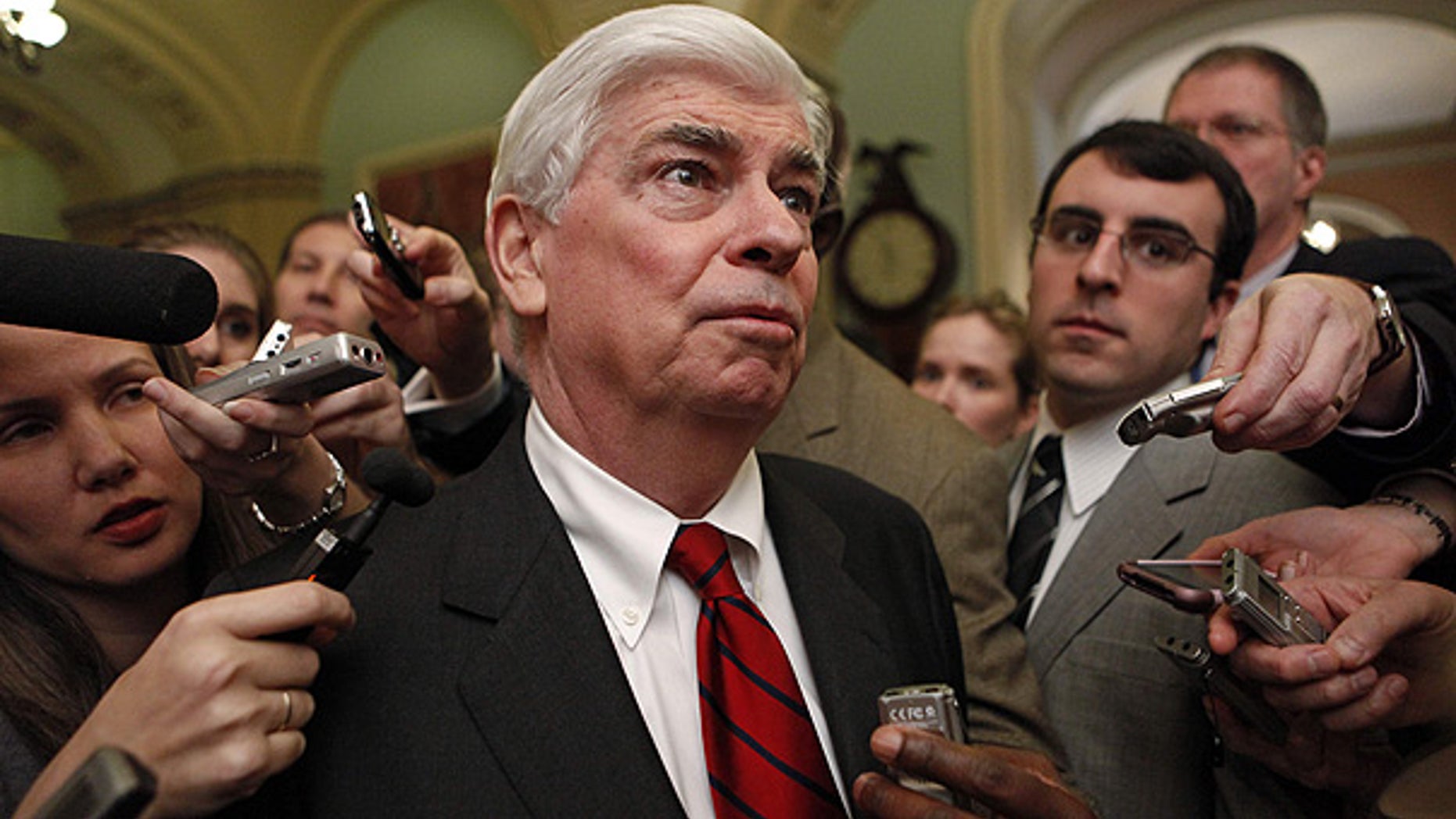 Sen. Chris Dodd, who has represented Connecticut for more than three decades in Congress, announced Wednesday that he will not run for re-election in November.
Dodd joined two other prominent Democrats Wednesday in ditching plans to run for office in the fall, in the latest signs of trouble for President Obama's party. The Connecticut lawmaker was facing a stiff challenge from several Republican contenders, an environment Dodd described as the "toughest political shape of my career."
"This is my moment to step aside," the Connecticut Democrat said at his home.
Dodd cited a string of partial reasons for his retirement, though he said none of them was a deciding factor. He said his battle with cancer, his sister's death, the death of Sen. Ted Kennedy and his turning political fortunes all gave him pause.
"Let me be clear. I'm very aware of my present political standing here at home in Connecticut," he said. "But it's equally clear that any certain predictions about an election victory or defeat in a year from now would be absurd. ... None of these events either individually or collectively is the cause of my decision not to seek re-election, yet together these challenges have given me pause."
With an air of accomplishment, he cited his historic vote in favor of health care reform last month and said it's time for somebody else to take his place.
But taken together, the decisions by Dodd and Byron Dorgan of North Dakota as well as Colorado Governor Bill Ritter caused another bout of heartburn for Democrats as they struggle to defend themselves in a sour political environment for incumbents, particularly the party in charge.
As 2009 ended, Democrats watched a string of their House members announce retirements and one congressman defect to the GOP.
Democrats, who have a 60-40 Senate majority that includes two independents who vote with them, now will have to defend four open seats in the Senate. The others are Delaware and Illinois, where Senators Ted Kaufman, who replaced Vice President Joe Biden, and Roland Burris, who replaced Obama, aren't running for full terms.
Republicans, for their part, are defending six open seats, in Ohio, Florida, Missouri, New Hampshire, Kentucky and Kansas.
Among governors, Democrats are seeking to maintain their 26-24 majority in a year when those elected will oversee the redrawing of congressional and legislative districts for the next decade.
Republicans and Democrats alike say they now expect competitive races for the Senate seat in North Dakota, a GOP-tilting state, and the governor's seat in Colorado, a pivotal swing state that has trended toward Democrats in recent years but may be shifting back toward Republicans.
In Democratic-leaning Connecticut, Dodd's retirement may actually heighten the likelihood that the seat he's held for five terms will remain in Democratic hands. The party can now recruit a more popular candidate to run, bolstering the prospects of thwarting a Republican victory.
Connecticut Attorney General Richard Blumenthal is among potential candidates.
Dodd, 66, is chairman of Senate Banking Committee, which was at the center of efforts to deal with the economic meltdown. And he has played a prominent role in the debate about overhauling health care, taking over for his friend Kennedy during his illness and then after his death. Dodd underwent surgery for prostate cancer in August; he said it was in an early, treatable stage.
His poll standing has fallen precipitously since 2008.
Dodd ran for the Democratic presidential nomination that year, moving his family to Iowa for weeks before the caucuses and angering Connecticut constituents. He dropped out after a poor showing in Iowa.
The senator also has drawn criticism for his role in writing a bill that protected bonuses for executives at bailed-out insurer American International Group Inc. and for allegations he got favorable treatment on mortgages with Countrywide Financial Corp.
Early polling in the race showed him consistently trailing potential GOP challenger Rob Simmons, a former House member who is competing for the Republican nomination against World Wrestling Entertainment co-founder Linda McMahon.
Obama praised Dodd for his service in a statement Wednesday.
"While his work in the Senate is not yet finished, his leadership in that institution will be missed. Michelle and I extend our thanks to Senator Dodd for his service to our nation and offer our best wishes for the future to him and his family," Obama said.
Dorgan, the chairman of the Senate Indian Affairs Committee and a member of the Senate Democratic leadership, said Tuesday he reached his decision after discussing his future with family over the holidays.
"Although I still have a passion for public service and enjoy my work in the Senate, I have other interests and I have other things I would like to pursue outside of public life," said Dorgan, 67.
The move stunned Democrats.
They were confident heading into the new year that Dorgan, a moderate Democrat in a GOP-leaning state, would run for re-election even as rumors intensified that Republican Gov. John Hoeven would challenge him in November. Early polling showed Dorgan trailing Hoeven in a hypothetical contest, and Democrats expected a competitive race if the matchup materialized.
Hoeven has not announced a candidacy, but he told The Associated Press on Tuesday that he was "very seriously" considering one.
Democrats quickly started recruiting a candidate to run in Dorgan's place. Democratic Rep. Earl Pomeroy may be interested as well as Heidi Heitkamp, a former state attorney general and tax commissioner who was defeated by Hoeven in the 2000 gubernatorial race.
In Colorado, Democratic officials informed on Tuesday of Ritter's decision said the governor planned to announce Wednesday that he won't run for a second term in November.
Elected in 2006, Ritter was among those Democrats who helped the party make inroads into what was once a solidly Republican state. He helped pave the way for Obama to win Colorado in 2008 and had been widely considered a rising star in the Democratic Party.
Top contenders to replace Ritter on the Democratic ticket include Denver Mayor John Hickenlooper, Interior Secretary Ken Salazar and former House Speaker Andrew Romanoff.
Two Republicans are seeking the GOP nomination: former Rep. Scott McInnis and businessman Dan Maes.
The Associated Press contributed to this report.