Danish Shipping Firm Denies Violating U.S. Sanctions Against Iran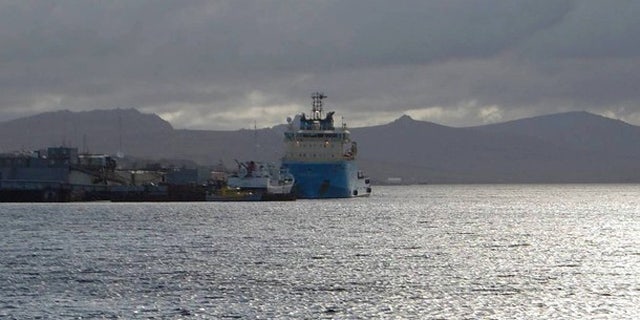 Danish shipping giant Maersk on Monday rejected allegations made last week that it was flouting U.S. sanctions by conducting business with Iran, claiming its Iranian ties are above board and legal.
A.P. Moller-Maersk Group sent a response Monday to United Against Nuclear Iran, the nonprofit group that first leveled the charges in a set of letters to Maersk, Defense Secretary Robert Gates and a host of lawmakers on Capitol Hill.
Maersk attorney Christian Kledal said the firm was well aware of the U.S. sanctions law and has "regularly monitored" its activities to stay in compliance.
"To date, we are not aware of any activities that have violated (the law), including those referred to in your letter," Kledal wrote.
United Against Nuclear Iran last week accused Maersk and one other international company, construction manufacturing firm Komatsu, of violating the recently signed U.S. sanctions law. The group notified Gates because both companies have earned millions in U.S. government defense contracts over the past decade.
Komatsu flatly denied the charges, while Maersk said at the time only that it was "analyzing the consequences of the new sanctions."
United Against Nuclear Iran alleged both firms were in violation of the sanctions provision that restricts firms from knowingly investing in Iran's energy sector. Its letter to Maersk said the company operates two offices in Iran; operates several container terminals in Iran; carries shipments that appear to relate "directly to Iran's petroleum and gas industries," and does business with Tidewater, which it claimed is "principally owned and/or controlled by" the Islamic Revolutionary Guard Corps. The Revolutionary Guard is a U.S. State Department-designated terror group.
Kledal individually dismissed each of those claims in the company's response. The letter to UANI President Mark Wallace acknowledged the two Iran offices but said they do not violate the sanctions law. Kledal also said that Maersk does not operate the container terminals UANI cited, that its shipments are not in violation of the sanctions law and that the firm has "no evidence" Tidewater is tied so closely to the Revolutionary Guard.
United Against Nuclear Iran spokeswoman Kimmie Lipscomb said Monday that the firm still needs to "come clean" on its dealings with Iran. She said the extent of that relationship is "unclear," but nevertheless improper.
"Maersk has acknowledged they do business in Iran. That business is inappropriate given the sizable business that they conduct with the United States," she said.
UANI is urging the Obama administration to cut ties with Komatsu and Maersk if they don't back out of Iran. Wallace said last week that the firms must choose between doing business with Iran and doing business with the United States.
Though Maersk denied UANI's claims, AFP reported Monday that the firm just paid a $3.1 million fine to the U.S. government for violating embargoes on Iran and Sudan.
A State Department official said last week that the administration would consider investigating the new claims regarding Iran but said nothing could be done until the administration works out the logistics of implementing the new law. The official cautioned that a probe could take at least weeks to complete.
James Philbin, Maersk vice president and general counsel, said in a written statement that his company "is committed to complying with all relevant foreign trade controls and sanctions programs, including all relevant provisions of the new U.S. sanctions."
He and Kledal called the UANI claims "inaccurate."
United Against Nuclear Iran has in the past pushed other firms, including Caterpillar, to divest from Iran. The group is not alone in pressuring foreign companies -- Rep. Ileana Ros-Lehtinen, R-Fla., on Monday called on the U.S. to sanction Chinese and Russian firms over claims that they had invested in Iran's energy sector.
"It's time to implement our sanctions laws and demonstrate to Russia and China that there are consequences for abetting Tehran and flouting U.S. sanctions," she said. Ros-Lehtinen is the ranking Republican on the House Foreign Affairs Committee.