Cuban Receiving Non-Immigrant Visas, Traveling To Miami Rises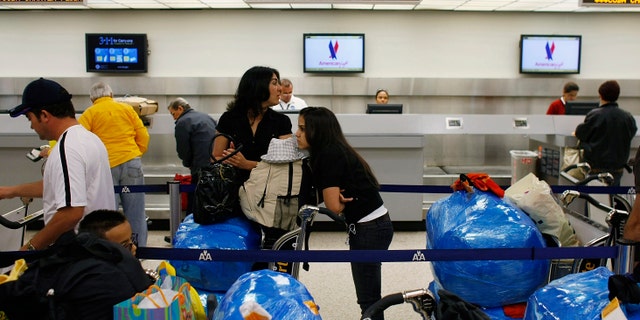 Miami – At 67, Cuban taxi driver Benito Perez had never been on a plane.
For years, friends in Miami had invited him to visit, but he couldn't afford to pay for the flight and didn't want to burden his friends. The process of getting an exit permit from Cuban authorities and permission from the U.S. government also seemed daunting.
In the last year, however, traveling from Cuba has gotten slightly easier. The Cuban government eliminated the much-detested "white card" needed to leave. And the U.S. government has begun issuing multiple-entry visas good for five years.
Perez's friends invited him again. This time, he accepted.
To his surprise, the U.S. Interests Section in Havana granted his visa request and the Cuban government issued him a passport. On a recent September morning, he took off on a direct, one-hour flight from Havana to Miami.
"This is an experience I will carry with me for the rest of my days," Perez said.
Perez is one of thousands of Cubans traveling under the island's changed migration laws this year, many for the first time.
The number of Cubans receiving U.S. nonimmigrant visas jumped by 82 percent from October 2012 to July 2013 compared with the same period a year before, according to the U.S. State Department. Demand for visa appointments spiked after Cuba announced the elimination of the exit permit requirement, and again when the U.S. announced its new five-year visas, a department official said. In all, 26,266 visas have been issued.
"Nonimmigrant visa issuances have increased significantly as the U.S. Interests Section in Havana has worked to meet growing demand and reduce a backlog of visa appointments," the department said in a statement.
Across the Florida Straits, the changes are part of a slate of economic and social reforms President Raul Castro has made in recent years.
In announcing the change, a notice in the Communist Party newspaper Granma said the new measure was part of "an irreversible process of normalization of relations between emigrants and their homeland." In addition to scrapping the exit visa, Cubans no longer need to provide a letter of invitation from someone in the country they wish to visit. And they can stay away for as long as 24 months without losing their residency rights.
Travel, however, still can't be called easy for most Cubans.
Doctors, scientists, members of the military and others considered vital to society face restrictions to combat brain drain, and no one can obtain a passport to travel abroad without permission if they face criminal charges. Cuban authorities also can still deny travel in cases of defense and "national security."
Even for those granted a passport, an average Cuban salary of $20 a month means travel is still little more than a dream without the help of a friend or relative outside the country. The Cuban government charges $100 for a passport, and the cost of a round-trip ticket can run to several hundred dollars. Cubans also must obtain an entry visa for some countries, including the United States.
Still, charter flight companies in Miami say they're selling more tickets originating from Cuba.
"You're beginning to see new types of travelers," said Armando Garcia, president of Marazul, one of the largest Cuba charter flight operators.
Some of those travelers belong to a small class of professionals with businesses and money to travel, Garcia said. Many others come to visit family and friends.
Dissidents such as blogger Yoani Sanchez, who was allowed to travel in February after being denied an exit visa for years, have garnered most of the attention of TV cameras and reporters thronging the Miami airport. But for every arriving dissident there are hundreds of others walking for the first time through the automatic glass doors outside customs and immigration and into a foreign land.
Perez's friends, Rogelia and Luis Ventura, craned their necks for a glimpse of the exiting passengers.
"He said before he died, he wanted to come," Rogelia Ventura, 68, said.
The Venturas immigrated to the U.S. three decades ago and have traveled since to visit Perez and other friends in Cuba. They own an auto body shop in Miami.
Luis Ventura, 65, said he wanted to share "my day-to-day life" with his friend.
"Everything he sees, he's going to like," said Ventura, a tall man in aviator glasses, with a cell phone strapped to his belt.
Based on reporting by the Associated Press.
Follow us on twitter.com/foxnewslatino
Like us at facebook.com/foxnewslatino