Controversial Immigration Bill Passes Florida House Committee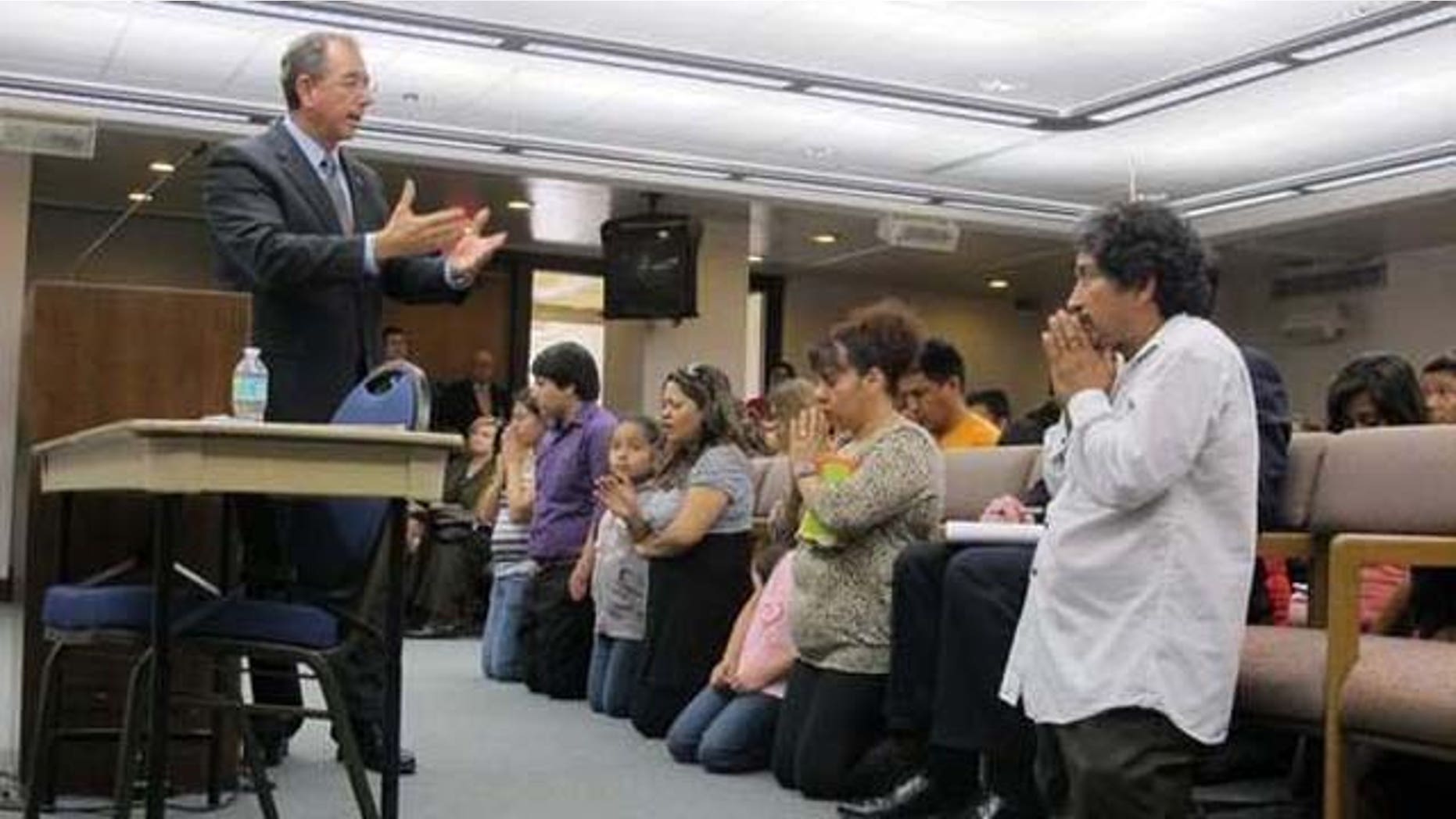 Despite a packed house of protests and prayers from some members of Florida's Latino community, a controversial bill that makes it a misdemeanor to be in the state without documentation passed a House committee Thursday and now heads to the floor for a full vote.
The measure, HB 7089, sponsored by state Rep. William Snyder, a Republican, allows law enforcement authorities to check the legal status of anyone they suspect of being in the country illegally and requires businesses to use the federal E-verify system, an internet-based system run by the Department of Homeland Security that checks work eligibility.
Over 100 people protested the bill outside the House Economic Affairs Committee meeting room. In an emotional display, some got down on their knees to pray during the final presentation and subsequent 11-7 vote. A teary-eyed discussion followed.
Critics pointed out that several of the bill's provisions are similar to those enjoined by federal courts in Arizona.
"The key difference Snyder keeps talking about, is not a difference at all," said Subhash Kateel of the Florida Immigrant Coalition. "This bill is a straightforward Arizona copycat bill,"
In an attempt to assuage fears, Snyder said his bill would not allow racial profiling.
Observers said the representative tried to let the audience know he's on their side, and that he holds no malicious intent.
In the end, while some were disappointed, everybody was respectful of the process.
"The opposition of two Latino Republican representatives sends a clear message to Rep. Carlos López Cantera, the House majority leader, who has spoken out in favor of this bill," said Maria Rodríguez, executive director of the Coalition of Immigrants of Florida.
"Our Latino legislators have a moral commitment to oppose these laws that promote racial profiling against Florida's immigrant community," she said. "It's in the hands of López Cantera to stop this law."
Florida's business and agricultural communities oppose the bill, in part because they say the E-Verify system is unreliable and places an undue burden on Florida's 430,000 employers, who include small business owners and farmers.
"The system is error-prone," said Brewster Bevis, vice president of the Associated Industries of Florida. "There was a study done that showed 54 percent of the employees the system cleared were actually here illegally."
"It's doesn't deter identity fraud," Bevis continued. "It forces employers to become document experts. And people may not believe this, but for small businesses here there are a lot of people who don't have computers – they do their HR around the kitchen table at home – so to go out and buy a computer, it is a huge business expense for them."
The Florida Chamber of Commerce agrees the E-Verify part of the bill is not the way to go.
Chamber Vice President Adam Babinton said in an interview with FOX News Radio: "Florida is one of those states that's unique in that we actually have lots of foreign nationals who are here legally, on work visas, who frequently don't show up in the E-Verify system because the federal government just can't keep up with people coming into the country for a short period of time work and are doing it legally. E-Verify doesn't reflect that."
The business community also is concerned the measure impedes the momentum of their current campaign to lure new businesses to Florida.
"It's interesting that if our whole goal is to bring in business," Bevis said, "and if I was a company shopping three states, including one that had mandated E-Verify it could be a determining factor in the decision whether to come to Florida or not."
"Let's think about this. Let's not come down and mandate a flawed program on our businesses."
Kathleen Reuschle Harrigan is a freelance producer in the Miami bureau of Fox News Channel.
Follow us on twitter.com/foxnewslatino
Like us at facebook.com/foxnewslatino