Conservative activist claims Rep. Cummings tried to 'intimidate' her, files complaint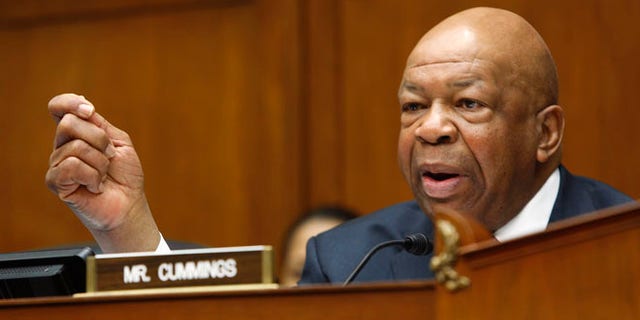 A conservative activist targeted by the IRS and other agencies claimed Thursday that Democratic Rep. Elijah Cummings also tried to intimidate her, filing a formal complaint with the Office of Congressional Ethics alleging an "abuse of power."
Catherine Engelbrecht, founder of True the Vote and the King Street Patriots, aired the allegations during a hearing hosted by the committee on which Cummings sits. An attorney working with her also questioned whether Cummings might have encouraged the IRS and other agencies to target her groups.
Cummings, though, adamantly denied wrongdoing and said he can "assure" Engelbrecht that he did not direct anyone at the IRS to scrutinize her.
At issue are letters Cummings sent out voicing concerns about True the Vote, which advocates for strict voter ID requirements and other measures which Democratic lawmakers, including Cummings, oppose.
"Congressman Cummings on three separate occasions sent letters on letterhead from this committee, stating that he had concerns and felt it necessary to open an investigation on True the Vote," Engelbrecht said during the hearing, where she and other witnesses were otherwise testifying on IRS targeting.
She also said that after she applied for tax-exempt status, "an assortment of federal entities including law enforcement agencies, and Congressman Cummings came knocking at my door."
Engelbrecht later told Fox News that Cummings "wanted to know about all of our practices and alleged things that we simply weren't doing." Separately, she described how she was visited by the FBI six times, and audited by the IRS -- and scrutinized by other federal agencies.
"All of these things they have the right to do and we honored and worked with every single agency, but the question remains not that they came but who pointed them at us?" she said.
Her complaint to the Office of Congressional Ethics claimed Cummings "misrepresented his authority as a Member of Congress to intimidate me and others associated with me, and which may be responsible for a series of incursions into my personal, organizational and business affairs by various federal agencies, agents and bureaucracies over the past four years."
It continued: "We believe that Rep Cummings' actions have violated the House rules, represent an abuse of power on his part and are unethical and arrogant."
Though Engelbrecht and attorney Cleta Mitchell claimed this was improper, Cummings said suggestions of abuse are "absolutely incorrect and not true."
He acknowledged letters were sent out from the ranking member -- which is his title on the House Oversight and Government Reform Committee.
But he claimed he was merely looking into whether voting rights were being infringed.
"I did nothing different than what [Committee Chairman Darrell Issa] has done with looking into situations," Cummings said. "And I don't want it put out there that I was trying to act on behalf of the committee or anything unusual. We were basically looking into voting situations and whether voters were in any way, in any way being impeded from voting."
As other Democrats leapt to Cummings' defense during the hearing, a top Republican lawmaker also noted he had urged Engelbrecht not to proceed.
"I instructed our staff a couple of days ago to encourage Ms. Engelbrecht and Ms. Mitchell not to proceed with the ethics complaint," Rep. Jim Jordan, R-Ohio, said. "I further talked to them this morning not to proceed in that matter."