Communities put brakes on red-light cameras as studies differ on results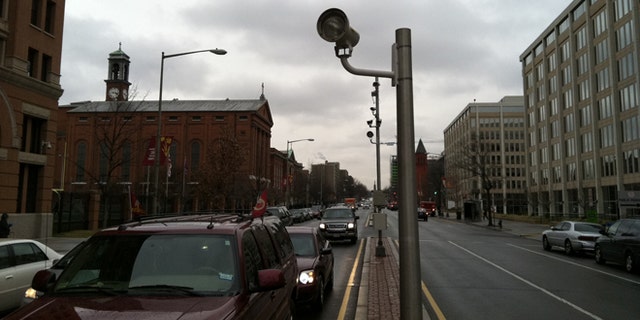 Communities across the country are pulling the plug on red-light cameras amid mounting questions over whether the controversial revenue-raising devices are effective in preventing accidents on the nation's roads.
The number of state and local governments using cameras to nab motorists who run stoplights has fallen about 6 percent since 2012, to 508, according to the Insurance Institute for Highway Safety, the Wall Street Journal reported.
Seven states prohibit use of red-light cameras to issue citations to drivers, according to the National Conference of State Legislatures, and several more, including Ohio and Florida, are considering prohibitions, according to the Journal.
Using cameras to combat red-light violations has been debated for years. Supporters contend they reduce the number of serious accidents and discourage unsafe driving, but critics have questioned the cameras' constitutionality and whether revenue or public safety is the impetus.
In New Jersey, Brick Township Mayor John Ducey recently announced he was putting the brakes on red-light cameras at three intersections that have led to more than 83,000 tickets and generated more than $2 million in revenue since the program began in 2010.
"I promised to review our red-light camera program and remove them if that review didn't convince me that they were making our roads safer," the mayor told the Asbury Park Press. "I have kept that promise. After conducting that review, I am not convinced that the benefit is safety and not revenue."
Brick is one of 25 towns in New Jersey that is participating in the state's five-year red light camera pilot program. It's set to expire in 2015 unless the Legislature renews it.
In Missouri, several recent court rulings have raised new concerns about red-light cameras while complaints have arisen that rules for speed cameras are too lax.
A House committee earlier this month endorsed legislation that would limit speed cameras for roads not part of the state's highway system to school zones, work zones and areas where serious traffic accidents are excessive. Signs would need to indicate the speed limit and warn of photo enforcement.
Some Missouri legislators critical of red-light cameras have proposed banning new cameras or phasing out existing ones. Dave Hinson, a Republican, said outright prohibitions have not passed the Legislature and that a more modest approach could establish limits.
"Instead of spinning our wheels on something else, let's try to reach an agreement," Hinson said.
Critics of the cameras point to studies that claim the devices do little to reduce accidents and in some cases may increase them. Ducey told the Wall Street Journal that city statistics show an increase in accidents at intersections where cameras were added in 2010.
Arizona-based American Traffic Solutions and other red-light camera contractors claim their cameras deter careless driving and reduce accidents. A 2011 study by a red-light camera industry trade association concluded the devices have helped save more than 150 lives in 14 of the largest U.S. cities between 2004 to 2008.
"Opponents of the industry would like the story to be that the demise of the red-light camera is upon us, but nothing could be farther from the truth," Charles Territo, a spokesman for American Traffic Solutions, told the Journal.
Florida Sen. Jeff Brandes, a Republican legislator sponsoring a bill that would outlaw red-light cameras statewide, pointed to the state study released this month showing a 35 percent increase in rear-end collisions at red-light-camera intersections on state roads since 2010, when cameras were introduced in Florida.
"Red-light cameras are backdoor tax increases, plain and simple. They're sold as safety measures, but they're really more about revenue," Brandes told the Journal.
Click here for more from The Wall Street Journal.
The Associated Press contributed to this report.