Clinton used personal email – but ousted ambassador was chastised for doing the same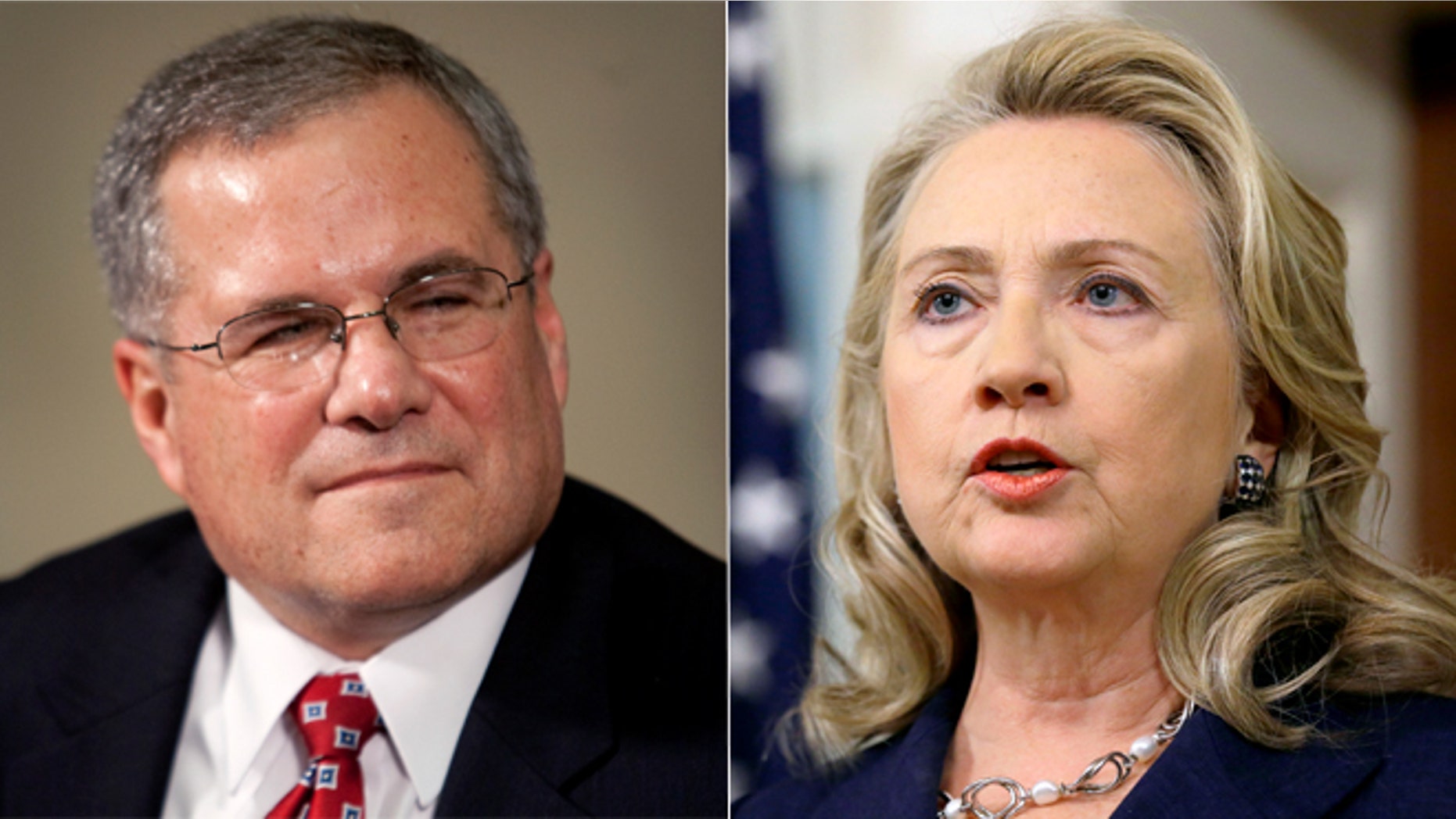 While Hillary Clinton tries to deflect suggestions of wrongdoing in her use of a personal email account to conduct governmental business during her years as secretary of state, a U.S. ambassador under her watch was sharply reprimanded for doing the same -- and reportedly, it contributed to his being forced to resign.
Scott Gration, then-ambassador to Kenya under Clinton, resigned shortly before the release of a damning inspector general report in 2012. Many aspects of Gration's leadership style were called into question -- including an apparent habit of "publicly berating" staffers and personally "attacking" them -- but a central issue was his handling of the computer and email systems.
"He has willfully disregarded Department regulations on the use of commercial email for official government business," the 2012 IG report said.
The report urged the Nairobi embassy to "cease using commercial email to process Department information and use authorized Department automated information systems for conducting official business."
The findings have taken on new relevance in the wake of the controversy over Clinton's email and Internet practices.
The New York Times first reported that Clinton relied on personal email while secretary of state, a practice that contradicted administration guidance to use official accounts for government business. The Associated Press also reported that Clinton's computer server was traced to an Internet service registered to her family home in New York.
Clinton turned over emails when the department asked for them, and she now says she's asked the department to make her communications public. Clinton representatives have defended the former secretary of state, saying she was not bucking the system and quickly responded to the department's request to submit old emails, following updated guidance from the government's central records office.
But the IG report on Gration, initially flagged by The Weekly Standard, makes clear the department frowned on using unofficial systems.
The August 2012 report said the ambassador, soon after arriving in May 2011, "ordered a commercial Internet connection installed in his embassy office bathroom so he could work there on a laptop not connected to the Department email system."
He also "drafted and distributed a mission policy authorizing himself and other mission personnel to use commercial email for daily communication of official government business."
The report suggests Gration took a confrontational approach when making these changes -- according to the report, he "broadcast his lack of confidence in the information management staff" before taking "charge" of those operations. It also makes clear his changes allowed -- even required -- others to use commercial email as well.
Clinton has not been accused of going so far, or of clashing with the information management team.
But the report underscores why the department prefers officials to stay on the government system. The inspector general's office said the email system "provides automatic security, record-keeping, and backup functions as required."
The report alleged: "The Ambassador's requirements for use of commercial email in the office and his flouting of direct instructions to adhere to Department policy have placed the information management staff in a conundrum: balancing the desire to be responsive to their mission leader and the need to adhere to Department regulations and government information security standards."
The report also said his government laptop was not connected to the official "OpenNet network." This raised concerns about the risk for "data loss, phishing, and spoofing of email accounts."
Asked Thursday about the 2012 resignation and report, and how Gration's email practices compared with Clinton's, a State Department official told FoxNews.com: "In the summer of 2012, Ambassador Scott Gration offered his resignation as Ambassador to Kenya. Shortly after, the State Department's independent Inspector General issued an August 2012 inspection report citing several concerns with management and leadership at our embassy in Nairobi."
Gration, a retired Air Force general, announced his resignation in late June 2012, before the IG report was released. He cited "differences" with Washington over his leadership style.
Foreign Policy reported at the time, however, that the looming IG report led to his resignation. According to Foreign Policy, the email account he used at the time was a Gmail account.
More broadly, the IG report cited deteriorating morale under his leadership. "The Ambassador has lost the respect and confidence of the staff to lead the mission," it said, calling his leadership "divisive and ineffective." The report also criticized him for resisting decisions to provide "safe-haven" for families of employees working in Afghanistan, Iraq and Pakistan. He allegedly told family members "he personally wanted them gone."
An internal 2011 State Department cable, obtained by Fox News, shows that then-Secretary of State Clinton's office told employees not to use personal email for security reasons -- while at the same time, Clinton conducted all government business on a private account.
The White House so far has not publicly rebuked Clinton for her own email practices. Press Secretary Josh Earnest told reporters this week it was "clear that Secretary Clinton's team has gone to great lengths" to turn over emails to the department.
Fox News' James Rosen contributed to this report.