China billionaire eyes US market after snatching up taxpayer-backed Fisker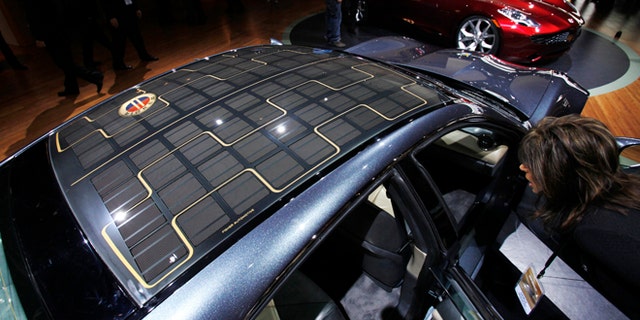 Fisker Automotive -- the U.S. electric car company that failed to repay roughly $139 million in federal loans before going bankrupt -- is now owned by a Chinese company eager to unleash its cut-rate acquisition on the American auto industry.
The company's assets were acquired earlier this year by China's biggest auto parts supplier, Wanxiang Group, for $149.2 million in a U.S. bankruptcy auction.
The company reportedly could start selling Fisker's ill-fated Karma plug-in car later this year in the United States and Europe.
Billionaire company founder and Chairman Lu Guanqiu has aspired to get into the auto industry since the 1980s and the electric-car business for roughly the past 15 years.
And the acquisition of Fisker and its battery supplier, A123 Systems, which each came with key patents, should make Guanqiu's company well positioned to compete.
Wanxiang acquired A123 Systems in a 2012 bankruptcy sale, after the company failed to repay millions to the same federal loan program that helped Fisker.
"I'll put every cent that Wanxiang earns into making electric vehicles," Guanqiu, who outbid at least one other Chinese investor, told Bloomberg Businessweek this spring. "I'll burn as much cash as it takes to succeed, or until Wanxiang goes bust."
The remark reflects the opinion of industry experts who think Guanqiu's determination and record of success could indeed make him a player in the market along with Toyota, whose Prius is the most popular hybrid sold in America.
Fisker received the taxpayer-funded millions through the Energy Department's Advanced Technology Vehicles Manufacturing Loan Program, which has provided $8.4 billion in funding since 2009.
The program came under scrutiny after the department lost the roughly $139 million on Fisker, which filed for bankruptcy in 2013. Fisker received $192 million from the program before funding was pulled.
The situation resulted in criticism about the Obama administration's eagerness to back "green-energy" projects like Fisker and failed solar panel company Solyndra, despite indications they could not compete in the marketplace.
The Energy Department also lost about $42 million on a loan to a shuttered Michigan company that made vans for the disabled. However, the loan program had success with electric car maker Tesla Motors Inc., which reportedly repaid its $452 million loan in 2013.
Critics have also complained that Guanqiu didn't step in to save Fisker and U.S. taxpayers, instead waiting for the bankruptcy sale.
An Energy Department spokeswoman later told reporters: "While the outcome is not what we hoped for, the [agency] explored every option available and closely followed federal legal processes in an effort to get the best possible recovery for the taxpayer."
Fisker in its five-year run also reportedly burned through roughly $1 billion in private investment money.
The Karma comes with a small gasoline engine that kicks in when the battery runs out of power. Fisker sold about 1,800 models from 2011 and 2012, at about $100,000 each, before a series of problems halted production.
Wanxiang also is reportedly considering completely the development of a second Fisker model -- a more affordable mid-sized, gas-electric hybrid named the Atlantic.
Right now, the new owner plans to produce the vehicles in Finland but reportedly is considering the potential for U.S. manufacturing.
This story is based in part on wire service reports.