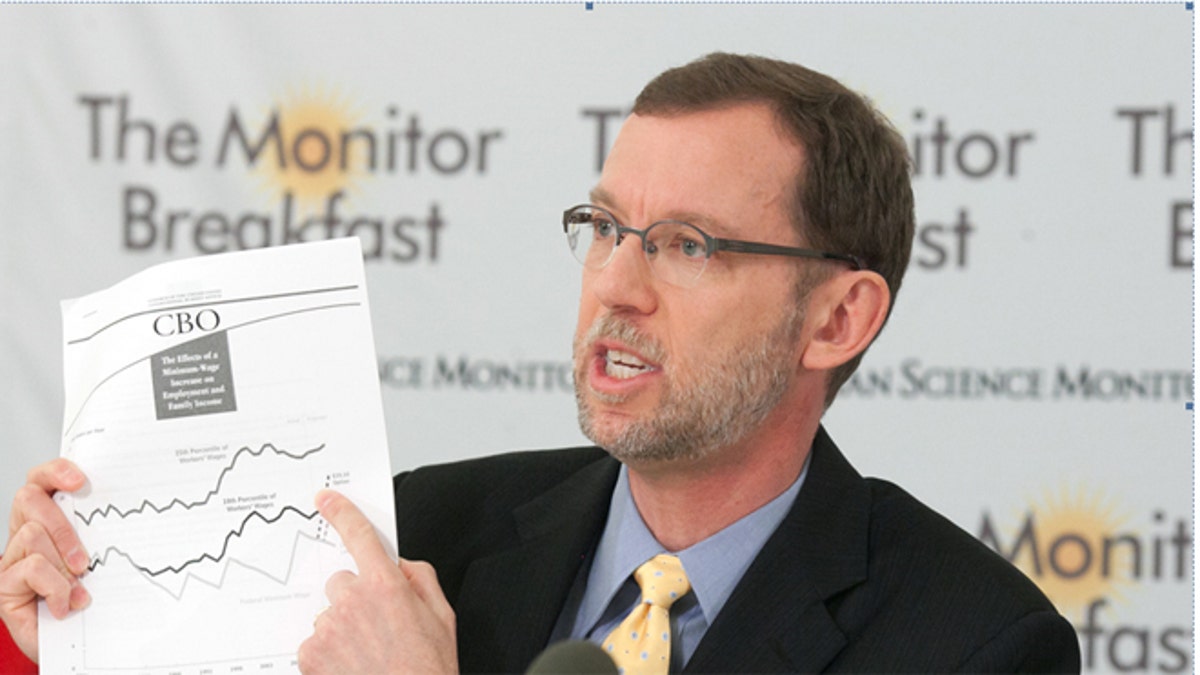 The leader of the nonpartisan Congressional Budget Office on Wednesday defended attacks by Democrats against the group's recent report that shows increasing the hourly minimum wage from $7.25 to $10.10 would cost the U.S. economy 500,000 jobs.
"We think our estimates are completely consistent with the latest thinking in the economic profession," CBO Director Douglas Elmendorf told reporters in Washington.
Elmendorf declined to respond directly to criticism from Democrats, including Jason Furman, director of the White House Council of Economic Advisers, arguing instead the office's responsibility to Congress is to "report the middle."
Furman argued on a White House blog and during a teleconference with reporters that the report "doesn't reflect the overall consensus view of economists who say [the wage increase] would have minimum or no impact on employment."
The report also found the proposed hike, backed by President Obama and fellow Democrats, to increase the federal minimum wage to $10.10 would increase wages for roughly 16.5 million Americans.
House Minority Leader Nancy Pelosi, D-Calif., said the report's conclusions "contradict the consensus among hundreds of America's top economists, who predict that a wage hike would actually stimulate the economy, raise demand and job growth, and provide help in job creation."
Elmendorf, who worked for the Treasury Department under the Clinton administration, also dismissed questions during the Christian Science Monitor gathering about whether he felt blindsided by the partisan attacks.
"My personal views are completely irrelevant to the work we do," he said, adding Congress hired the office "to do objective analysis."
Meanwhile, congressional Republicans greeted the report as a validation of their argument that increasing wages will strain employers and further slow the country's economic recovery, with the debate on the issue set to resume next week in the Senate.
"While helping some, mandating higher wages has real costs, including fewer people working," said a spokesman for House Speaker John Boehner, R-Ohio. "With unemployment Americans' top concern, our focus should be creating -- not destroying -- jobs for those who need them most."