By picking Carly Fiorina as VP, Ted Cruz hopes to reinvigorate his campaign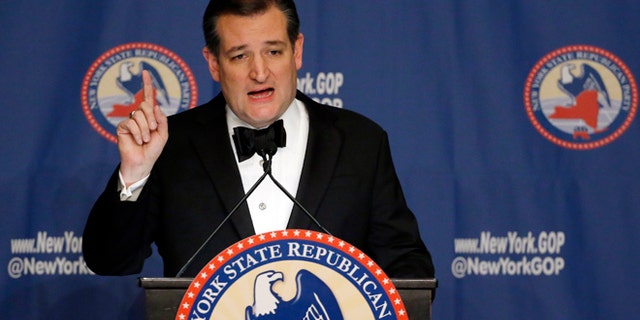 NEWYou can now listen to Fox News articles!
Next stop on the would-be president train – Indiana.
Sen. Ted Cruz's performance in Indiana will be critical to keeping his candidacy in play, or further clearing the runway for front-runner Donald Trump to get the GOP nomination.
The state, which holds its primary Tuesday, May 3, offers 57 delegates in the Republican contest and 92 delegates in the Democratic one.
After a bruising in the latest primaries, which covered five states in the Northeast, all of which were won handily by Trump, Cruz said the election was moving to more friendly territory.
And on Wednesday, for much of which Trump commanded headlines with his sweep in Tuesday's primaries and a major foreign policy speech in Washington D.C., Cruz grabbed the spotlight in the early evening with the announcement that he wanted former Hewlett Packard CEO Carly Fiorina as his running mate.
Cruz announced his pick for vice president at an Indianapolis rally, an unusual move for an underdog candidate that reflects the increasing urgency for the fiery conservative to reverse his downward trajectory.
The move followed a recent deal between Cruz and Ohio Gov. John Kasich that calls for the governor to cede Indiana to the senator, and in turn the senator will cede Oregon and New Mexico to the governor.
Cruz praised Fiorina's path from secretary to CEO and her past willingness to challenge GOP front-runner Donald Trump.
"Carly isn't intimated by bullies," he declared, adding, "Over and over again, Carly has shattered glass ceilings."
The 61-year-old Fiorina has been a prominent Cruz ally since shortly after abandoning her own presidential bid earlier in the year. She was the only woman in the Republican Party's crowded 2016 field.
Fiorina could help Cruz appeal to women, a group he has struggled to gain the support of, as well as provide some counterweight to Hillary Clinton.
Democrats quickly slammed Cruz's move.
"This is a desperate move from a desperate and dying campaign," said Democratic National Committee CEO Amy Dacey in a statement. "Under Carly Fiorina, Hewlett-Packard's stock lost over half of its value, earning her status as one of the 'Worst American CEOs of all Time.' She laid off 30,000 workers but still received a $40 million golden parachute upon being fired."
On the Democratic side, the campaign of Sen. Bernie Sanders of Vermont sent mixed signals before the Tuesday primaries, in which Hillary Clinton won four of five states. One Sanders' campaign official said the senator would take the nomination fight to the Democratic convention in July, another said that the camp would be reassessing the campaign after Tuesday's results.
Clinton has 1,650 delegates and Sanders 1,348, according to The New York Times delegates tracker. In the Democratic Party, a candidate must have 2,383 delegates to be the nominee.
To nip at Trump's newly-energized sprint to the party nomination, Cruz and Kasich reached an agreement that calls for Kasich to cede Indiana to Cruz, who hopes for a victory there, and Cruz in turn would cede Oregon and New Mexico to Kasich.
Cruz and Kasich, who no longer have a mathematical shot at getting the required 1,237 delegates to be the GOP nominee, are hoping that the nomination process will unfold at the Republican national convention in July in Cleveland.
Trump leads in the delegate count with 953, followed by Cruz with 546, then Kasich with 153.
The vastly rural Indiana has many conservative pockets that the Cruz camp believe will be favorable to the Texas firebrand, according to published reports. Cruz is hoping for a formidable win, similar to one he scored in Wisconsin. But while Cruz had the backing of some prominent Wisconsin political leaders – namely Gov. Scott Walker, who called the senator "a strong new leader" and "constitutional conservative" – Cruz has not had similar endorsements in Indiana, where Trump leads him in polls of GOP likely voters by 8 points (41-33 percent), according to FoxNews.com
Polls show Kasich coming in third, with 16 percent.
As for Democrats, polls show Clinton ahead of Sanders, but not by a wide margin. Polls show her besting Sanders by between 3 and 5 percentage points.
While Trump commanded the headlines after his sweep in the Northeast five-state primaries Tuesday, Cruz grabbed some of the spotlight with his announcement Wednesday afternoon that, if he becomes the nominee, he would run with former Hewlett Packard CEO and former GOP presidential candidate Carly Fiorina. Also on Wednesday, Sen. Cory Gardner, a Colorado Republican, announced his endorsement of Cruz.