Bush son rips GOP ad claiming father's foundation gave money to terror-linked groups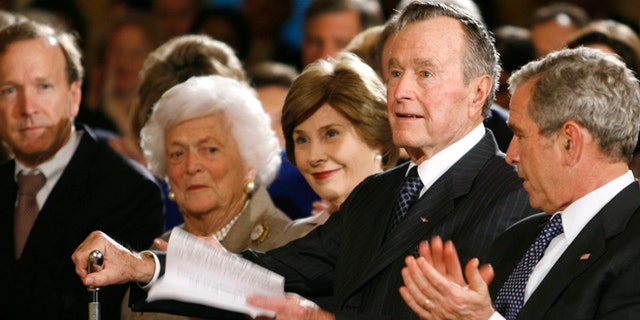 WASHINGTON – It's not personal. It's politics.
That's the takeaway after Georgia GOP Senate nominee David Perdue's camp aired ads claiming a foundation once led by his Democratic rival Michelle Nunn -- but also founded by President George H.W. Bush -- gave money to organizations linked to terrorists.
The ad has triggered a feud of sorts between the Perdue camp and Bush's son, Neil Bush, who currently is chairman of the Points of Light Foundation, the group besmirched in the ad. The younger Bush called the allegations "ridiculous" in an interview with the Atlanta Journal-Constitution.
"It really makes my blood boil to think that someone would make that kind of an allegation, whether it's an independent political group or a candidate for office," he told the paper. "Anyone who makes the claim needs to understand the facts and then they need to denounce those claims. To attack an organization founded by my father, whose integrity is unimpeachable, to smear our organization for political gains, is in my opinion shameful."
The timing of the first ad was peculiar. The National Republican Senatorial Committee ad, with the consent of the Republican nominee, was released shortly after former President George H.W. Bush actually endorsed Perdue in the race.
The ad, making no mention of Bush, instead focused on Nunn's leadership and said the foundation "gave money to organizations linked to terrorists." (Perdue's campaign has since released a similar ad.)
Nunn ran the Points of Light organization alongside Neil Bush for several years, and he took exception.
"Neither Points of Light nor Michelle Nunn have had anything to do with funneling money from our organization to terrorist organizations," Bush said in the AJC interview.
The former president, though, appears to be showing no hard feelings.
On Thursday, Bush spokesman Jim McGrath said the president was committed to "to seeing David Perdue elected to the U.S. Senate from Georgia," and endorsed him because he "believes America is heading in the wrong direction."
Far from being miffed over the Perdue ads, McGrath put the scrutiny on Nunn, saying she did not have permission to use the president's photos in any of her campaign ads and that his objections had been privately communicated to her camp.
Nunn remains locked in a heated race for an open Georgia Senate seat, with Perdue holding a slight lead in the polls.
The connection between Nunn, Points of Light and alleged terror funding was first aired when an internal memo -- written by Nunn's own political team researching areas of weakness in her campaign -- was leaked to the press.
However, a closer look shows that the memo is referring to work a subsidiary, acting as an independent contractor for eBay, did. EBay users, through the company's website, gave thousands of dollars to the U.S. affiliate of Islamic Relief Worldwide, a federally approved charity, according to fact-checking website Politifact.com. According to the site, the group was accused of having Hamas ties by an Israeli official, but denied it.
Perdue's camp says they have no intention of taking down the ad.
"Michelle Nunn's own campaign plan highlights serious concerns about her group's association with terrorist-linked organizations," Megan Whittemore, a Perdue spokeswoman, said in a statement. "The people of Georgia will have to decide if that's who they want representing them in the U.S. Senate."
But Nunn's team is drawing attention to the concerns over the ad. At a campaign event this week, Nunn thanked Neil Bush for his comments.
"Washington can learn a lot from organizations like Point of Light," Nunn said. "But David Perdue playing politics and falsely attacking an organization that helps so many is exactly what's wrong with Washington and politics today."