Bush campaign accidentally leaks attack plan against Rubio and Walker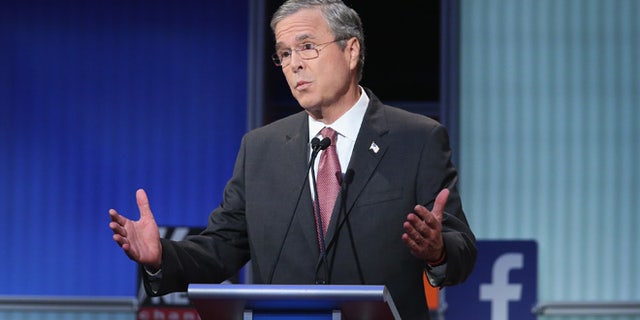 NEWYou can now listen to Fox News articles!
In the lead-up to Thursday night's heavily-watched prime time Republican debate, former Florida Gov. Jeb Bush had what some are describing as his "oops" moment when his campaign's website briefly featured two separate sections attacking two of his main GOP rivals.
Just hours before Bush and nine other Republican candidates took the stage in Cleveland's Quicken Loans Arena, Bush's campaign inadvertently posted pages featuring bullet points that contrasted his record as governor of Florida to those of Florida Sen. Marco Rubio and Wisconsin Gov. Scott Walker.
While the pages have since been taken down from the site, the fact sheets were quickly seized upon by various news organizations and the Democratic Party before being disseminated across the Internet.
In one of the pages, the Bush campaign goes after Rubio for sponsoring just one bill that has become law, for sponsoring only two bills that have passed the Senate and for having the highest rate of missed votes of any senator over the course of his career.
The pages on Walker feature a line that alleges that "the only job Scott Walker cares about creating is his own."
The pages goes on to contrast Bush's economic record while in the Florida governor's mansion with that of Walker by saying that under his tenure Wisconsin has ranked last in the Midwest in job growth and that Walker has broken his pledge to create 250,000 jobs in his first term.
"Scott Walker's Wisconsin Economic Development Corporation Has Been Marred By Scandal—Including Unpaid Loans And Taxpayer Funds Spent On Alcohol, iPads, College Football Tickets, And Even A Maserati"; and "Scott Walker Has Pushed State Debt Payments Into The Future And Reduced The Earned Income Tax Credit," the Bush pages state.
Tim Miller, Bush's spokesman, told Politico that the pages were "draft pages that were taken down, we have lots of material to prepare for the debate as circumstances require."
The pre-debate draft pages come in the wake of another high-profile gaffe by the Bush camp in recent days – casting doubt on the so-called "joyful" campaigner's idea of running a positive campaign.
After almost constant haranguing by his fellow GOP presidential contender Donald Trump over Bush's stance on immigration – including a sharply worded tweet going after Bush's Mexican-American Columba by saying "Bush has to like Mexican illegals because of his wife" – the former Florida governor allegedly complained to one Republican Party donor that Trump was "a buffoon," "clown" and something that can't be published on Fox News Latino.
Bush denied making those comments when questioned about them during the Fox News Channel debate on Thursday.
"No. It's not true. But I have said that Mr. Trump's language is divisive," Bush said.
He added: "We're not going to win by doing what Barack Obama and Hillary Clinton do each and every day. Dividing the country."