Brenda Snipes, Broward elections official at center of ballot storm, has history of controversy
NEWYou can now listen to Fox News articles!
Broward County Supervisor of Elections Brenda Snipes is at the center of the explosive Florida ballot-counting battle, with the state's Senate and gubernatorial elections on the line — but it's hardly her first voting controversy.
"She has had a horrible history … and all of a sudden they're finding votes out of nowhere," President Trump, referring to Snipes, told reporters Friday.
Outgoing Florida Gov. Rick Scott, the GOP Senate nominee locked in a tight and bitter battle for the lead against incumbent Democratic Sen. Bill Nelson, accused Democrats of conducting a coordinated effort to "steal" elections in a campaign of possibly "rampant fraud," in a lawsuit Thursday.
Razor-thin margins in Florida's bitter Senate and gubernatorial races are raising the specter of possible recounts, potentially prolonging two of the most closely watched contests of the nation's midterm elections. A recount is mandatory if the winning candidate's margin is less than 0.5 percentage points when the first unofficial count is verified Saturday by Florida's secretary of state, according to state law.
In an emergency complaint, Scott accused Snipes of being "unwilling to disclose records revealing how many electors voted, how many ballots have been canvassed and how many ballots remain to be canvassed," and charged that the uncertainty "raises substantial concerns about the validity of the election process."
More than 50 percent of voters in the county are registered Democrats, making it the largest Democratic county in Florida, according to the Sun-Sentinel.
Snipes said she didn't know how many ballots remain to be counted, but all were being processed. She also did not know how many provisional, military and mismarked ballots need to be counted. Her department's website said ballots cast on Election Day have been counted.
GOP SENATE CANDIDATE RICK SCOTT FILES BOMBSHELL LAWSUITS ACCUSING DEM FLORIDA ELECTION OFFICIALS OF TRYING TO 'STEAL THE ELECTION'
Snipes, who has held her office since 2003, is no stranger to controversy. Earlier this year, Scott's administration said it was monitoring her office after a judge ruled in May the county broke federal law by destroying ballots in Rep. Debbie Wasserman Schultz's 2016 Democratic primary race against Tim Canova, Politico reported.
Snipes claimed the issue had been "blown out of proportion."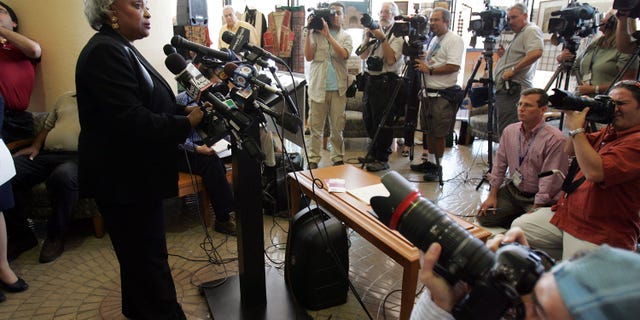 "Broward is nitpicked to the bone. Other places have the same problems, different problems. It's just that they are not spotlighted like we are," she told the Miami Herald in October.
In August, a judge sided with the Florida GOP in its challenge of how the county handled absentee ballots. Republicans claimed Snipes' office was opening ballots in private, preventing people from challenging if they were properly cast, according to Politico.
And then in 2016, Broward County violated the law when it posted early voting results online before polls even closed, the Miami Herald reported.
The error was made by a young employee of an outside company hired by the county to tally the election results and a lawsuit against Snipes' office over the incident was "unsuccessful," according to the Miami Herald. Snipes also won a lawsuit that same year after being challenged for leaving off an amendment regarding medical marijuana on some mail-in ballots.
In 2004, her office had to scramble to send out new absentee ballots after it said some 58,000 voters did not receive them despite requesting them, the Sun-Sentinel reported at the time.
There were problems with absentee ballots this year, too. Multiple people said they did not receive absentee ballots or got them too late to submit them, according to the Miami Herald. Some ballots also had duplicate pages, voters said.
"This is consistent. It happens every election. Every election there is a snafu of some type every time," Benjamin Bennett, a former Broward elections inspector, alleged.
Snipes is also the subject of a lawsuit, filed in August by the American Civil Rights Union before the 11th Circuit Court of Appeals, which questions Snipes' handling of potentially ineligible voters.
Broward was also criticized this year for the design of the ballot. The Senate race was displayed on the bottom left corner, below the instructions. Some 24,000 cast a vote for governor, displayed at the top of the ballot, but not Senate, according to the Orlando Sentinel.
This election, Scott has heavily criticized Broward County's handling of ballots.
"On election night, Broward County said there were 634,000 votes cast. At 1 a.m. today, there were 695,700 ballots cast on election day. At 2:30 p.m. today, the number was up to 707,223 ballots cast on Election Day. And we just learned that the number has increased to 712,840 ballots cast on Election Day. In Palm Beach County, there are 15,000 new votes found since election night," he said Thursday.
Florida Sen. Marco Rubio, too, unleashed a barrage of broadsides against Snipes and pointed to the "slow drip" of tens of thousands of additional ballots that were reported throughout the day Thursday, most of which were favorable to several Democratic candidates. Rubio said those late disclosures violated Florida election law, which necessitates that tabulated mail-in and early voting ballots be reported within 30 minutes of polls closing.
"Bay County was hit by a Cat 4 Hurricane just 4 weeks ago, yet managed to count votes & submit timely results," a fiery Rubio wrote on Twitter. "Yet over 41 hours after polls closed #Broward elections office is still counting votes?"
Broward County election officials did not immediately return Fox News' request for comment Friday morning.
Fox News' Gregg Re and The Associated Press contributed to this report.