George H.W. Bush's casket visited by service dog Sully in Capitol Rotunda
As George H.W. Bush lies in state at the U.S. Capitol – giving the public a chance to mourn – a special friend came to pay his respects to the 41st president.
Sully, the service dog that garnered national attention after Bush's death last week, entered the Capitol Rotunda and sat before Bush's casket for a few moments Tuesday morning.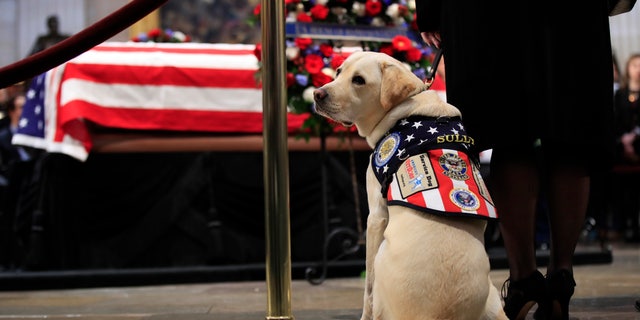 Bush family spokesman Jim McGrath shared a photo of Sully earlier this week lying in front of Bush's casket, which was draped with an American flag.
"Mission complete," the tweet read.
Sully joined Bush in June – just a few months after his wife of 73 years, Barbara, died. He had been trained by America's VetDogs, an organization that provides service dogs. The president had a form of Parkinson's disease, and Sully could open doors, pick up items and summon help.
GEORGE H.W. BUSH WILL BE TAKEN TO FINAL RESTING PLACE ON HIS SPECIAL '4141' TRAIN
Bush died on Nov. 30 at the age of 94. He will lie in state at the Capitol until Dec. 5, when he will be honored at a funeral at the Washington National Cathedral. He will be buried Thursday at the George Bush Presidential Library at Texas A&M University alongside his wife and Robin Bush, the daughter they lost to leukemia in 1953 at the age of 3.
Afterward, Sully will reportedly return to America's VetDogs in New York and then join the Walter Reed National Military Medical Center's Facility Dog Program.
Fox News' Frank Miles and The Associated Press contributed to this report.