Bennet Defeats Romanoff in Democratic Primary for Colorado Senate Seat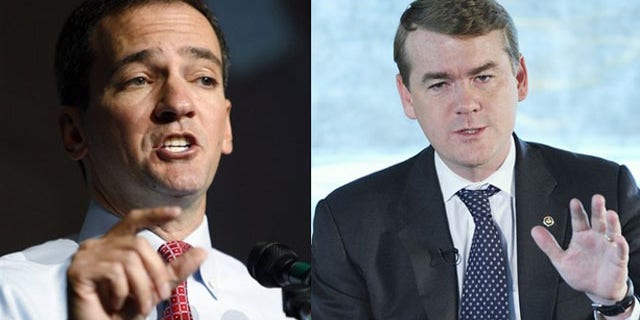 Sen. Michael Bennet defeated former Colorado House Speaker Andrew Romanoff in the state's Democratic primary for U.S. Senate, giving President Obama, who endorsed Bennet, a key political victory.
Bennet held off a fierce primary challenge from Romanoff and an outbreak of anti-establishment fever nationwide.
"The bottom line is this: Washington needs a lot less finger-pointing and name-calling and a lot more problem-solving," he said at his victory speech. "A little less hiding behind the Senate rules and lot more standing up for the American people. What we need in the end is a little less talk and a lot more action."
Bennet will face either Ken Buck or Jane Norton in November in what will be a key race in the battle for control of Congress.
Bennet was appointed to his seat nearly two years ago when Ken Salazar resigned to become Interior secretary in the Obama administration.
Bennet's appointment to the Senate angered many Colorado Democrats because he had never held public office before. Bennet was superintendent of Denver Public Schools at the time.
Romanoff had hoped for the appointment, and he spurned entreaties from senior party officials to skip the race with Bennet.
In an intense campaign, both men sought the mantle of political outsider. Yet each relied on very well-known establishment politicians to help them -- Obama in Bennet's case and former President Bill Clinton in Romanoff's.
Top Democrats were already working to smooth tensions after the divisive primary. Democratic Party Chairman Tim Kaine planned to visit Colorado Thursday for what the party was calling a unity rally with both Bennet and Romanoff.
Romanoff urged party unity in a concession speech Tuesday, saying, "We must win this seat."
Both GOP Senate candidates did their best to show an anti-establishment streak, too.
Buck blasted Norton as "the chosen candidate" and criticized her for having the backing of most Republican senators. Norton countered that Buck's no outsider, having spent his entire career in government service, including as a former assistant U.S. attorney.
The Republican contest became personal at times, with Norton questioning in campaign ads whether Buck was "man enough" to take her on. A few weeks later, Buck backpedaled after telling a voter to choose him "because I do not wear high heels."
Buck ran into trouble for referring to so-called "birthers" questioning Obama's citizenship as "dumb---es." But the frank comment also endeared him to many of his tea party supporters.
Dan Maes, another tea party favorite, was declared the Colorado Republican gubernatorial primary winner early Wednesday morning after a close raise against former U.S. Rep. Scott McInnis.
McInnis, who served six terms in Congress, failed to recover after it was revealed that he plagiarized parts of a water study for which he was paid $300,000 by a Colorado foundation,
Maes overcame his own troubles in winning Tuesday: He was fined $17,500 for campaign finance violations and drew criticism over remarks that he would fire thousands of state workers.
The rocky campaigns prompted former U.S. Rep. Tom Tancredo to bolt from the party and run for governor on the American Constitution Party ticket.
Denver Mayor John Hickenlooper will be the Democrat on the November ballot. He faced no opposition for his party's nomination.
The Associated Press contributed to this report.