Before Colorado mine disaster, EPA project caused spill in Georgia
NEWYou can now listen to Fox News articles!
Still reeling from a disaster it created at a Colorado gold mine, the EPA has so far avoided criticism for a similar toxic waste spill in Georgia.
In Greensboro, EPA-funded contractors grading a toxic 19th-century cotton mill site struck a water main, sending the deadly sediment into a nearby creek. Though that accident took place five months ago, the hazard continues as heavy storms -- one hit the area Tuesday -- wash more soil into the creek.
The sediment flows carry dangerous mercury, lead, arsenic and chromium downstream to the tourist destination of Lake Oconee, which then feeds into Oconee River -- home to many federally and state protected species.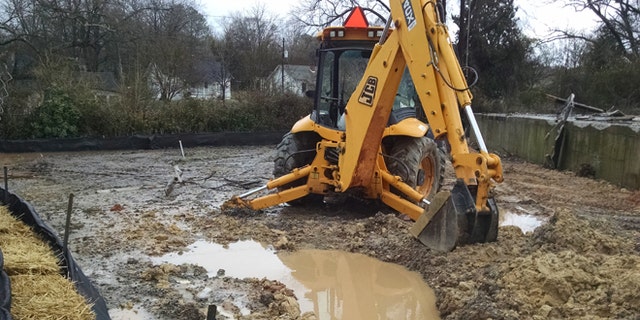 Lead in the soil is 20,000 times higher than federal levels established for drinking water, said microbiologist Dave Lewis, who was a top-level scientist during 31 years at the Environmental Protection Agency.
He became a whistleblower critical of EPA practices and now works for Focus for Health, a nonprofit that researches disease triggers.
"Clearly, the site is a major hazardous chemical waste dump, which contains many of the most dangerous chemical pollutants regulated by the EPA," Lewis wrote in a 2014 affidavit for a court case filed by local residents that failed to prevent the EPA project: creating a low-income housing development.
Click for more from Watchdog.org.