Beckham's bid to bring soccer, stadium to Miami taking political and business header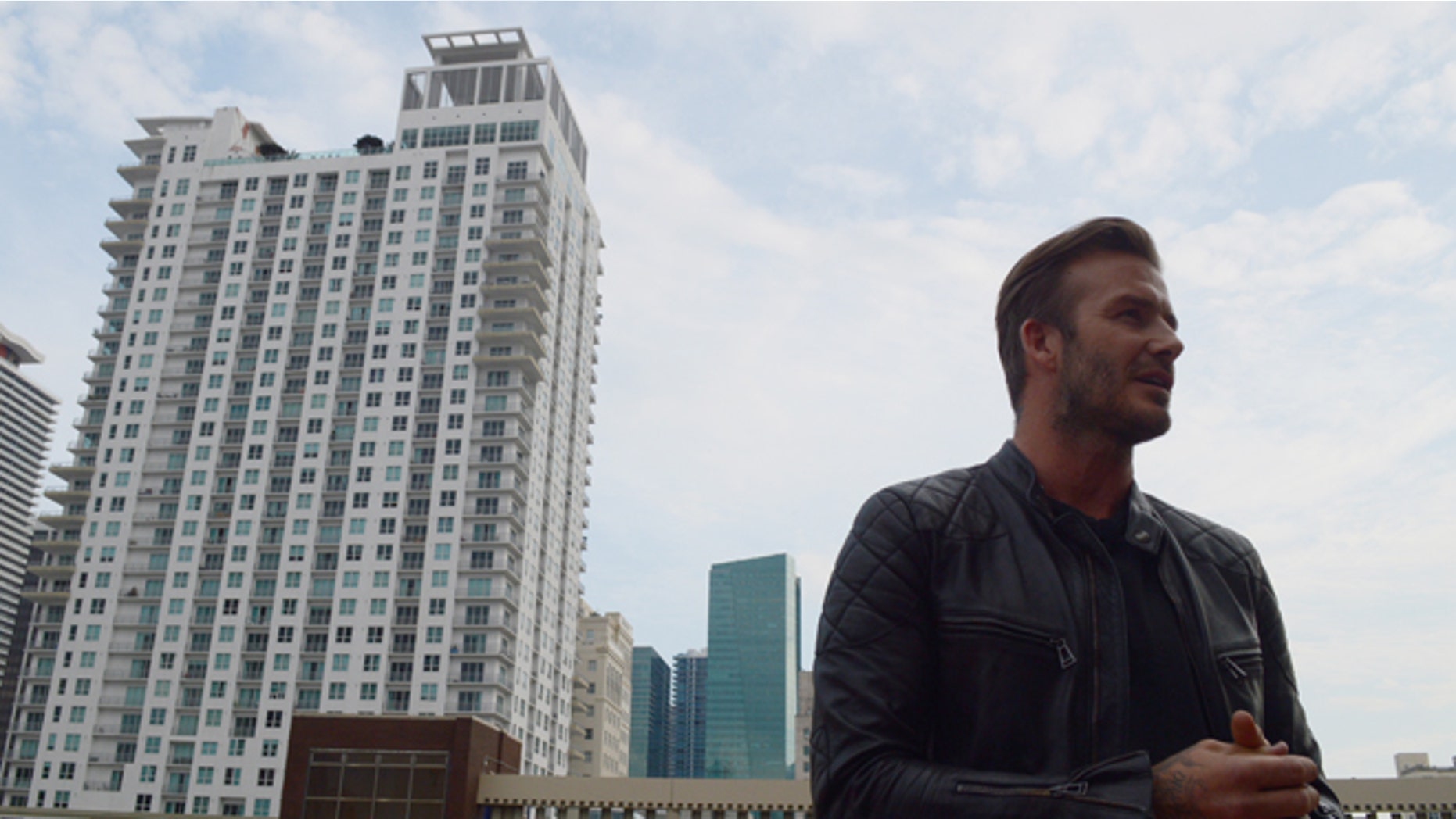 Will Miami bend it for Beckham?
Retired soccer star David Beckham has international fame and clout, but he's struggling to get the Miami community to allow him to start a pro team and build a stadium in the city.
Beckham and his business group have looked at more than 30 spots and recently hit Category 5 head winds when trying to put a roughly 25,000-seat stadium at their preferred location -- the Port of Miami.
They wanted to put the stadium at one of the few remaining spots at the 520-acre port, which is just blocks from the downtown and has a spectacular view of the city skyline.
But a powerful coalition of politicians and businesses -- led by the Royal Caribbean Cruise Line and formed specifically to keep the stadium out of the port -- rallied enough public opposition this spring to squash the effort.
"That location should be utilized as a port," Norman Braman, a billionaire car dealer and member of the coalition, known as the Miami Seaport Alliance, said this week. "Tourism and shipping is what the Port of Miami is for."
Last week, Dade County commissioners officially voted against the proposal, and Beckham's group has now set its sights on another downtown spot -- on Biscayne Bay close to where the NBA's Miami Heat plays its home games.
The site, which includes an empty boat slip, was suggested by Miami-Dade County Mayor Carlos Gimenez. And Beckham's group, after a couple of weeks of analysis and talking to local officials, has already unveiled design plans.
But that deal also faces opposition, particularly from the Tropical Audubon Society, which says filling in the slip will eliminate a section of the protected Biscayne Bay Aquatic Preserves.
"A soccer stadium is clearly not a water-dependent use worthy of destroying more acreage of state aquatic preserve," the group said in a letter to the county.
Beckham and his group -- including real estate adviser John Alschuler and fellow investor Marcelo Claure -- appear adamant that the proposed Miami Major League Soccer stadium and Miami Beckham United team operate in the city, and with apparently good reason.
South Florida's last soccer team, the Miami Fusion, played 30 miles north of the port and folded in 2001 after only three years because of low attendance.
"No stadium downtown, no team in Miami," Claure said recently.
The Major Soccer League requires new teams to build a stadium and reportedly has stipulated that Miami's be built in the downtown.
Beckham's plan for the Florida East Coast railway slip in Biscayne Bay still must get environmental permits, county and city approvals and pass a voter referendum, as early as this November.
And like most professional sports team, the group also faces the delicate task of trying to get public funds to help build a stadium, despite saying they can self-finance the project.
Alschuler said in March when the port site was being considered that a stadium would be built without taxpayer money.
However, Beckham traveled in March to the state capital, in Tallahassee, to talk with GOP Gov. Rick Scott and leaders of the House and Senate about legislation that would allow Major League Soccer franchises to qualify for stadium tax subsidies for which Florida's NFL, NBA, NHL and Major League Baseball teams are already eligible.
"We just want the support that every other franchise, every other sporting team has," Beckham, the former English national team captain, told reporters afterward.
The legislation passed in early May and is now headed to Scott, who has indicated he will sign it into law.
Regardless of the outcome, Alschuler has said the earliest the new stadium could be ready is 2018 and that if the team starts play earlier, it would have to open in a temporary home, such as Marlins Park or Florida International University.
Alliance President John Fox and Braman, a former owner of the Philadelphia Eagles, insist they support Beckham's effort, just not at the port.
Their argument indeed appears to be based only on financial interests.
With the port $1 billion in debt and its credit rating recently cut by Moody's, the county is trying to help by spending more than $2 billion on capital improvements to make the port a global logistics hub.
"The Miami Seaport Alliance supports Major League Soccer in Miami, but not at PortMiami, the county's second-largest economic engine," Fox told FoxNews.com earlier this week.
Said Braman: "I love soccer."
The Associated Press contributed to this report.