Baucus' Ex-Wife Once Defended Anita Hill Against 'Thug' Senators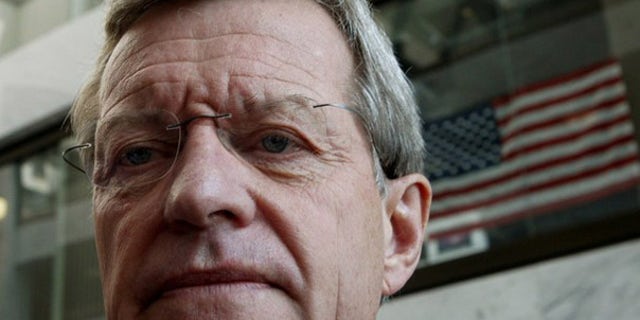 Wanda Baucus, dragged into the spotlight by the revelation that her divorce from Sen. Max Baucus of Montana may have been plotted partly by his staffer-turned-girlfriend, once spoke out on behalf of Anita Hill during Clarence Thomas' contentious Supreme Court confirmation hearings.
Wendy Baucus said at the time that Hill had suffered at the hands of senators acting like "a bunch of thugs."
Now Wendy Baucus is suffering at the hand of her ex-husband, after a Lee Newspapers report on billing documents that show Sen. Baucus' former state director, Melodee Hanes, met at least twice with his divorce attorney eight months before the Baucuses separated.
The two divorced in April. Hanes now is Sen. Baucus' live-in girlfriend.
In happier times, Wanda Baucus was an outspoken advocate for women working on Capitol Hill. In an interview with the Alicia Patterson Foundation two years after Thomas' sensational 1991 confirmation hearings, Baucus revealed that she had defended Hill, whose accusation of sexual harassment against Thomas was met by skepticism from senators.
Baucus called several senators on the Judiciary Committee to explain that Hill's delayed response to Thomas' alleged behavior was common in sexual harassment cases.
Baucus knew from personal experience, disclosing to the magazine that she had been sexually harassed by two senators, including one whose hand groped her under the table when she was attending a dinner party with her husband. She rebuffed the senators, she told the magazine, but did not publicize their behavior because she did not want to hurt their wives.
But 16 years later, Baucus finds herself the victim of embarrassing revelations of her husband's behavior.
Wanda Baucus told Lee Newspapers that she knew nothing about Hanes talking to the senator's divorce attorney in the summer of 2007, and she said she and her husband had not discussed divorce at the time.
"Ending a 25-year marriage is a serious undertaking that should be discussed first within the family," she told the newspaper. "There's no justification for the staff being involved in such private matters."
A Baucus spokesman, Ty Matsdorf, told the newspaper that Hanes met with the divorce attorney in her official capacity as a member of the senator's staff.
"Melodee Hanes' interactions were in her official role a state director and focused on scheduling and logistics, including how a potential separation between Sen. Baucus and Wanda could impact the senator's travel and work," Matsdorf said in a written statement.
Baucus has said that their relationships did not become romantic until after his separation.
It was the latest revelation in a story that broke last week when Baucus, chairman of the Senate Finance Committee, acknowledged to Mainjustice.com that he was in a relationship with Hanes when he nominated her for U.S. attorney.
Baucus has been on the defensive ever since, and on Friday, Politico reported that Baucus gave Hanes a $14,000 raise last year and took her on a government-funded trip to Asia and the Middle East.
Hanes, also divorced, withdrew her nomination in March and now works at the Justice Department. She and Baucus live together in Washington.
Baucus also once was accused of sexual harassment. His former chief of staff, claiming that she was fired for rejecting his persistent sexual advances, filed a civil suit against him a decade ago, seeking monetary damages.
Christine Niedermeier also claimed Baucus failed to follow through on a "substantial" settlement package he promised her. But Baucus' office denied her charges and maintained he fired her because she was abusive toward her staff, and the civil suit was dismissed.
Niedermeier told FoxNews.com shortly after last week's news broke that she's "moved on" from her clash but she called the latest controversy part of a pattern.
"People see that story and they see a pattern of conduct and they can judge for themselves," she told FoxNews.com, declining to comment further.
In her interview with the Alicia Patterson Foundation, Baucus criticized the culture in Washington, which she says compelled women to remain silent in the face of discrimination and harassment.
"It's a man's town, and even Elizabeth Taylor when she was married to a member of the Senate, left saying it's wonderful place for men to live, but it's a deadly city for women," she said.
"If the women I know in Washington in the Senate talked and said all the things they know, this government would -- I mean talk about the revolution… this place would be turned upside down."