Baucus and His Personal Life No Stranger to Controversy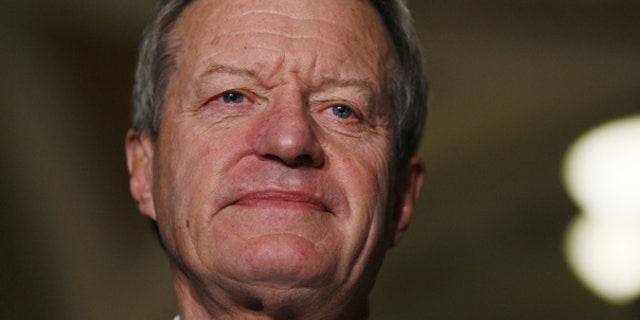 The controversy over Sen. Max Baucus mixing love and politics seems to have come and gone in a matter of days, with his Senate colleagues ignoring calls for an inquiry and the Montana Democrat playing down the significance of his move to nominate his girlfriend for U.S. attorney.
But critics say the revelation of what some believe may have been a conflict of interest speaks to a "pattern" of questionable behavior. If nothing else, it's the latest splash of color in Baucus' unusual romantic history.
Baucus' love life last attracted attention a decade ago, when his former chief of staff filed a civil suit against him, accusing him of firing her for rejecting his persistent sexual advances and seeking monetary damages from him for sexual harassment.
Christine Niedermeier also claimed Baucus failed to follow through on a "substantial" settlement package he promised her. But Baucus' office denied her charges and maintained he fired her because she was abusive toward her staff, and the civil suit was dismissed.
Reached by phone Tuesday, Niedermeier said she's "moved on" from her clash with Baucus, but she called the latest controversy part of a pattern.
"People see that story and they see a pattern of conduct and they can judge for themselves," she told FoxNews.com, declining to comment further.
Baucus' office came out with the revelation about his girlfriend's nomination following a report on the Main Justice Web site on Friday. Baucus acknowledged that he recommended Melodee Hanes, a current Justice Department official and former state director for Baucus, to be U.S. attorney while they were dating.
But he defended Hanes as "highly qualified" for the job, saying, "I, for one, did not want her relationship with me to disqualify her from applying for the position."
Hanes withdrew her nomination in March, a decision Baucus said was made so that the two could live together in Washington. He said she received her Justice job after applying "independently." He also made clear that they began dating after he and his wife had separated. They have since divorced.
But questions remain about the nomination, including whether any other high-ranking officials were aware of the relationship at the time. The Wall Street Journal reported Monday that, according to several people involved in the process, the senator did not mention the relationship to the White House, Montana Sen. Jon Tester or the attorney who was tasked with reviewing candidates.
Still, the fact that Baucus' former chief of staff Jim Messina is now deputy chief of staff for President Obama was hard to overlook.
"There's a lot of people in D.C. who knew this stuff was going on," Montana Republican Party Chairman Will Deschamps said. "Jim Messina would know for sure."
He called the incident "part of a pattern" for Baucus that is "embarrassing and extremely disappointing," and he said Baucus should resign as chairman of the Senate Finance Committee.
But Senate Majority Leader Harry Reid is standing by Baucus, who is a valuable player in the ongoing health care reform debate. Reid on Saturday called Baucus a "good friend" who has his "full support."
And the White House unequivocally rejected the notion that Messina or anybody knew about Hanes' relationship with Baucus.
"Nobody here was involved in that," White House Press Secretary Robert Gibbs said Monday. "When I say nobody was involved in it, I don't mean everybody but people that know Senator Baucus -- I mean nobody."
The latest incident may just end up another odd footnote in Baucus' personal life. Among them would be the alleged behavior of his ex-wife, Wanda. Before the two separated and then announced their divorce in April, Baucus was accused in 2004 of assaulting another woman at a Washington, D.C., garden center. She apparently was upset that nobody helped her load mulch into her car.
To avoid prosecution, she struck a plea deal for a misdemeanor assault charge.