Anti-Abortion Billboards Targeting Latinos in Los Angeles Removed Under Pressure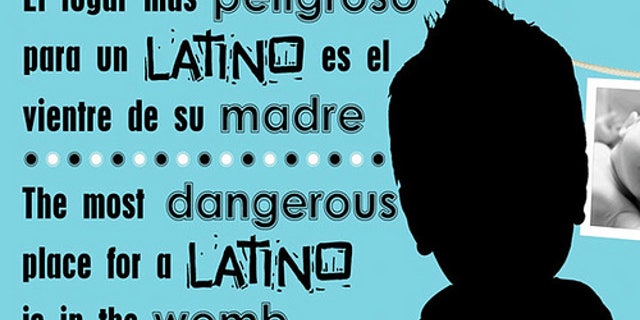 An anti-abortion group says that an advertising company bowed to pressure by removing jumbo billboards in Los Angeles that portray abortion as a form of genocide in the Hispanic community – a sequel to a billboard campaign that targeted the black community in New York and Georgia.
"The most dangerous place for a Latino is in the womb," reads the three signs on billboards space the Latino Partnership for Conservative Principles purchased from CBS Outdoor.
The billboards went up last Friday and were supposed to stay up for a month. But they are being taken down Friday after the group said supporters of abortion rights complained, calling the billboards racist.
"Like a similar ad campaign that ran in New York City, pro-abortion activists are desperately trying to cover up Planned Parenthood's targeting of minorities, and will squelch free speech to do so," said Alfonso Aguilar, executive director of the group. "These billboards tell the truth about the racist targeting of the Latino community, and have been up for a week. It's clear these pro-abortion activists will go to any length, including discarding the First Amendment, to protect their abortion business in minority communities."
But Gabriela Valle, the senior director of community education for California Latinas for Reproductive Justice, which led the crusade to take the billboards down, said those claims "are absolutely ridiculous on all levels."
"The fact is, they produced a racist ad that attacked Latino communities," she said. "They cannot on one hand claim racism and answer that with a racist ad."
Representatives of CBS Outdoors, an affiliate of CBS Corporation, did not return repeated messages.
The Los Angeles chapter of Planned Parenthood cheered the removal of the billboards.
"Planned Parenthood Los Angeles is happy to see these offensive and racist billboards are being taken down," the group said in a statement to FoxNews.com. "Community organizations within Los Angeles led the effort to have these billboards removed."
Twelve other organizations, including Planned Parenthood, supported the crusade. Valle said they called CBS Outdoor officials directly and told them that Latino advocates of reproductive justice were going to protest the billboards if they weren't taken down.
Valle said CBS Outdoor officials said they would take the ads down.
Planned Parenthood told FoxNewsLatino.com last week that its organization does not target any particular race or ethnicity in their services.
"I'm a Latina and personally it's disturbing," said Celina Vazquez, a spokeswoman for the group. "Planned Parenthood just absolutely believes that every woman regardless of her ethnicity has the right to make informed decisions about her health, of course in consultation with her family and her faith."
Twelve percent of all abortion clinics are located in predominantly Latino neighborhoods, according to a 2008 report by the Guttmacher Institute. Latinas account for about 20 percent of all abortions, according to the Centers for Disease Control.