Amnesty International monitoring protesters, police interactions in Cleveland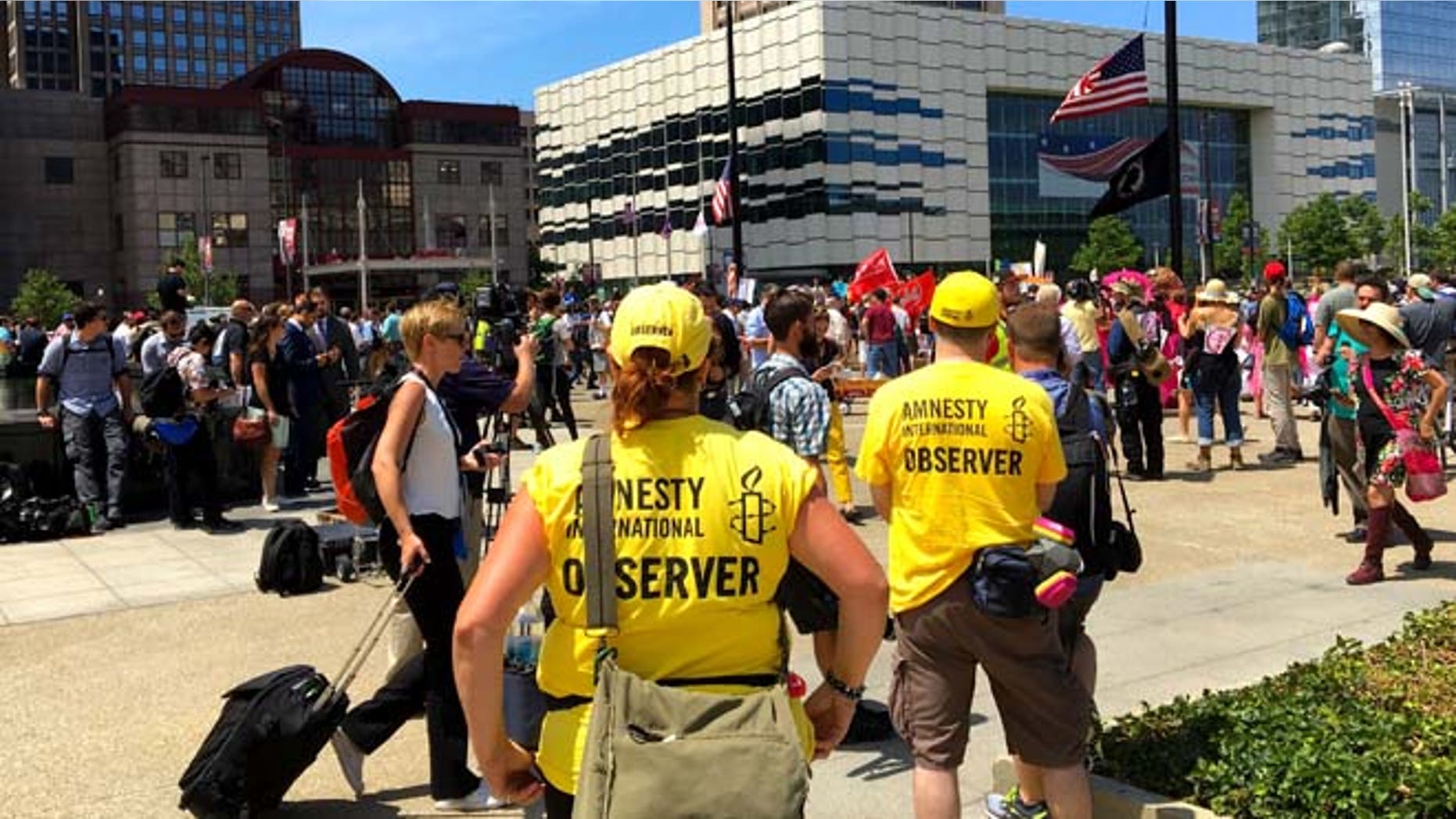 Cleveland – Amid a tense atmosphere at the Republican National Convention and with wide-scale protests planned throughout the week in Cleveland, Amnesty International has dispatched a team of observers to the city to monitor police interactions with demonstrators.
The human rights group plans to spread out 12 monitors across the city in an effort to watch out for any hardline tactics by law enforcement officials in regards to restricting the free speech of protesters.
"We'll be making sure no one infringes on the protesters' rights," Eric Ferrero, a spokesperson for Amnesty International told Fox News Latino. "The right to come together as a group and speak out in protest is a fundamental human right."
Ferrero, who said the group will also be on hand for the Democratic National Convention in Philadelphia next week, added that this is the first time that the group has monitored a political convention in the United States.
"We're frankly very concerned that in both Philadelphia and Cleveland the right to peacefully protest is being infringed on," he said. "We've done this in dangerous situations such as the Arab uprising in Egypt."
The security situation in Cleveland has been a major issue in the days leading up to the convention in the aftermath of the recent terror attacks in France and Turkey as well as the police shootings in Dallas and Baton Rouge.
Many of the more than 11,000 who have converged on Cleveland to protest during the convention have also expressed their anger at the recent deadly police-related shootings in Minnesota and Louisiana along with a number of controversial deaths linked to police in the last few years.
While protests have so far gone off peacefully, both demonstrators and officials are wary that the week will pass without some type of confrontation between the protesters and the police.
Amnesty International says it's because of this tension between the two sides that they are on the ground in Cleveland.
"One of the things we want is to make sure to say that our work is to protect people's right to protest regardless of what they're protesting or what they represent," Ferrero said. "We've seen a number of situations in the United States in the last couple of years where protesters' rights have been infringed on."
Ferrero added, however, that following Monday's protest he is cautiously optimistic that both sides can keep the peace.
"We're very hopeful that police in Cleveland and Philadelphia will fulfill their duty to facilitate peaceful protest," he said. "We're having conversations that continue with police. We're not just there calling out things police have done wrong, we will also be calling out things that police are doing to facilitate and protect the right to peaceful protests."