Allegations of deadly gas attack test Obama's 'red line' in Syria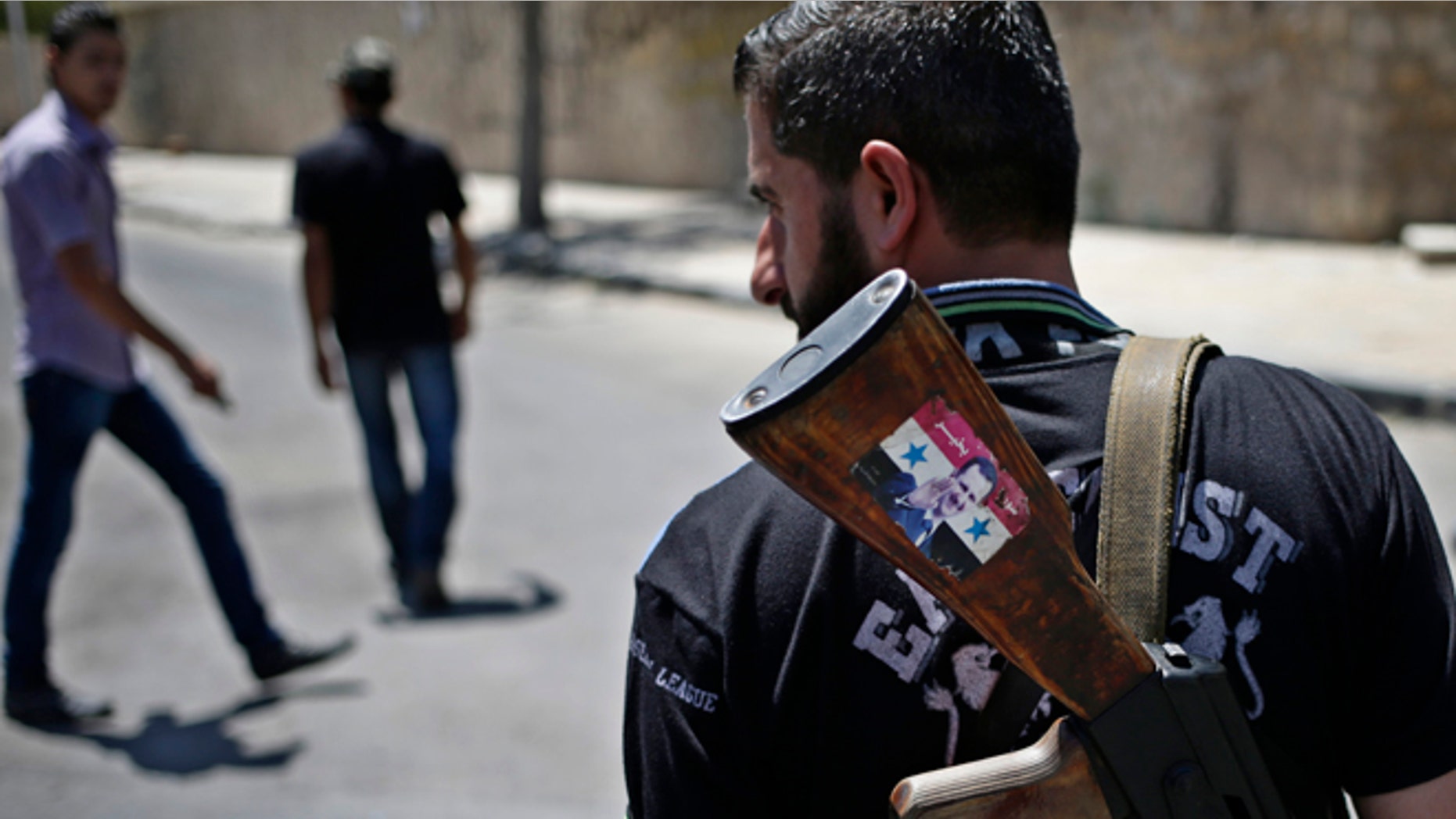 A year after President Obama warned the Syrian regime that using chemical weapons would cross a "red line," Syrian activists are accusing Bashar Assad's forces of killing hundreds in a gas attack -- in what would be the worst and deadliest chemical attack to date.
The attack raises new concerns that the so-called "red line" in Syria has been crossed, violated and effectively ignored. The situation compounds the Mideast challenges facing the Obama administration, as his national security team continues to deliberate on how to handle the unrest in Egypt -- another trouble spot where the U.S. is keeping itself at a distance.
White House spokesman Josh Earnest said in a statement Wednesday that the U.S. is "deeply concerned" by the reports in Syria and is calling for a United Nations probe.
"We are working urgently to gather additional information," he said. "The United States strongly condemns any and all use of chemical weapons. Those responsible for the use of chemical weapons must be held accountable. Today, we are formally requesting that the United Nations urgently investigate this new allegation. The U.N. investigative team, which is currently in Syria, is prepared to do so, and that is consistent with its purpose and mandate."
Daily politics news delivered to your inbox: sign up for our newsletter
The U.N. Security Council met late Wednesday afternoon on the allegations and called for "a thorough, impartial and prompt investigation."
Diplomats told the Associated Press that during the two-hour closed session, Russia and China, which support the Syrian government, blocked a stronger press statement supported by Britain, France, the U.S. and others.
A newly disclosed letter from U.S. Gen. Martin Dempsey, chairman of the Joint Chiefs of Staff, makes clear that the U.S. is not interested in taking military action at this point to stop Assad.
Effectively ruling out U.S. cruise missile attacks and other options that wouldn't require U.S. troops on the ground, Dempsey said the military is clearly capable of taking out Assad's air force and shifting the balance of the Arab country's 2 1/2-year war back toward the armed opposition. But he said such an approach would plunge the United States deep into another war in the Arab world and offer no strategy for peace in a nation plagued by ethnic rivalries.
"Syria today is not about choosing between two sides, but rather about choosing one among many sides," Dempsey said in a letter Aug. 19 to Rep. Eliot Engel, D-N.Y. "It is my belief that the side we choose must be ready to promote their interests and ours when the balance shifts in their favor. Today, they are not."
Engel said, in response to the letter, that he remains "deeply unsatisfied" with the current strategy, "as we stand on the sidelines when the turmoil in that country continues to claim thousands of lives and sow instability throughout the region."
"I reject the notion that our involvement in Syria would simply constitute 'choosing sides' between one armed group and another," he said in a statement. "Rather, our involvement represents a choice between hastening the end of the Assad regime or continuing to allow the cycle of violence, displacement, and terror to continue unabated."
Reports vary on the extent of the latest attack.
Reuters reported estimates from Syrian activists that more than 200 were killed on Wednesday after rockets hit an area in the Damascus suburbs. Syrian state television has denied any use of poison gas by the Assad government. Another group claimed nearly 500 were killed. The Syrian National Coalition put the death toll at more than 600, according to AFP.
The claims came as a 20-member U.N. chemical weapons team was in Syria to investigate three sites where chemical weapons attacks allegedly had occurred in the past. State media quoted a government official claiming the latest allegations were a bid to "divert the U.N. commission."
The Obama administration has defended its response to date in Syria. Since Obama declared last August that chemical weapons would constitute a "red line," the administration this past June did conclude that the government used chemical weapons. Following that, the president authorized military support for the Syrian opposition.
But that is still in the works, and Dempsey cautioned against going any further, namely out of concern that there's no clear entity with a strong chance of succeeding to get behind.
Dempsey said Syria's war was "tragic and complex."
"It is a deeply rooted, long-term conflict among multiple factions, and violent struggles for power will continue after Assad's rule ends," he wrote. "We should evaluate the effectiveness of limited military options in this context."
Asked if Assad is any closer to being forced from power, White House spokesman Josh Earnest reiterated Tuesday that that is a "goal" and defended the U.S. response.
"I think that there is no doubt that there is pretty broad international consensus about Mr. Assad and his regime and his need to leave power," he said. "So I think on that front, yes, some progress has been made. But there's no doubt that what's ongoing there continues to be a terrible situation."
The Associated Press contributed to this report.