Al Qaeda cell in Syria poses ISIS-level threat, intel chief says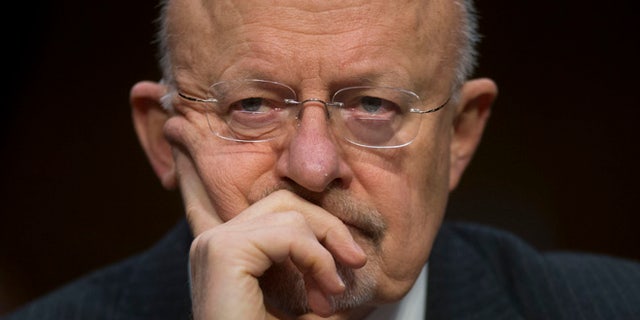 A group of Al Qaeda fighters in Syria is emerging as a rival terror threat to the Islamic State.
The network, known as the Khorasan Group, was acknowledged and named publicly for the first time on Thursday by Director of National Intelligence James Clapper. He confirmed the group is operating in the region and said they may pose as great a threat to the U.S. as the Islamic State.
"There is potentially yet another threat to the homeland, yes," Clapper said at an intelligence conference in Washington.
The Khorasan Group has been described by U.S. intelligence officials as a cell of veteran Al Qaeda fighters from Afghanistan and Pakistan who are trying to recruit western extremists to attack Europe and the U.S.
U.S. officials say they want to link up with the Al Qaeda affiliate known as the al-Nusra Front. Their members are said to include operatives trained by notorious bombmaker Ibrahim al-Asiri, thought to be behind the 2009 attempted bombing of a Detroit-bound jet and another unsuccessful plot in 2010.
In July, information related to the Khorasan Group and fresh plotting led the TSA to change its security posture and call for increased scrutiny of cell phones and laptops on U.S.-bound flights.
At the intelligence conference on Thursday, Clapper was asked if the fighters pose a risk similar to that of the Islamic State, or ISIS.
"In terms of threat to the homeland, perhaps they do," Clapper said, identifying them as the "Khorasan Group."
He also stressed the threat of homegrown terror in connection with ISIS, citing the newly disrupted plot in Australia by people reportedly suspected of planning to behead random citizens.
Clapper said ISIS includes "very sophisticated recruiters and motivators."
"And so we continue to worry, I think, more than any other single threat is the homegrown version which are very hard to detect. And so I think what's happened in Australia is a manifestation of that threat," he said.
But the acknowledgement of Al Qaeda fighters in Syria adds to the already complicated picture of militant groups operating inside Syria, some posing a threat to the West.
President Obama last week authorized U.S. airstrikes in Syria against the Islamic State, and is seeking final congressional authorization to launch a mission to train and equip moderate Syrian rebels as part of that fight.
But the U.S. is also at odds with Syria's president, Bashar Assad. Al Qaeda fighters pose another threat and challenge in the effort to uproot and defeat ISIS.
"The media is just now catching on to the Khorasan Group -- the intelligence community has been watching them for a while," a U.S. official close to the intelligence community told Fox News. Asked to compare the threat of the group to ISIS, he replied, "I don't like the act of comparing, but I would not say [Khorasan] are less of a threat."
CBS News reported that Khorasan fighters are developing plots to target the U.S.
Fox News' Catherine Herridge and Lucas Tomlinson and The Associated Press contributed to this report.