After tough election, Brazil's Rousseff faces a divided Congress – and nation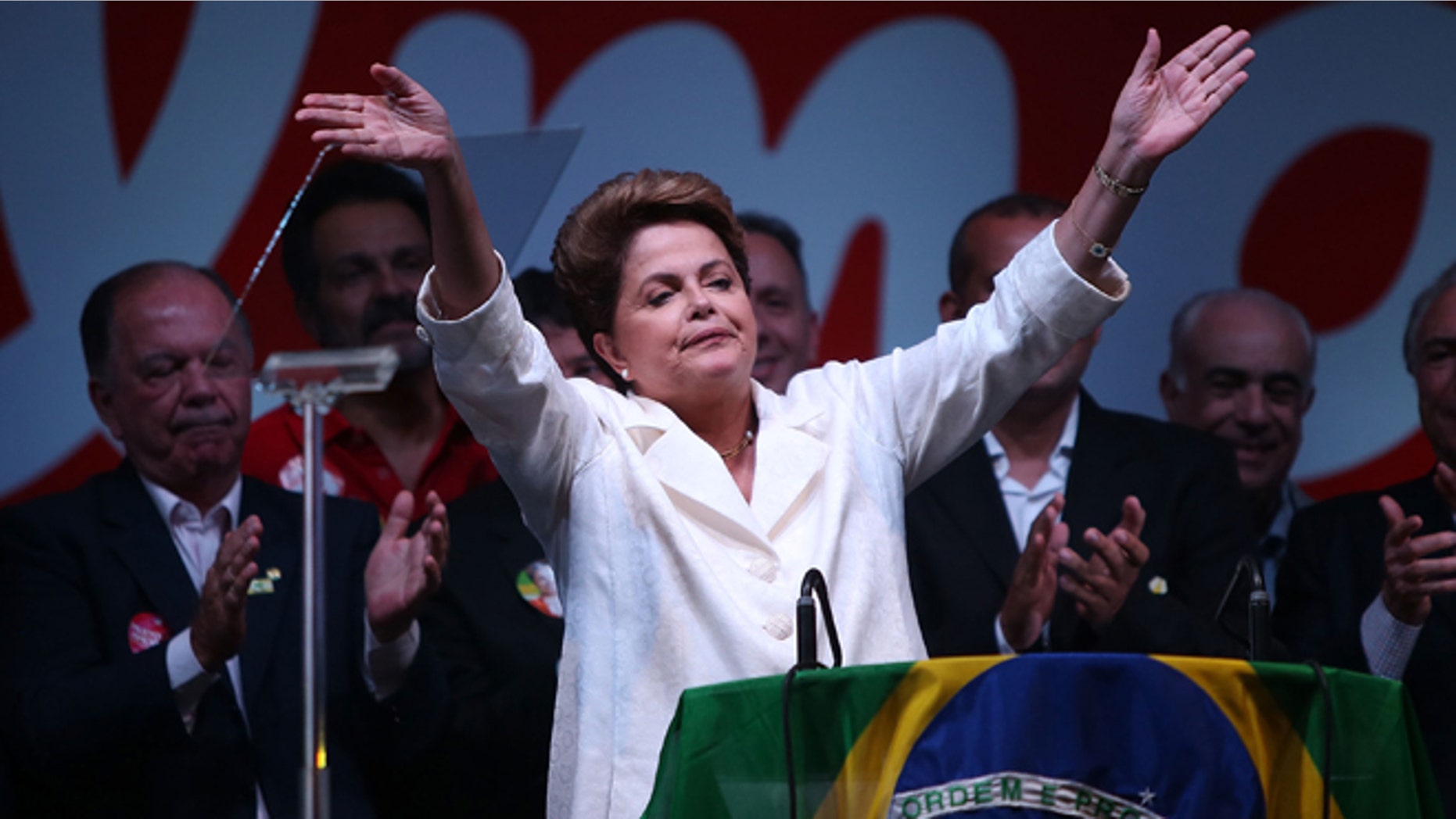 RIO DE JANEIRO (AP) – Brazil's re-elected leader Dilma Rousseff on Monday faced a house divided after a bitterly fought election that culminated in the narrowest presidential win since the nation's return to democracy three decades ago.
In a victory speech, Rousseff said her first task will be to seek reconciliation and to build bridges to those who didn't vote for her.
"This president is willing to dialogue and that's the first promise of my second term, to have a dialogue," she said before cheering supporters in Brasilia.
But it's not clear how far Rousseff is willing to reach out to rivals, nor how receptive a highly fragmented Congress, which after this month's general election is split between 28 parties, will be to her overtures.
Brazil's most rancorous presidential campaign in decades ended Sunday with the main opposition party's candidate Aécio Neves faring far better than anyone forecast less than a month ago.
The division could further stifle efforts at the political reforms millions of Brazilians demanded during street protests last year seeking increased government efficiency and less corruption.
Rousseff has urged Congress to call a national referendum on such reforms, but lawmakers balked at that last year when the president had more legislative support, and there is little reason to believe they'll agree to it now.
The divide also will likely hamper delayed economic reforms that many believe are necessary for longer-term growth, and even frustrate agreement on shorter-term measures required to jumpstart a stalled economy.
"We've never seen an election that's been this divisive," said Paulo Sotero, director of the Brazil Institute at the Woodrow Wilson International Center for Scholars in Washington. "The things said during the campaign, by both sides, will make it very difficult for the nation to come together quickly."
Rousseff has steep challenges on both the economic and political fronts.
Brazil's economy fell into technical recession in August. It faces the internal pressure of lessening consumer demand and rising inflation, as well as the external dilemma of China's growth slowing faster than expected. Brazil's economic expansion in the past decade was built on the spending power of a newly minted middle class and the voracious Chinese appetite for commodities like iron ore and soy.
Then there is the matter of Brazil's "lottery ticket" and "passport" to the future, as former President Luiz Inacio Lula da Silva labeled massive offshore oil fields discovered in recent years. State-run oil company Petrobras so far hasn't made good on its potential to tap the deep-water riches and create substantial new revenue for the government. Many blame Rousseff's interventions in the oil company, such as forcing it to keep gasoline cheap to battle inflation, as hamstringing its ability to invest and grow.
"The government is going to have less capacity to deliver what the people are asking for in terms of better public services," Sotero said. "The political fighting and fiscal problems paint the picture of a government that will have less to spend."
Now, Petrobras is at the center of a kickback scandal, and an emboldened opposition is likely to push even more aggressively for investigations that could be politically damaging to Rousseff's government.
A convicted money launderer who is cooperating with federal investigators in exchange for a lighter sentence said that the ruling party benefited from the scheme and that Rousseff had direct knowledge of it, though he's so far offered no proof. The president strongly denied the accusations.
In a Monday night interview with Globo TV, Rousseff said that an investigation must occur.
"Brazilian society demands the position of ending the systematic impunity that's occurred in this country for its entire history," she said. "That means, hurt who it may, justice will be done. And justice, in this case, is to punish. If somebody did wrong, they have to be punished."
The Eurasia Group political risk firm said in a Monday research note that it expects Rousseff will see a short postelection honeymoon period.
"The middle class — a majority of which voted for Rousseff with the expectation she would improve public services — will rapidly realize that their priorities do not align with the president's," Eurasia wrote. "Discontent will grow as the administration shores up fiscal accounts by raising taxes and administered prices, rather than bowing to popular demands for more spending in areas like health, transportation, and education."
However, Rafael de Paula Araujo, a political scientist at Sao Paulo's Pontifical Catholic University, said that Brazil has been "divided along ideological and class lines for years," and that he forecasts less political turbulence than most.
"It's a division that became exacerbated after the first round vote, when the election became polarized between two candidates," Araujo said.
He argued that the rift will likely quickly heal when voters think about the 12 years the Workers' Party has been in power, a time during which "the rich got richer, the poor became less poor and social programs benefited millions who entered the middle class."
Because Brazil as a whole is unquestionably better off than it was a decade ago, the political fighting here isn't remotely as virulent as in some neighboring countries like Venezuela or Argentina. With the opposition fragmented, Rousseff can use coalition building around specific projects to avoid the stalemates seen in the U.S., where the two-party system creates an us-versus-them political scenario.
Maria Socorro, a 23-year-old nanny in Rio, said she voted for Rousseff, but would hold her accountable on promises to protect the poor and turn Brazil's economy around.
"They've got to show that they'll push the country forward," she said. "Success is the best way to heal the divide this election created."
Follow us on twitter.com/foxnewslatino
Like us at facebook.com/foxnewslatino