People standing for national anthem horrifies progressives in viral video: 'This feels so dystopian'
One person said scene looked like one out of horror movie
The sight of people standing with their hand over their heart for the national anthem at a Southern California restaurant appeared to shock and horrify TikTok users.
In a viral video posted to the social media platform last week, about a dozen people are shown standing for "The Star-Spangled Banner" as it plays on a television screen in the bar area of Rainbow Oaks Restaurant in Fallbrook, California.
One TikTok user who was dining at the establishment posted the video with the caption, "By far the most dangerous situation I've ever been in." She used the hashtags #godblessamerica, #getout, #illegal and #whitepeoplethings afterward.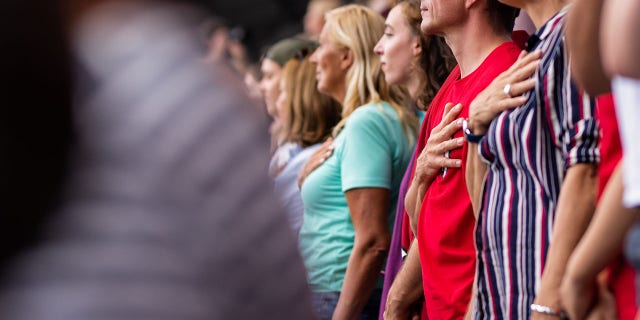 BLACK NATIONAL ANTHEM AT SUPER BOWL STIRS DEBATE ON SOCIAL MEDIA
The post garnered more than 17,000 comments, with many expressing disgust at the patriotic display.
One TikToker revealed that she worked at American restaurant Mission BBQ and had to stand for the anthem every day.
"I hated it there so much," she complained. Another agreed by saying she hadn't been back to that restaurant after experiencing the same thing.
One person said the scene looked like one out of a horror movie.
"Serious question. Is this real? Like people actually do this in real everyday life?" another user responded.
Some from other countries found the tradition bizarre.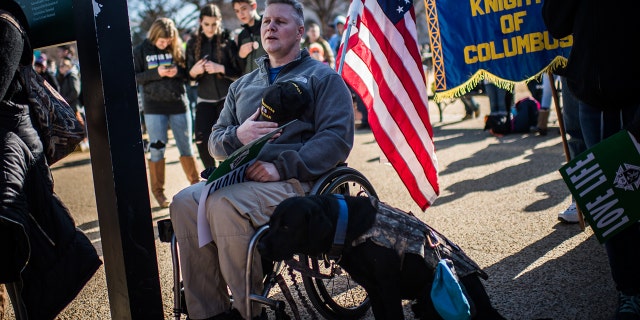 "As someone from the uk (sic) this feels so dystopian," one person wrote.
"In Spain we dont (sic) even hear the national anthem that much, so this would 100% freak me out so much," another user responded.
Several others called the video, "wild" "scary" and "terrifying."
CLICK HERE TO GET THE FOX NEWS APP
The Southern California restaurant said in a recent social media post that it plays the anthem every day at noon. The restaurant has kept this tradition for the past six years, San Diego's KUSI News reported.
Fox News Digital has reached out to Rainbow Oaks Restaurant for comment on the social media backlash to the anthem.