Florida man claims annoyed neighbors are just 'jealous' of his friendship with iguanas
Iguanas are considered an invasive species in Florida
Dr. Phil showcased a unique example of "divisiveness in America" on Friday: neighbors feuding over the feeding of wild iguanas in Florida.
The host introduced Darren, who has been "feeding wild green iguanas in their south Florida community," adding that these lizards are seen as a nuisance by his neighbors.
Darren said in a clip, "My neighbors are getting so jealous, they're getting jealous because they see me having fun. I even said to one of them, 'Why do you have to be jealous? You can come over and feed the iguanas with me.'"
He suggested that he could turn his iguana feeding into a business venture.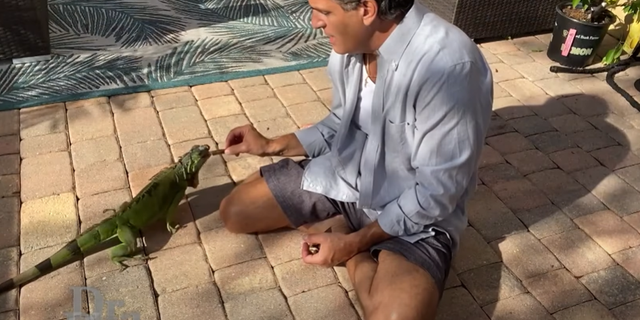 FLORIDA IGUANAS LIKELY TO FALL FROM TREES AS ARCTIC CHILL SWEEPS US CHRISTMAS WEEKEND
"If you went to some tropical place, you would pay probably $200 to feed iguanas. What I do is an experience," he declared. "Actually, I just came up with a good idea. I should do an Airbnb experience. Have people come to my house, feed the iguanas on my patio, and I'll put a little gumball machine where you get the food out and all that and really piss the neighbors off."
Dr. Phil also introduced one of these neighbors, Matthew, who noted numerous issues that can arise from a neighbor like Darren feeding wild lizards.
"He's a nightmare to have in the community. Everything you're not supposed to do, he does. I'm just sick of him with the iguanas. He's just feeding them constantly. He is an absolute nightmare," Matthew said. "They used to want no part of people. The moment the door would open to the backyard, they would scatter. Now, they see it as a signal like, 'Oh, I'm going to eat.'"
Matthew explained some of his major concerns over wild iguanas roaming the neighborhood.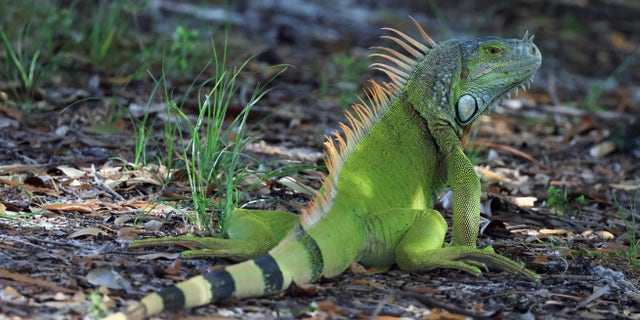 VIDEO SHOWS MAN WHO ALLEGEDLY BEAT SHARK WITH A HAMMER, DRAGGED IT ACROSS FLORIDA BEACH
"My main issues are my dogs. Some of these things are big. Like easily five feet. If one of them decided to grab a hold of my dog, they could do some damage," he said. "They eat plants. They crap and pee everywhere. My water bill is probably through the roof because I'm power-washing my patio every couple of weeks because of this guy."
He then recounted a conversation with Darren himself, "One day, I went over and he offered me a piece of moss. I'm like, 'No, what the hell am I going to with a piece of moss? That's pretty weird, man.' And then he's like, 'I named them.' So I'm like, 'Alright, I got to get out of here.'"
Matthew also said, "You know, you kinda hear him sometimes talking to these things, it's kind of disturbing, he has them over like it's Happy Hour," and added later, "We've come to words, it's gotten heated. It hasn't gotten physical. I mean, it can if he wants to. Just stop what you're doing, just stop!"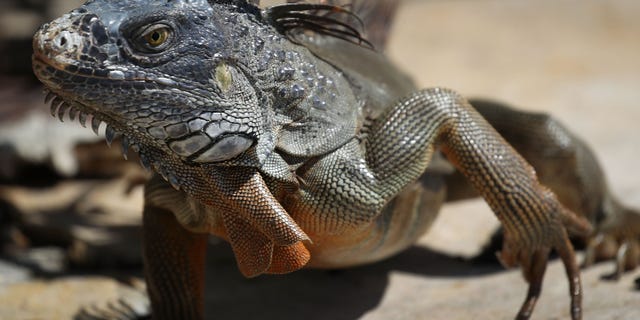 CLICK HERE TO GET THE FOX NEWS APP
Later in the episode, Dr. Phil turned to Darren and offered a compromise.
"Let me ask you a question, if you love the iguanas and your neighbors don't, and you want to be mature about this, why don't you go to the iguanas? I'm sure there's a pond or a marsh around there where they hang out and tell iguana jokes," Dr Phil said. "Then you can go out to where they are, but don't draw them in to the houses where they eat the vegetation and burrow under the patios and that sort of thing."