Your liver on binge drinking (and how to help reverse the damage)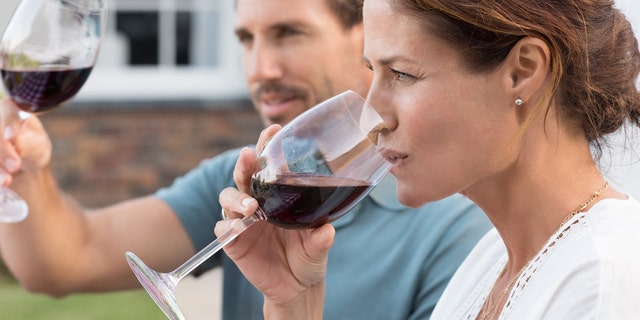 You've enjoyed a night's worth of drinking out with loved ones — maybe it was a special occasion with family and Champagne, a big game over beers with your buddies, or an ordinary weeknight when you and a girlfriend tipped back a bottle of wine and ran it dry just because. The next day, you may notice some temporary signs of skin puffiness, a headache, or nausea. But has your celebratory night of imbibing left your body permanently damaged?
5 SURPRISING BENEFITS OF DRINKING IN MODERATION
Here, Fox News talks to Dr. Hwan Y. Yoo, a liver specialist at The Center for Liver and Hepatobiliary Diseases at Mercy in Baltimore, Maryland, and Kathy Jung, director of the NIAAA Division of Metabolism and Health Effects, to find out.
What does the liver do?
First, it's important to understand the effects of alcohol on the liver, an organ that's responsible for converting and storing nutrients into substances human cells can use to function, according to the National Institutes of Health (NIH). When we consume anything, the liver filters that matter and ensures no toxic substances enter the body as such.
DRINKING WINE IN MODERATION MAY HAVE THIS BRAIN BENEFIT
People who drink too much may be at risk of liver disease, an ailment that can affect other organ function in the body and increase the risk of premature death. According to the NIH, sometimes people with liver disease may not show symptoms, while other times they may notice swelling in their midsection or legs, a tendency to bruise easily, changes in urine or stool, and yellowing of the eyes or skin.
How much is too much?
For patients who don't have liver disease, physicians generally recommend not exceeding the equivalent of two drinks a day for men or one drink for women. One drink is equivalent to one 12-ounce beer, one 5-ounce glass of wine, or one 1-ounce shot, Yoo said. (The amount may vary depending on the person, including whether they have any signs of liver disease.)
Binge drinking typically refers to either over five drinks for men or over four drinks for women within two hours.
RED MEAT EATERS MAY HAVE A HIGHER RISK OF DYING FROM THESE DISEASES
How does binge drinking impact the body?
According to the National Institute on Alcohol Abuse and Alcoholism (NIAAA), more than 2 million Americans suffer from alcohol-related liver disease, and heavy drinking, even over the course of just a few days, can contribute to liver damage.
Unfortunately, binge drinking will cause immediate damage, Jung said. Alcohol will cause the gut to leak bacteria and bacterial products into the bloodstream — in fact, just 30 minutes after consuming alcohol, these bacterial products can be found in your blood, she said. Those bacterial products will in turn stimulate inflammation, which contributes to chronic disease.
Your liver will suffer some of the worst damage: Even one evening of binge drinking can cause the death of liver cells, Jung said, though she noted that researchers are still working to understand the mechanisms behind this. Even just a short bout of heavy drinking can cause fat to build up in the liver — making it more difficult for the liver to function and signaling the onset of the earliest stage of alcoholic liver disease, according to the NIAAA.
FOLLOW US ON FACEBOOK FOR MORE FOX LIFESTYLE NEWS
Can you reverse the damage?
If you've noticed you've had too much to drink, can you reverse the damage? Not quite: you won't be able to undo alcohol's effects on your liver, Jung said. Still, she noted that if you abstain from drinking for the next few days, you will give your liver a better shot at recovering completely.
Yoo noted that, after a bout of drinking, you can help your body recover in a few other ways as well, including hydrating with at least eight glasses of water a day, making sure meals are at least 40 percent protein in order to ensure adequate nutritional intake, and getting about 30 to 60 minutes of aerobic exercise a day.