D.C. restaurant changes dress code after being accused of 'racism'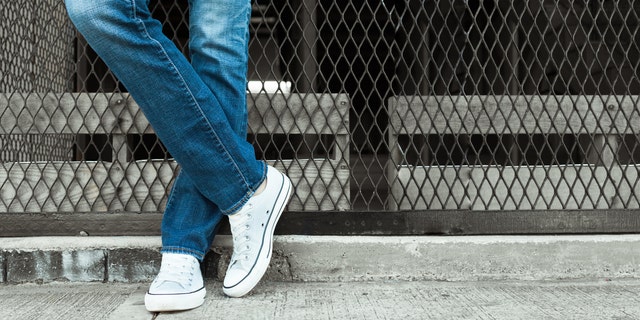 A popular restaurant and nightclub in Washington D.C. has changed its "no sneakers" policy after many guests claimed it was not being applied universally to all races.
Brian Gordon, who is African-American, said he had arranged a get-together with friends at El Centro D.F. restaurant one recent evening around 10:30 at night. However, while his friends were inside waiting for him, Gordon said he was denied entry because of his footwear.
Gordon was wearing white leather Converse high-tops — and the bar/nightclub area has a dress code that prohibits wearing sneakers.
"They're not like ratty, dirty sneakers," Gordon told The Washington Post. "They're brand new, they're leather. They were clean, fresh, white. It's not like I showed up in five-year-old Chucks."
Gordon texted his friends in the bar to tell them he wasn't allowed in because of his shoes. His friend, Yesha Callahan, said she looked over at the bar inside and saw a group of white men wearing tennis shoes.
TEXAS RESTAURANT'S SIGN DEPICTING BLACKFACE CARICATURE SPARKS OUTRAGE
"They all have sneakers on," Callahan said. "One guy had the same sneaker style that [Gordon] had."
Eventually, a friend of the group was able to get Gordon in, but they decided to have a drink at another establishment down the street.
Gordon told the Washington Post that he doesn't have an issue with the no-sneakers policy, "but if it's not being applied universally, then it's a problem."
Callahan was upset by the incident and wrote an article detailing the exchange for The Root, which was widely shared.
As the story gained traction, more people started to make claims against the restaurant for unfair and "racist" behavior.
One person wrote on Yelp, "Racist. My boyfriend (who is Puerto Rican) was denied entry into this establishment because of their "no tennis shoe policy." Meanwhile, I (White) was able to get in WITH THE EXACT SAME SHOES ON."
The user continued with, "Read the [Yelp] reviews here, it seems like y'all have a serious racism problem that you don't feel like addressing."
Another responded to Callahan on Twitter, writing, "This happened to my friend last year! I have refused to go back ever since. Very racist bouncers."
Following the backlash against the bouncer and the establishment, Ayyaz Rashid, managing partner of the Sandoval Restaurant Group that runs El Centro D.F., removed the sneakers policy and fired the bouncer who had turned Gordon away.
Rashid said that celebrity chef Richard Sandoval, of Sandoval Restaurant Group, has a "zero tolerance for anything discriminatory," the Post reported.
Rashid also said when guests in the bar are not observing the dress code, it is usually because they had dined in the restaurant, which does not have a dress code, and then stayed around for the nightclub.
FOLLOW US ON FACEBOOK FOR MORE FOX LIFESTYLE NEWS
While Rashid argues that the dress code policy was "no different than any D.C., L.A. or New York Lounge," he still says the company will be "doing extra training to discuss this issue, to make sure [employees] understand what is right, what is not right."
Rashid says, "I am a person of color myself. So to hear that I would be enforcing such policies, it's pretty personal to me."
Gordon, Callahan and their friends were glad to hear how the incident unfolded, but were upset that El Centro had received complaints regarding racial discrimination before and had not acted.
"It shouldn't take this massive amount of attention," Callahan said. "If you want to have a policy, have it, but enforce that policy across the board. Don't allow your bouncers to enforce it across their own biases."