Zika detected in woman's vagina for up to 2 weeks, scientists say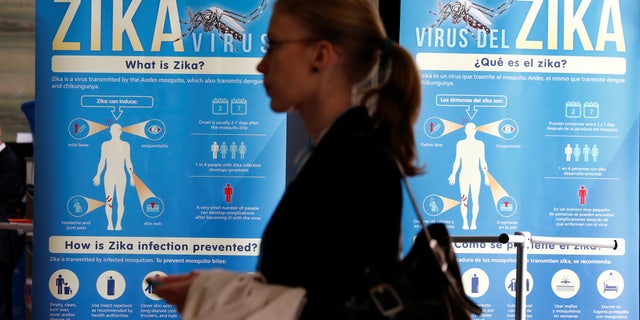 Scientists announced Tuesday that a woman's vaginal mucous tested positive for Zika virus for weeks and remained in her body for days after symptoms subsided. While it's still unclear how long Zika remains in the body after infection, researchers' findings suggest that period is longer than noticeable.
Published in the Centers for Disease Control and Prevention's (CDC) journal Emerging Infectious Diseases, the study involved a previously healthy, non-pregnant 26-year-old white woman who contracted Zika while traveling to Honduras. Five days after her return to the United States, she developed symptoms of the virus, including a rash, fever, headache and conjunctivitis. Symptoms cleared up by the 17th day.
In the days following her arrival back to the U.S., before symptoms appeared, and intermittently several times after they did, researchers at Baylor University College of Medicine collected several specimens to study for traces of Zika. Those specimens included serum, whole blood, urine, saliva, and vaginal mucosa swabs when the patient wasn't menstruating.
Researchers detected Zika virus RNA in serum up to eight days after the onset of illness and in body fluids up to 14 days after illness onset. However, urine and vaginal swab samples didn't test negative until after the 14th day, and whole blood samples continued to test positive for Zika up to 81 days after illness.
Although animal studies have supported Zika's presence in vaginal mucous up to 14 days after illness onset, "only one human study reported Zika virus RNA in cervical mucous up to day 11 after onset of signs and symptoms," researchers wrote in the study.
"With the recent finding of possible female-to-male virus transmission, infectious virus might be present in the vaginal canal and could serve as a risk for sexual or intrapartum transmission," they wrote.
Researchers noted detecting Zika in whole blood up to 81 days after illness was the longest reported duration of detection in this type of sample. They added that the patient's rash, which was scaly, and appeared on her hands and feet, has yet to be described in medical research.
"Additional studies involving larger cohorts of acutely ill Zika virus–infected patients tested over a longer period would solidify our understanding of the natural history of infection, duration of viral detection, and clinical outcomes," researchers wrote in the study. "These studies will enable further development of evidence-based policies regarding diagnosis and clinical management of Zika virus-infected patients."