Why this Victoria's Secret model's Pepto-Bismol blackhead hack shouldn't be attempted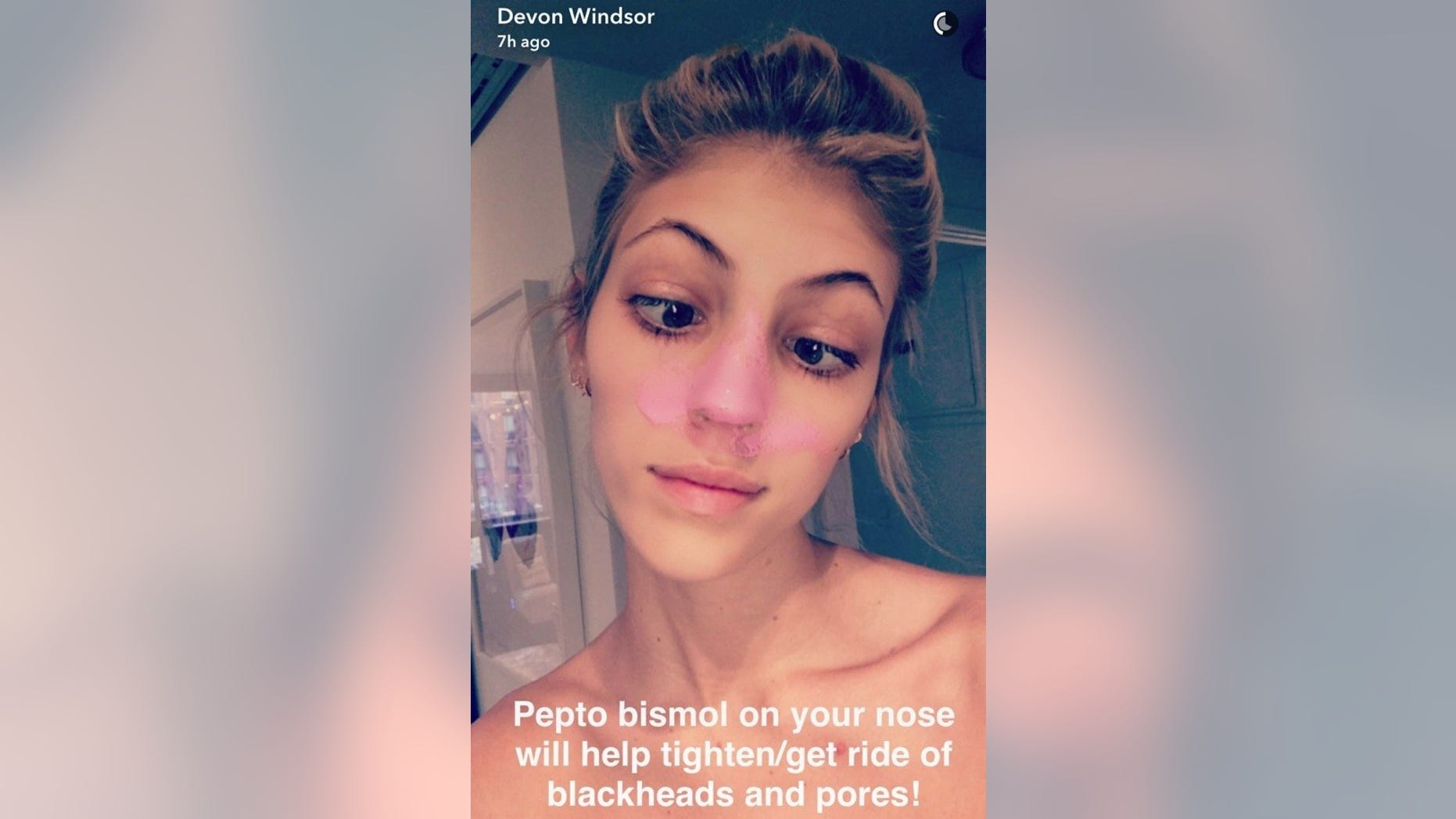 It's no secret supermodels have gorgeous skin. And while we're all for trying the tricks they use to get glow-y, we can't stand behind all of them. And this Victoria's Secret model's Pepto-Bismol blackhead hack, which has been going viral, proves just that.
Victoria's Secret model Devon Windsor recently took to Snapchat to share her favorite at-home hack for busting blackheads with fans. And while we were expecting mud masks and spot treatments galore, the VS star surprised us with a treatment straight off the shelves of her medicine cabinet: a single bottle of Pepto-Bismol. Windsor credits the creamy pink stuff that helps soothes stomach aches—which she slathered on her nose and T-zone—for helping to "tighten and rid her skin of blackhead and pores."
While we applaud Windor's innovativeness for DIY beauty], we've got to just come right out and say it: Pepto-Bismol isn't a blackhead treatment. Sure, it's made with salicylic acid, which targets breakouts, and aspirin to soothe inflammation, but, call us crazy, we have a hunkering feeling Pepto-Bismol isn't meant to be worn on the skin. To prove that point, we asked New York City-based dermatologist Debra Jaliman to weigh in on the pink treatment.
"Yes, salicylic acid works, but there are so many great products on the market that are already formulated to treat acne, so why do you need to use Pepto-Bismol?," says Jaliman. "It's great for a stomach ache, but it's certainly not great for your face."
Dermatologist Joshua Zeichner echoes that sentiment, but adds that the stomach soother is also considered an unexpected oily skin treatment: "Pepto-Bismol contains a relative to salicylic acid, which can help exfoliate dead skin cells and remove oil from the skin," he says. "Bismuth salts help mattify the skin by absorbing oil."
So, while Pepto-Bismol does contain blackhead-fighting ingredients, bottom line, if you've got breakouts that just won't quit (who doesn't?), instead of busting out whatever you've got stocked in your medicine cabinet, try a pore-targeted treatment instead (like the Bioré Pore Penetrating Charcoal Bar), because while it can't shrink oversize pores (sorry, they can't actually be shrunk), the charcoal-based product can certainly minimize the appearance of them while sopping up excess oil. See, there are easier ways to get that supermodel skin. Promise.