Weight loss surgery allows woman to fulfill her dream of being a mom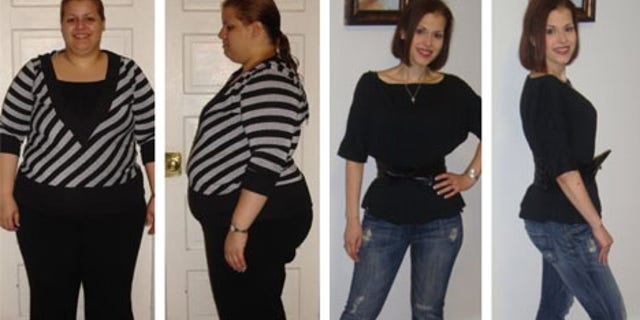 Jassira Espaillat-Batista had always wanted to be a mother. But at 340 pounds, she was unable to ovulate, so having children didn't seem to be an option for her.
"[My husband and] I had tried and it just didn't happen," Jassira said. "My OBGYN told me if I wanted to do that I would need to lose weight or use fertility treatments."
So in an attempt to take control of her weight issues, Jassira sought out medical options that would help her drop the pounds. Without knowing much about the procedure, Jassira decided to get a gastric band – more commonly known as a lap band – to help control her food intake.
But the surgery that was meant to make her life easier turned it into a nightmare instead.
"It was the most miserable year and a half of my life," Jassira said. "I was constantly vomiting. Everyone expected me to drop weight like crazy, but I didn't lose any weight and became extremely depressed."
And to add to her misery, Jassira found no help in her doctors. When she explained to them that she had trouble swallowing her own saliva, they would tell her that she was not doing the right things, even though she was following the vitamin and diet regimen as closely as possible.
"The quality of life was so miserable," Jassira said. "It got to the point where I was looking for a surgery that would just take it out."
That's when a friend referred Jassira to Dr. Mitchell Roslin, the chief of obesity surgery at Lenox Hill Hospital in New York City. She sent him an e-mail describing her pain, and he immediately called her to set up an appointment for the next day.
Roslin explained to Jassira that the lap band's failure wasn't her fault – it just wasn't the right surgery for her.
"What I tell people about a band is that it's a diet with a seatbelt," Roslin said of the silicon device – which acts as diet suppressor meant to help limit a person's food intake. "If that's enough to change your eating habits, that's fine. But it doesn't have the same diet suppression as other surgeries do. Bands have gone down a significant percentage. They're easier things to sell and harder to live with."
After understanding why the band had failed her, Jassira decided to go another route with Roslin. He removed her band and performed a duodenal switch – a gastrectomy procedure the involves removing over 80 percent of a person's stomach.
"In it, we're preserving a tube of the stomach – similar to a sleeve," Roslin said. "Below the stomach is the pylorus, which in Latin means the 'gate keeper.'" The pylorus is the part of the stomach that connects to the small intestines. "We preserved the gate keeper, and did a bypass beneath it. We calibrated the bypass to be 3 meters. We find that's enough to limit bowel movements to one or two a day, which is much better for treating diabetes."
The results for Jassira were pretty immediate. Within the first six months, she dropped 80 pounds. But then something changed her weight loss experience altogether.
"Then all of a sudden, at 6 months post-op, 'Oops I'm pregnant!'" Jassira said. "Every doctor told me I was going to have children. I had all kinds of issues, and we never even had a scare. It was like the miracle baby for me."
Throughout the course of her pregnancy, Jassira continued to lose weight – even though she couldn't exactly tell.
"I lost about 70 pounds during those nine months," Jassira said. "But I really didn't notice the weight loss because I had a big growing belly. Then when I gave birth, I came out of the hospital, and I was 40 pounds lighter. Within 3 weeks, I went from being pregnant to being a size 4. That's when it hit me, over a year later, just how much weight I had lost."
"Probably the reason that people like Jassira are infertile is because they have insulin resistance, which gives them ovarian or polycystic ovarian syndrome," Roslin said. "Also, abnormal levels of the female hormone are found in fat. When we changed her absorption and normalized her female hormonal levels, she started ovulating shortly after surgery."
Just over 200 pounds later, Jassira is maintaining a weight of 140 to 150 pounds, and she couldn't be happier. She gave birth to her second child in September, and is looking forward to celebrating her first mother's day with him - something she would never have been able to experience had she not had the surgery.
"Even if I had children at that weight, I would never be able to do the things I do with them now," Jassira said. "I can play with them and go in the background and run around. I used to get exhausted just from sitting down."
"My life isn't perfect by any means, but I'm very happy now."