US study finds Zika virus in tears of mice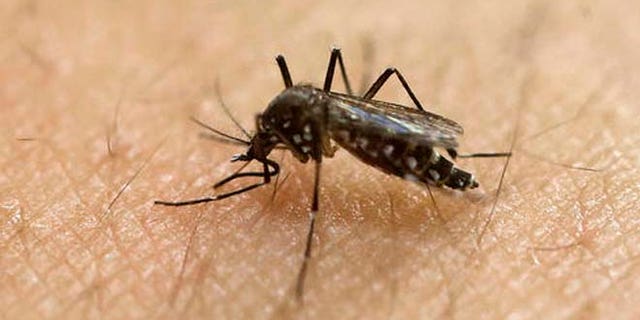 NEWYou can now listen to Fox News articles!
CHICAGO – A new study has found genetic fragments of Zika in the eyes and the tears of laboratory mice infected with the virus, a finding that offers a potential new route of human infection.
"Our study suggests that the eye could be a reservoir for Zika virus," said Dr. Michael Diamond of Washington University St. Louis, whose paper was published in the journal Cell Reports.
"We need to consider whether people with Zika have infectious virus in their eyes and how long it actually persists."
For the study, the team infected adult mice under the skin, resembling the way people get infected by mosquito bites, and found live virus in the eyes a week later. When tested 28 days later, the tears of infected mice contained genetic material from the virus, but not infectious virus.
The researchers said their findings raise the possibility that Zika could be spread through contact with the tears of infected people, but said that would have to be proven.
"We are planning studies in people to find out whether infectious virus persists in the cornea or other compartments of the eye, because that would have implications for corneal transplantation," said Dr. Rajendra Apte, a senior author of the study. Other blood-borne viruses such as herpes simplex virus have been transmitted accidentally through corneal transplants.
Although principally spread by mosquitoes, Zika has been shown to persist in sites of the body where the immune system is less active, including semen, vaginal fluid, saliva and now, possibly, tears.
That could help account for why Zika has spread so quickly, outpacing what might be expected if the virus were only carried by mosquitoes, Diamond said. "Sexual transmission is probably not playing a major role, but it could be some other bodily fluid - saliva, or urine or tears," he said.
Zika infections in pregnant women have been shown to cause microcephaly - a severe birth defect in which the head and brain are undersized - as well as other brain abnormalities. The connection between Zika and microcephaly first came to light last fall in Brazil, which has since confirmed more than 1,800 cases of microcephaly.
In adults, Zika infections have also been linked to a rare neurological syndrome known as Guillain-Barre, as well as other neurological disorders.