US soccer's Solo, worried about Zika, says may skip Rio games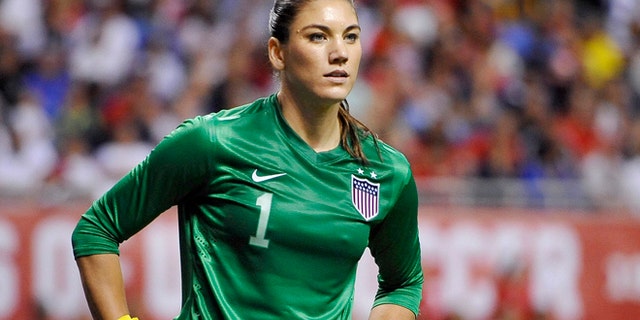 NEWYou can now listen to Fox News articles!
Renowned U.S. soccer player Hope Solo said Thursday she was unlikely to join her teammates for the Rio Olympic Games without more information about Zika as she hoped to have children and was concerned about the virus' health effects.
"Until I know more, I don't feel like I can make a really informative decision... If things stood as they are right now, I probably would not go," she said in an interview on CBS' "This Morning" program.
Solo, the 34-year-old goalkeeper who helped the U.S. Women's team capture the World Cup last summer, said she was not yet making a final decision. She was hopeful the spread of Zika could be contained in the months leading up to the start of the Games in August in Brazil, where the mosquito-borne virus has been linked to thousands of birth defects.
The United States Olympic Committee has said people concerned for their health should consider not attending the Games.
"I hope we get some clear, concrete answers very soon," she said. "I'm a little skeptical to be honest ... it's scary, and I have a lot of reservations about going to the Olympics," Solo added, pointing to Wednesday's World Health Organizations warning that the Zika outbreak would likely worsen.
WHO declared the outbreak an international health emergency on Feb. 1, citing a likely strong relationship between Zika infection during pregnancy and microcephaly, a birth defect where an infant's head is smaller than those of other babies of the same gender and age. Scientists were also studying a potential link to Guillain-Barre, a neurological disorder.
Brazil said it has confirmed more than 580 cases of microcephaly, and considers most of them to be related to Zika infections in the mothers. Brazil is investigating an additional 4,100 suspected cases of microcephaly.
Scientists are scrambling to better understand Zika, with results from a major study expected in May, just ahead of the Rio Games' start in August.
In the meantime, U.S. health officials have offered guidelines, and President Barack Obama separately on Thursday signaled hope for a vaccine.
One of the world's most famous players, Solo said that not all of her teammates, who vary in age and may not want children, would skip the Games, and that the team remained focused on clinching the gold medal following their World Cup championship.
"First and foremost, we want to be back-to-back champions. It's never been done before, and I want to be part of that" she told CBS.
However, Solo said, at some point she hoped to start a family. She is married to former National Football League player Jerramy Stevens, 35.
"I don't to be worried, I don't want those anxieties, I don't want the constant tests. I don't want to risk the safety of a child, the health of a child," Solo said.