US, Liberia kick off trial of Ebola drug ZMapp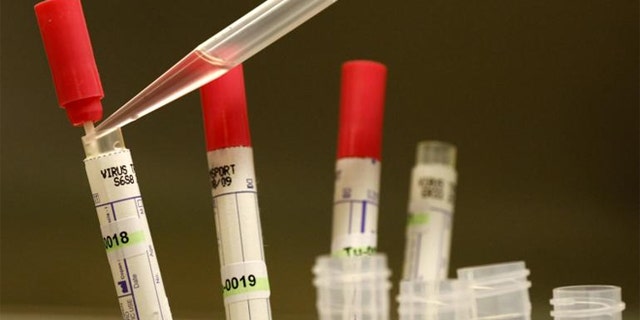 NEWYou can now listen to Fox News articles!
U.S. and Liberian researchers have started a clinical trial to test the safety and effectiveness of Mapp Biopharmaceutical Inc's Ebola drug ZMapp, an experimental treatment that has already been tried in a handful of Ebola patients, including two U.S. missionaries.
The trial, a joint effort by the Liberian government and the National Institute of Allergy and Infectious Diseases (NIAID), will be conducted in Liberia and the United States among adults and children infected with Ebola, NIAID said on Friday.
Although ZMapp has been used on a humanitarian basis in nine infected patients, there was no way to tell whether the treatment offered a statistically significant benefit, Dr. Anthony Fauci, director of the NIAID, said in a statement.
Fauci said the randomized trial should provide the scientific evidence needed to show whether ZMapp is safe and effective, and whether it can be used in the current outbreak in West Africa and in future outbreaks.
The trial will enroll adults and children admitted to Ebola treatment units in Liberia, health care workers infected with Ebola virus in West Africa who have returned to the United States for treatment, and adults and children who may have acquired Ebola in the United States through secondary transmission.
Everyone in the study will receive the highest standard of care for treating Ebola. In addition, a portion of participants will also receive three doses of ZMapp. People in the study will be followed for up to a month after discharge.
The U.S. Biomedical Advanced Research and Development Authority is funding the production of ZMapp, a cocktail of antibodies made in tobacco plants.
If ZMapp proves effective, it will become part of the standard of care and a new treatment will be randomly assigned to portion of the patients.
Other drugs to be tested include a treatment from Canadian drugmaker Tekmira, the antiviral Favipiravir from Japan's Toyama Chemical Co, blood plasma collected from Ebola survivors, the drug BCX4430 from North Carolina-based BioCryst, and a treatment called AVI-7537 from Sarepta of Massachusetts. Each drug will be tested in up to 100 people per arm.
The trial is expected to conclude in December 2016, although scientists say they may need to be flexible as the Ebola epidemic wanes.
Guinea, Liberia and Sierra Leone reported 99 new confirmed Ebola cases in the week to Feb. 22, down from 128 the previous week, the WHO said on Wednesday.