Treadmill studio classes put a spin on indoor running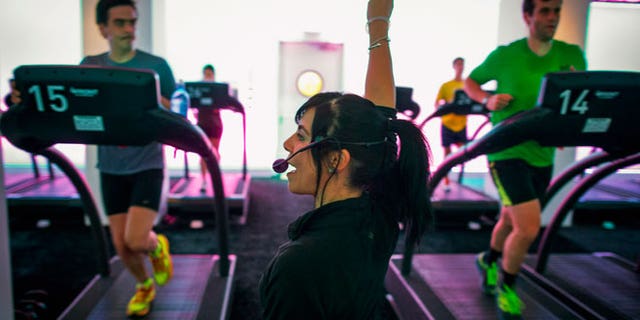 A New York City fitness studio is following fast on the heels of the indoor cycling, or spin, craze by beckoning outdoor runners to come in from the cold for group treadmill classes.
Equipped with 30 treadmills, lighting evocative of dusk or dawn, and group training designed to hone the skills of marathoners and newbies alike, fitness experts say the Mile High Run Club (MHRC) might do a bit to burnish the image of the most used, least glamorous, of gym cardio machines.
Billed as the first treadmill studio, MHRC is the brainchild of founder and program director Debora Warner, a running coach and group fitness instructor. She said the experience is similar to a group spinning class with many people on treadmills at the same time doing a structured class together.
"You can be very specific about incline, duration, number of reps," said Warner, 43, "and that helps runners with their pacing outdoors. I don't see treadmills as a substitute for running, but it's a great training tool."
The treadmill is the most popular cardio machine at the gym, used by 40 percent of the over 60 million Americans who utilized a health club in 2013, according to the 2014 Health Club Consumer Report of IHRSA, the trade association of the health club and fitness industry.
Nevertheless, it is viewed as drudgery, believes Connecticut-based exercise physiologist and running coach Tom Holland.
"Running on a treadmill is a pretty horrible experience for most people and they generally don't maximize their time," said Holland, author of "The Marathon Method."
He points out that while there is great value to interval training, steady running has its virtues, too.
"Most running coaches say for every hard workout, you need one or two easier ones," Holland said.
Although Warner's studio is dedicated to running, she noted that big gyms, such as Equinox, also offer treadmill classes. Crunch, another national chain, has also been integrating treadmill intervals into yoga and boot camp classes.
She offers group foundational and advanced classes. Both rely on repetitions of high-speed or intensity work followed by periods of rest or low activity, bookended by five-minute warm-ups and cool downs.
The classes also incorporate about 10 minutes of strength and power training, such as lunges, plyometrics (jumping), and stability training, which are all good for runners.