The quadruple amputee beauty blogger who's taking Instagram by storm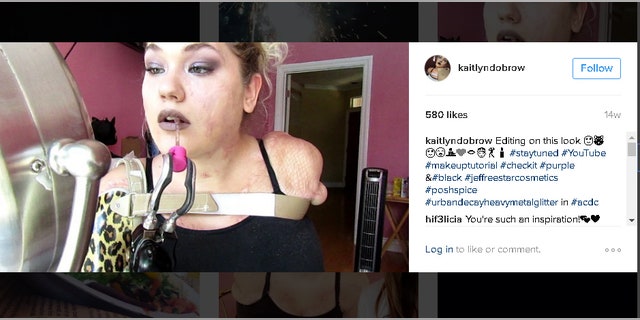 Kaitlyn Dobrow isn't your average beauty blogger: The aspiring cosmetologist has gone viral for her flawless makeup looks, and she happens to be creating them all with a prosthetic arm.
At age 19, Dobrow fell ill with a life-threatening case of bacterial meningitis. The infection caused blood clots that prevented blood from reaching much of the skin on her body, resulting in scars similar to third-degree burns, according to the Orange County Register. Dobrow has since undergone more than 20 surgeries, including skin grafts and amputations of all four of her limbs. She has had to relearn how to do everything from walking to folding laundry with her prosthetics.
RELATED: The Best Drugstore Lipsticks for Under $10, According to Makeup Artists
But just three years later, Dobrow has taught herself to pull off magical feats with makeup, including a perfect cat eye...
...and stunning glitter tears.
Not to mention a killer cheetah transformation that's purrfect for Halloween.
But it's not only Dobrow's talent that's so impressive; her overall approach to life is seriously inspiring as well. In an interview with the OC Register, she admitted that she's a bit upset her scars are fading: "God said [having scars] shows you're a warrior, don't try to hide them," she said. "I think they look pretty cool."
RELATED: Doctors Said She'd Never Run Again. Now She's Doing an Ironman
Check out more of Dobrow's tutorials on her Youtube channel and Instagram account.
This article originally appeared on Health.com.