Teen dies after being pulled from football conditioning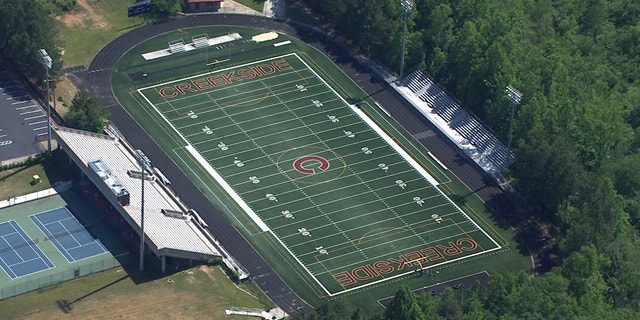 A Georgia community is mourning the sudden death of a freshman football player who died after appearing pale during practice. Kamari McGowen, 15, is the second player from Creekside High School to die in less than four years, AJC.com reported.
McGowen's football coach pulled him from the conditioning portion of practice late Monday afternoon, according to the report. Paramedics were called and McGowen was taken to a local hospital where he later died. The cause of death is still under investigation.
NFL'S DREW BREES HITS HARD ON DANGERS OF HEAT STROKE
"Fulton County Schools is saddened by the heartbreaking news of the death of Kamari McGowen," school officials said in a statement. "Kamari was a 9th grade student at Creekside High and died unexpectedly after being transported to the hospital from football conditioning Monday evening. The cause of death has not been confirmed. Creekside High had counselors at school on Tuesday and as long as necessary to assist students and teachers who are experiencing grief. Our thoughts and prayers are with the McGowen family."
Rashaad Gates, a senior on the team, told Fox 5 Atlanta that it was McGowen's first practice with the team, and that they start conditioning early in the year to prepare for the upcoming season.
"Just to see a kid go so young, he just wanted to play football, it's just a tragedy," Gates told Fox 5 Atlanta.
HOW MANY HIGH SCHOOLERS BINGE DRINK?
According to state law, teams must provide athletes with at least three water breaks per hour, and trainers must monitor weather to measure heat stress in direct sunlight. The district said it is also investigating McGowen's death.
In 2013, De'Antre Turman died after breaking his neck during a scrimmage against a nearby high school. He was one of the state's top prospects for the 2015 class, AJC.com reported.