Surgery set for teacher who volunteered to donate kidney to student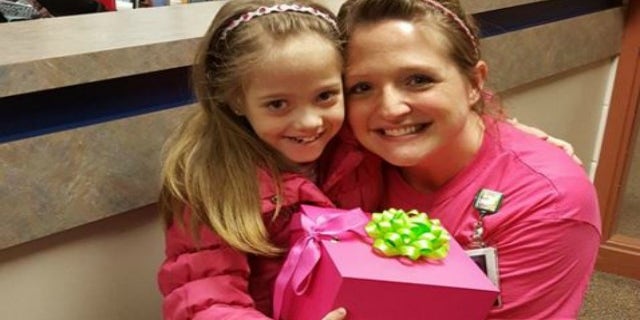 A Wisconsin teacher who surprised the family of one of her student's by volunteering to donate a kidney will soon make good on her promise, as the surgery has been set for April 27. Jodi Schmidt, a first-grade teacher at Oakfield Elementary School, surprised Natasha Fuller's grandmother with the news in March.
In a recorded video Schmidt hands 8-year-old Fuller's grandmother, Chris Burleton, a pink box to open.
"I just wanted to give you a gift just for how hard you work just to keep her here because we really appreciate everything you do," Schmidt told Burleton.
As the grandmother opens the box she sees a message informing her that Schmidt was found to be a match for Fuller and immediately bursts into tears.
"Here I thought I was coming to school because she was naughty," Bulerton said in the video.
Fuller, an identical twin, was diagnosed with polycystic kidney disease and prune belly syndrome before she was born. Her mother and eight siblings live in Oklahoma while Fuller lives in Wisconsin so she can receive dialysis three days per week at Milwaukee Children's Hospital.
"It's been really hard," her mother, Kerri Cox, told KFDX.com. "We try to Skype as much as possible. Her and her twin, they send letters constantly and Skype."
Burleton posted an update on Facebook letting followers know that the surgery has been set for April 27.