Sheriff's deputy to donate kidney to former coworker's son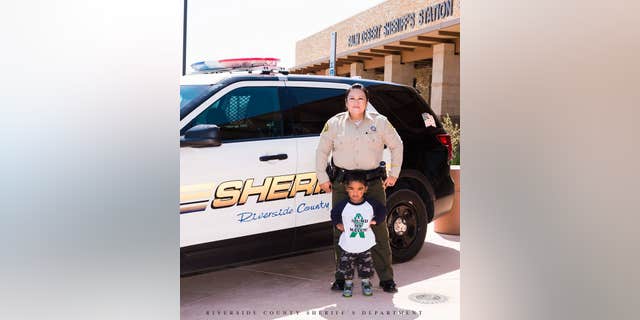 A sheriff's deputy has come to the aid of a former co-worker's 3-year-old son who is in dire need of a kidney. Angelina Castleberry, a former Riverside County Sheriff's Department deputy in Palm Desert, was told from the very beginning that one of her twins, Matthew, wasn't going to live, CBS Local 2 reported.
Matthew was diagnosed with posterior urethral valves and was born with pulmonary hypertension, bleeding in his brain, fluid in his brain, kidney failure and collapsed lungs. In just three years, he has undergone 14 surgeries, dialysis and three failed donor matches, the news outlet reported. But an unexpected phone call is set to change his future.
WOMAN DIES AFTER CONTRACTING RARE TICK-BORNE VIRUS
"I called her and asked her if she was sitting down," Deputy Alicia Lopez, Castleberry's former coworker and longtime friend, told CBS Local 2. "I didn't realize how rare this was until she explained it to me over the phone and I just stood there with my mouth open for a minute."
With the surgery set for later this month, Lopez has been going through prep for the past four months.
STUDENT CREATES 3-D PRINTED ARM FOR PROFESSOR'S SON
"When you see his face, it's kind of hard to say no," Lopez told CBS Local 2.