Runner carries fellow racer to the finish line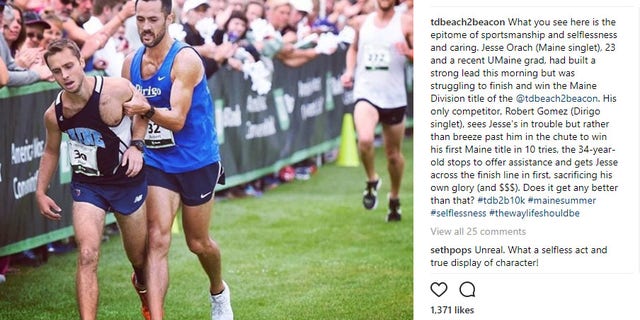 Jesse Orach, 23, didn't think he was going to cross the finish line on Saturday at the Beach to Beacon 10K.
Orach, from Gorham, Maine, led the Maine Division for the whole race until he started feeling abnormal only a quarter mile from the end. According to the Portland Press Herald, Orach's legs gave out less than 100 yards from the finish line. Gomez, from Windham, Maine, saw Orach and decided his personal win wasn't worth leaving a fellow runner behind.
POLICE OFFICERS RESCUE MAN FROM INTERSECTION AFTER WHEELCHAIR DIES
Instagram post from @tdbeach2beacon: "What you see here is the epitome of sportsmanship and selflessness and caring. Jesse Orach (Maine singlet), 23 and a recent UMaine grad, had built a strong lead this morning but was struggling to finish and win the Maine Division title of the @tdbeach2beacon. His only competitor, Robert Gomez (Dirigo singlet), sees Jesse's in trouble but rather than breeze past him in the chute to win his first Maine title in 10 tries, the 34-year-old stops to offer assistance and gets Jesse across the finish line in first, sacrificing his own glory (and $$$). Does it get any better than that? #tdb2b10k #mainesummer #selflessness #thewaylifeshouldbe"
"I couldn't leave him there," Gomez told the Herald. "In the running community, I feel camaraderie comes before competitiveness."
Gomez held Orach up and ran with him to the finish line, where he gave him a final shove in front of him. They both completed the race in 31:31. Orach was immediately taken to the medical tent where his core temperature peaked at 107.3 degrees.
20-YEAR-OLD HIKER DIED OF ALTITUDE SICKNESS, FAMILY SAYS
Gomez and Orach had only met the day before, which is a testament to the running community's power.
"I didn't know what to say," Orach told the Herald. "He got me to the finish line."
This article first appeared on Runner's World.