Rates of women seeking double-mastectomies for breast cancer vary by state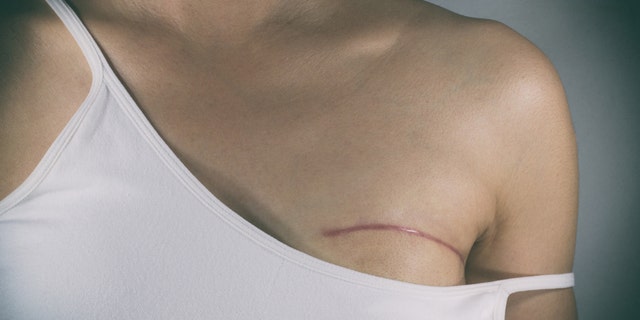 While researchers have found an increase in contralateral mastectomies among women with early-stage cancer in one breast, they said the likelihood of a woman seeking such a procedure varies depending on which state she lives in. The study, which was published in JAMA Surgery, analyzed data collected between 2004 and 2012 from more than 1.2 million women with early-stage cancer in one breast.
The proportion of women ages 20 to 44 who opted for contralateral mastectomy rose about 11 percent to about 33 percent across the country, Reuters reported. There was also an increase in women age 45 and older who had both breasts removed over the same time period. Though previous medical advisories have discouraged such practice among women with one-sided, or unilateral, breast cancer who don't have a genetic or family risk for the disease, the rates were consistently highest in women ages 20 to 44.
MOM WHO BEAT CANCER WHILE PREGNANT DIES DAY AFTER GIVING BIRTH TO TWINS
However, when broken down by region, researchers found during the last two years of the study, more than 40 percent of women in that age range who lived in South Dakota, Iowa, Colorado, Missouri, Nebraska, Tennessee, Maine and Montana chose to have both breasts removed. In New Hampshire, Delaware, New Jersey, Louisiana, Idaho, Alaska, South Carolina, Nevada, Massachusetts, Wyoming, Hawaii and the District of Columbia, the rates were less than 25 percent.
Researchers said that the study does not explain why so many women are opting for contralateral mastectomies, but that the rate in the U.S. is higher than in other countries. They also looked at the proportion of women undergoing reconstructive surgery after having both breasts removed, and found that while the highest rates of double breast removals were in the Midwest, the highest rates of reconstruction were clustered in the Northeast.
"The variation is very striking," senior author Ahmedin Jemal, of the American Cancer Society in Atlanta, told Reuters.
While the study did not include information on whether participants had a genetic risk for developing cancer or a history of radiation therapy to the chest, Dr. Laurie Kirstein, a breast surgical oncologist at Memorial Sloan Kettering Cancer Center in New York City, who was not involved with the study, said the variation may be explained by health care access, income or peer influence.
YOUNGER CANCER PATIENTS MAY STRUGGLE SOCIALLY YEARS AFTER DIAGNOSIS
Kirstein also told Reuters that for women with a genetic predisposition to breast cancer, the bilateral mastectomy is seen as "a risk reducing procedure."
Jemal said the findings signal a need for more detailed conversations between doctors and patients.
"First the surgeons have to have this discussion with the patient," Jemal told Reuters. "Second, patients have to take time to make a decision. They don't want to make the decision right away, because anxiety is very high right after diagnosis."
Reuters contributed to this report.