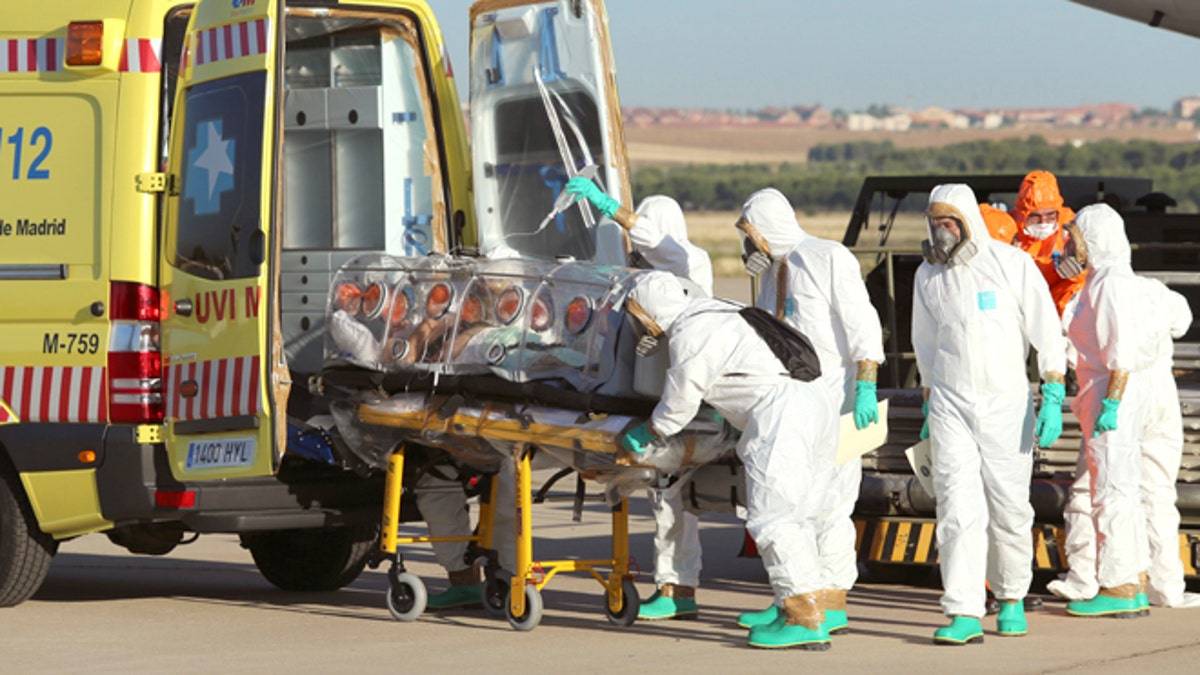 Spanish authorities reported four new patients with suspected Ebola symptoms on Thursday, including a feverish passenger who started shaking on an Air France flight to Madrid and a Spanish priest who had recently been in Liberia.
Three of the cases were in the capital and the fourth in the Canary Islands, where a health source said two other people were admitted to hospital for precautionary monitoring.
The priest, who arrived in Spain on Oct.11, was being taken to hospital after developing a fever, one of the symptoms of the disease, the Spanish government's Ebola committee said.
He was from the same religious order as two other Spanish priests who died in Madrid in recent weeks after contracting the deadly virus in West Africa, one in Liberia and one in Sierra Leone, they said.
Spain has been on high alert for Ebola after a nurse who cared for the two deceased priests in Madrid, Teresa Romero, became the first person outside Africa to become infected in the current outbreak. Her case prompted recriminations over how prepared the country was to deal with the disease.
Madrid authorities evacuated an Air France plane on Thursday after a passenger started developing tremors on a flight from Paris, Air France and airports operator Aena said. The person had originally traveled from Nigeria before taking a connecting flight.
The passenger was taken to Madrid's Carlos III hospital - the same hospital where Romero is being treated and other suspected Ebola cases are being monitored - in an ambulance flanked by a police motorcade, television images showed. The driver was wearing full protective suit and goggles.
Another person, who was among a group of 68 being monitored for signs of Ebola because of links to Romero's case, was also checked into the Carlos III hospital earlier on Thursday after developing a fever. Authorities had said the 68 were at low risk, but had to check their temperature regularly from home.
Spanish media quoted a spokesman for the government's Ebola committee as saying the person in question was one of seven who had been transported in an ambulance that had been used to carry Romero before her Ebola diagnosis was known.
"In all of these cases, tests will be carried out, and results will be known in the coming hours," the committee said in a statement.
Romero is still seriously ill, though stable. Another 15 people, including her husband, are still under hospital observation in Madrid but have shown no symptoms.
CANARY ISLAND PATIENTS
Three people were taken into hospital in Spain's Canary Islands in possible Ebola-related cases, a health source from that region said.
One of them, a man who arrived in Tenerife on Oct. 12 from Sierra Leone, developed a fever on Thursday and was admitted to be monitored for suspected Ebola symptoms. Two other people who lived with him were also taken to hospital as a preventative measure for monitoring, the source said.
The Spanish government has stepped up its response to suspected cases of the deadly disease, after Romero's infection prompted questions about whether Spain's hospitals were prepared for a crisis on this scale.
Health workers have said the training and protective suits provided to hospital staff had been inadequate. Authorities on Monday pledged to ramp up training.
Nearly 4,500 people have died in the outbreak, nearly all of them in West Africa, out of a total of 8,997 confirmed, probable, and suspected cases reported in seven countries.
The United States, which is deploying up to 4,000 troops to West Africa to help contain the spread of the disease, has asked Madrid for permission to use U.S. military bases in Spain in its operation, a U.S. Defence Ministry source said on Thursday.
"None of the planes will transport patients or people suspected to have contracted Ebola, or who have been in contact with infected people," he said. "Spain will have a right to inspect the planes and passengers."
A decision is due to be announced on Friday when Spanish Defence Minister Pedro Morenes meets U.S. Defense Secretary Chuck Hagel in Washington. Madrid was set to agree to the request to use the bases at Rota near Cadiz and at Moron de la Frontera near Seville in southern Spain, the source said.