Preschooler who comforted terminally ill infant brother mourns tragic loss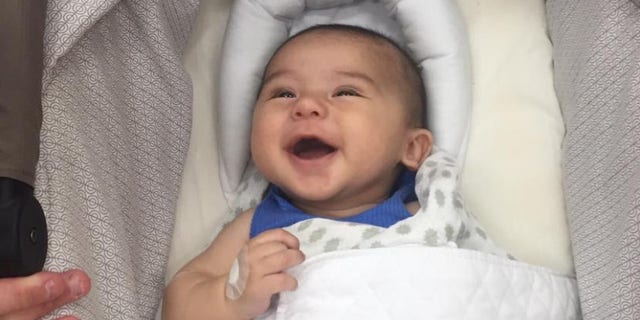 An Australian woman who blogged about the devastating moment her "rainbow baby" was diagnosed with a malignant tumor at 11 weeks old has detailed the heartbreaking way she shared the news with her preschooler son.
"It is with immense sadness that we share, our little #warriorthomas grew his angel wings yesterday night, 8th of May 2017 at 730pm.," Sheryl Blanksby, who blogs and Instagrams under the name Ms Chikee, posted on May 8. "He was surrounded by family and right next to his mummy and daddy when he passed away. He fought the good fight especially when he was only expected to live for only short amount of weeks after his diagnosis."
WOMAN'S SKIN BURNED FROM INSIDE OUT AFTER DOSAGE ERROR, LAWSUIT CLAIMS
Thomas was born after the couple suffered a miscarriage and joined then-3-year-old brother William, who was photographed comforting his little brother several weeks ago. In the previous post, Blanksby said she overheard William reassure Thomas that "Kuya (big brother) is here. Everything is OK."
"He's no longer in pain is our only consolation," Blanksby wrote, in memoriam of Thomas.
In a follow-up post presented as a letter to their youngest son, Blanksby told him how much William missed his brother and was trying to process his death.
"Dear #littlewarriorthomas Your #superkuyawilliam was looking for you everywhere in the house today," she posted on May 9. "He thought we were hiding you to surprise him. I told him you're in heaven now and he got worried that you will miss him so much. He was also worried that you will get wet from the rain. I told him to look up the sky and say hi to you and watch out for signs when you say hello back," she wrote.
"We miss you so much darling boy. Love always your mummy, daddy and Kuya."
CUB SCOUT SAVES CHOKING MOM ONE MONTH AFTER DAD'S TRAGIC DEATH
According to a GoFundMe page for the family, Thomas underwent surgery to remove his kidney before doctors determined his cancer was terminal.
"Watching my two sons together is a dream come true," Blanksby wrote at the time. "Being a family of four has always been part of my day dreams. It's now my reality and it's trapped in this nightmare no family should be in."
The family spent the time they had with Thomas creating memories, and embarking on trips with friends and relatives.