Obamacare Deadline Looming, Government Officials Reach Out To Latinos, Media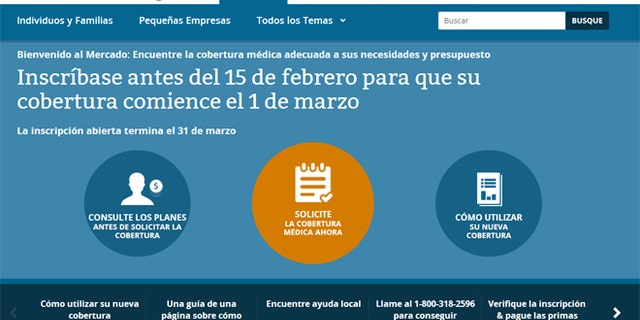 NEWYou can now listen to Fox News articles!
Never mind the delays with Obamacare or the problems that have plagued its Spanish-language website, CuidadoDeSalud.gov, Cecilia Muñoz, director of the White House's Domestic Policy Council, assured reporters on Tuesday afternoon that they "are working very hard to make sure that Affordable Care Act is reaching every community."
Muñoz spoke on a Department of Health and Human Services (HHS) conference call that included her, Mayra Alvarez, the associate director of the Office of Minority Health, the White House's director of Hispanic media, Katherine Vargas, and U.S. congressman Joaquin Castro (D-Tex.), as well as members of the media.
The call was ostensibly to discuss a new HHS report on the costs of health care plans available through the ACA. The report includes some stark numbers: One in four uninsured people eligible for Obamacare are Latinos. Of those 10.2 million eligible uninsured Latinos, 8.1 million would qualify for tax credits to purchase coverage or for Medicaid or for the Children's Health Insurance Program.
And the cost, depending on income level, household size and location may be under $100 a month.
"It's important that people in the community know," Muñoz said, "that the vast majority of eligible Latinos can find affordable health care."
Representative Castro spoke about an "enrollment event" in San Antonio this Saturday that involved a number of governmental and private organizations and was sponsored by the Spanish-language television network Univision.
"We want people coming together on a local level," Rep. Joaquin Castro said. "More than 30 percent of Latinos in Texas don't have medical coverage."
Alvarez noted that it's important for the government to maintain strong relationships with the Spanish-language media. "We have to take every opportunity to educate the Latino community through sources that they know and trust," she said.
Even if people know that they are eligible for coverage, they haven't always been able to get it. The Spanish-language site for the ACA, CuidadoDeSalud.gov, launched in December – more than two months late – and with problems like ungrammatical Spanish and pages with Spanish instructions linking to English forms.
In response to a question on the conference call about the site's problem, Alvarez pointed out that it's now possible to "window shop" – find out the specs and costs of the different plans available without actually registering for Obamacare – and that the site now has widgets that indicate when you're clicking onto an English-language page.
One thing that isn't being reported by the government is the exact number of Latinos or people of other ethnicity who have signed up for coverage.
When asked for the figures, Alvarez pointed out that people can voluntarily report their ethnicity and race when signing up, but it isn't mandatory. As a result, she said, "We do not have specific data to share."
For his part, Joaquin Castro was most concerned about the fact that a number of states have elected not to expand Medicaid benefits, including Florida and his home state of Texas, which together comprise one third of all the eligible uninsured Latinos in the country.
"The big problem with that 'coverage gap' is that in Texas," he said, "that's a million people."