Not guilty by reason of insanity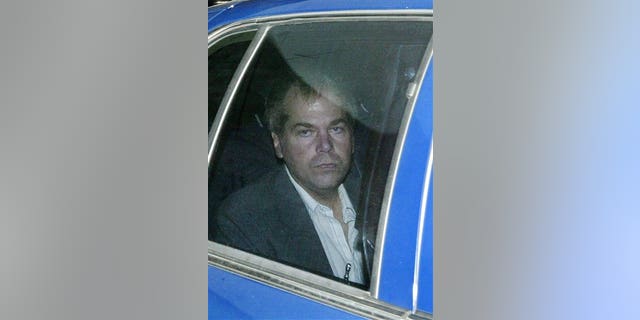 NEWYou can now listen to Fox News articles!
On March 30, 1981, John Hinckley, Jr. shot President Ronald Reagan and also wounded press secretary James Brady, Secret Service agent Timothy McCarthy and police officer Thomas Delahanty. Hinckley was obsessed with actress Jodie Foster and was suffering with a psychotic mental illness. He was found to be not criminally responsible for his actions due to that illness and confined to a psychiatric hospital.
Testimony is now underway in the federal hearing that will establish whether Hinckley should be allowed extended visits to his mother's home to pave the way for his release to the community.
Yesterday, Dr. Raymond Patterson, a psychiatrist who has interviewed Hinckley in recent months, testified that Hinckley may continue to have problems empathizing with others and may still be obsessive in relationships with women.
Having been medical director of psychiatric hospitals with locked units and a community mental health network serving 10,000 patients, I am very familiar with decisions about when and whether to release individuals who have been violent. I take this issue very seriously because I do believe that mental illness can cause some people to behave in destructive ways for which they are truly not responsible. And I do not believe that every such individual deserves to spend the rest of his or her life in a locked psychiatric unit.
The problem is that the laws and policies that guarantee supervision of killers or would-be killers after their release from psychiatric hospitals vary from state-to-state, tend to offer temporary safeguards (rather than permanent ones), do not mandate permanent use of antipsychotic medications when appropriate and do not prohibit previously homicidal individuals from leaving the area or the country.
While it might be possible to reasonably guarantee the community safety from John Hinckley, Jr., that guarantee should include:
1) Lifelong enforced use of injected antipsychotic medication delivered monthly, with re-hospitalization to occur immediately if Hinckley were to skip even one injection.
2) Lifelong prohibition of Hinckley leaving the state in which his outpatient treatment is rendered.
3) Lifelong drug testing for an illicit substance that could trigger psychotic symptoms or aggression.
4) Lifelong twice-weekly visits with a board-certified forensic psychiatrist to evaluate Hinckley, with re-hospitalization and re-evaluation to occur immediately should Hinckley miss even one visit.
5) Quarterly administration of psychological testing to Hinckley to determine if he is experiencing a recurrence of his psychotic symptoms.
6) Lifelong monitoring via an ankle bracelet to be able to determine
Hinckley's whereabouts, should he not continue his medication or outpatient therapy and psychological testing.
This may sound Draconian, or unwieldy, but it would be necessary. The behavior of a patient on a locked psychiatric unit—where there are strict rules, constant supervision, nurses who make sure patients are taking their medications and real emotional support available 24/7—is not sufficiently predictive of how a person who has killed or tried to kill others will behave down the line.
Hinckley's cooperative demeanor on a locked psychiatric unit doesn't tell us much about how he will react when he is in a romantic relationship, going to movies that feature compelling actresses, interacting again with family members who may have been involved in the underlying psychological dynamics that fueled his symptoms and possibly using illicit substances.
The possibility that, under current laws, Hinckley could declare (and probably eventually prevail in the notion) that he no longer wants to take medications, that he no longer wants to live in Washington, that he wants to change his name and that he wants to travel the rails from state to state as a vagabond is ominous.
The lack of cohesive and credible outpatient commitment laws that include reciprocity from state-to-state stands in the way of releasing people from locked psychiatric units who really deserve to be released. In those instances in which individuals kill and are found not criminally responsible (not guilty by reason of insanity), they should be required to follow the kind of outpatient protocol I outline above. At present, they are not.
The fact that there are so many holes in the safety net to prevent further violence from those found not guilty of their violent acts means there is.
Dr. Keith Ablow is a psychiatrist and member of the Fox News Medical A-Team. Dr. Ablow can be reached at info@keithablow.com. His team of Life Coaches can be reached at lifecoach@keithablow.com.